Turkey Killed After Flying Through Newport Bedroom Window, Memorial Pops Up
Sun, 04/10/2016 - 20:00
RCN Newsdesk
A Newport resident got quite a scare on Sunday - and barely escaped being part of a tragic turkey accident.
The resident had just gotten out of bed and headed to the kitchen to prepare the morning coffee when a sudden commotion interrupted the start of the day. A wild turkey had flown through the resident's bedroom window, shattering it and sending glass across the room.
When the man returned to his room, there lay a 15-pound bird, dead on the comforter.
Large shards of glass were also strewn about the room, including on spots where the man's face had lain just moments before!
Word of the bird-splosion spread quickly and became the talk of local social media. The Newport community responded with a memorial set up outside the home where the turkey took its last breath.
First, there appeared a candle alongside a framed picture of a turkey and a plush turkey bottom. Then there were added to the display, three religious candles, a box of stuffing, and flowers. Balloons followed. Lastly, the display was improved when some local children got wind of the turkey crash and began to express their grief through sidewalk chalk.
See the slideshow below for more photos of the event.
It is not wholly uncommon for turkeys and other birds to fly into buildings, particularly windows. One particular crash was caught on camera at Brandeis University in 2014:
Ensuing memorials after such a tragedy are also not unprecedented in the Northern Kentucky River Cities. In February, 2012, a hawk attacked a squirrel in Covington's Mainstrasse Village but opted to do so just as the rodent landed on a transformer atop a power line. Both animals were killed and roughly 600 homes lost power.
Dead hawk and squirrel lay in the street (RCN file)
That night, a memorial popped up on the sidewalk at the pole where the two animals were fried.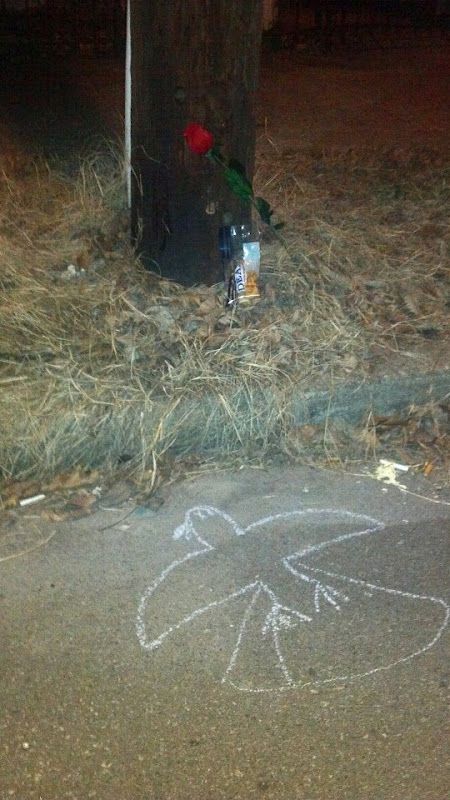 Memorial in Mainstrasse after hawk and squirrel died together (RCN file)
On Sunday, in Newport, a similar sentiment emerged with residents thankful that their neighbor was safe, but saddened at the sudden lost of another feathered friend before its time.
-RCN staff