Popular NKU Professor Hanging It Up. Well, Some of It.
Fri, 04/22/2016 - 08:31
RCN Newsdesk
It's just after 11 a.m. on a Monday and energy is high in room 130 at Griffin Hall on the campus of Northern Kentucky University.
Of course it is. 
This is interpersonal communication class led by Dr. Russ Proctor and the first five to ten minutes are spent catching up on students' weekends, job and internship opportunities, and other casual issues. Students who participate in the chit chat or who shoot back a correct response to a pop quiz are rewarded with a Proctor trademark: the toss of a roll of Smarties candy.
Today's topic is "relationships" and in high-energy Dr. Proctor fashion, a diagram is created on the white board with the names of John, Mary, Bob, and Jim. These fictional characters find themselves in a meandering tale involving trysts across a river, torrid affairs, secrets, and near death experiences -- all in about 10 minutes of high-energy storytelling from the 25-year veteran of the Highland Heights campus.
When students break into small groups to discuss who's most responsible for the sad breakup of John and Mary's relationship, the volume is high. They all have strong opinions - and no one is right or wrong. The key is that they are engaged in the class, a key component of undergraduate communication studies at NKU. The next week, students will watch a film called Breaking Away, a long tradition in Proctor's course - for which he also co-authors a successful textbook used all over the country. Then, final exam preparations begin.
And then, exams are taken and the semester is over.
But the end of this semester is more significant than others for Dr. Proctor. It will be the last at NKU for the Detroit-born scholar who arrived in Highland Heights in 1991 and has been a mainstay and influential figure in the communication department ever since. 
"This is where I landed, and when I landed I knew that this is where I was going to be," Proctor told The River City News. He earned his doctorate at Bowling Green State University and began applying for professor gigs all over the place but the chance to be part of NKU was the most appealing. "NKU offers a private school education at a public school cost." Among his original goals, which at one point included a possible entrance into the ministry and/or psychiatry, Proctor wanted to be at a private school so that the classes would be small and that relationships could be built with students.
He found that at NKU.
"I came here to NKU and said we can do that within a state university environment," he said. Soon after, speech communication clubs and Norse Leadership Society opportunities were born and the personal relationships with students were developed.
And many of his former students still cite him as an influential figure in their personal and professional lives.
"He's the reason I ended up in the communication field," said Shannan Boyer, owner of Scooter Media in Covington. She met "Dr. P. at a speech communication club holiday party. Her then-boyfriend and now-husband Marty Boyer was a speech major and while she was considering political science, she said it was at that party that she felt like she belonged. "Dr. P., knowing that I was undecided, convinced me to join the club, to get involved, and to explore a major in the field of communication."
Shannan and Marty's relationship can also be credited to Proctor, in some respect. While they were dating at the time of that fateful holiday party, the pair took a break shortly after. "By then I had developed my own relationship with Dr. P. and he wasn't ready to accept the breakup. Dr. P. felt that Marty and I were supposed to be together," she said. Over the next two years, Proctor asked often about the couple, planting a seed that they should revisit their relationship. "He was right. Marty and I have been married now for 15 years and have two handsome boys."
Similarly, the life of Kara Williams, owner of Shoestring Strategies, was changed when she walked onto the campus of NKU and met Proctor. A self-described mediocre student growing up, she met Dr. P. as a freshman. "I was wowed by his energy and immediately began taking his classes," Williams said. "I fell in love with NKU, speech communication, international travel, and community engagement all through his lens of the world. His coaching and frank feedback allowed me to believe that I could make a difference on campus and beyond. He gave me the confidence to tackle anything. He gave me the academic support to be a great student. He gave me the mentorship I needed to change my perception of myself. These skills are the foundation for the person I am today."
On Friday, Proctor's career will be celebrated at a campus event where speakers include former NKU President Dr. James Votruba. Current President Geoffrey Mearns also sings Proctor's praises. 
"Russ Proctor has brought something special to NKU: a passion for teaching and for learning – leaving a lasting impact upon each student he meets," said Mearns. "When a student walks into a class with Dr. Proctor, he or she leaves having had an experience that lasts a lifetime. We are fortunate to have had his passion, expertise, and leadership on our campus for 25 years, and I am pleased that he will continue to make an impact as Professor Emeritus."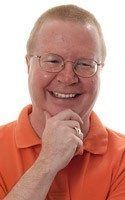 And Proctor intends to stay busy. His textbooks require constant revision so he'll stay on top of them, two of which are the top sellers for university-level interpersonal communication studies. "I'm just retiring from one of my jobs," Proctor laughed in his office on the top floor of the sleek, new Griffin Hall, one of the many significant changes the communication program has seen during Proctor's tenure. Though the classrooms are nicer than they were at Landrum Hall and the field of communication changes constantly, Proctor decided that now is the time to focus more on his academic writing and other things outside of the campus. "I have said everything I want to say, taught everything I wanted to teach, and maybe it's a good time to go out on top."
His teaching expertise was also put to use in the raising of his two sons, Russell ("R.P.") and Randy. R.P. was also a student in his father's communication program. "Everything you know about my dad as a professor transfers over to him as a father," he said. "Loving, caring, outgoing, full of great advice and wisdom. My childhood was incredible because of my dad and we continue to have a strong relationship today."
As for being in the Proctor household and the Proctor classroom, "It was a pretty natural extension from our home lives," R.P. said. "He was incredibly engaging and funny while teaching deep concepts. In addition, he played no favorites with me and graded me just as tough as he did with my classmates. And I did get a few Smarties."
"I can't remember when I threw my first Smarties," Dr. Proctor said. He originally started passing out gold stars in his early days as a professor but at some point made the switch to the iconic candy that has become synonymous with him in Highland Heights. He has large-size plush Smarties in his office. 
Randy Proctor did not have his father as a teacher, but said that he learned a lot at home. "He did not just give me the answers growing up, he took incredible amounts of time to teach me how to find answers for myself through context, deductive reasoning, and empathetic awareness when interacting with other humans," Randy said. "Throughout all of the philosophical conversations in the car and storytelling at the dinner table I think I can sum up the lessons my dad taught me in one statement: Love others, think critically, work hard, and always find a way to laugh."
The boys' mother and Dr. P.'s wife also thinks highly of her husband's time at NKU.
"One weekend he would be helping students move into their dorms, another night he would speak to a fraternity. One afternoon he met with the accounting club and coached them on how to communicate in social business settings. Then he would speak at (Norse Leadership Society) retreats and serve on the university's Vision team," Pam said. "This was all in addition  to teaching the subject he absolutely loves, interpersonal communication, and getting the students on fire for it, too. Plus, when the boys were little, we would take them to the basketball games in Regents Hall. It was a full family affair. And I loved when the Speech Club would come to our house for Halloween parties. Those were fantastic. And finally, I love how much he cared for his colleagues. He was charmed by the department way back when he came on campus to interview and has continued to hold them dear ever since."
Just as Dr. Proctor maintained a close family, he made his students feel like they were part of the family, too.
"Dr. Proctor made you a part of his family, inviting you into his home, introducing you to his amazing wife and his world of diverse contacts, etc," said Sara Jackson, a communication entrepreneur. "He engaged you based on your needs, your passions, and your talents. Dr. Proctor continued to provide value long after you graduated from NKU and due to his sincerity in sustaining a relationship with you, kept strong ties despite where your personal journey lead you. Dr. Proctor made time and was present. This investment in you manifested in strong, father-like foundation that resulted in Dr. Proctor holding you accountable, providing warnings, preventing and even at times providing advice on repairing relationship or career mistakes." 
No one who knows him expects Dr. Proctor to slow down too much, but there will be more time for favorite leisure activities. When asked what a Dr. P. retirement might look like, R.P. said, "Reds baseball, Reds baseball, and Reds baseball."
"He may be retiring from the University, but he certainly will never stop being a teacher and a role-model to every life he encounters," Randy said. 
"I'll still be an educator," Dr. Proctor said. And that means more new lasting relationships to be fostered, including those eager young faces that will be prepping for final exams over the next two weeks. "I hope I'm not just their teacher for this semester but their teacher for life and their friend for life and their mentor for life. 
And just like Monday's lesson about John, Mary, Jim, and Bob, "It's all about relationships. I hope people remember me as a good teacher. The guy in the classroom who said something they've never forgotten. I like that."
Story & photo by Michael Monks, editor & publisher of The River City News, and a graduate of NKU's communication program ('02) and former student of Dr. Proctor's and who caught the roll of Smarties pictured above.