Premium Content
With Memorial Day Near, this 94-Year Old Veteran Shares His Story
Fri, 05/27/2016 - 14:18
RCN Newsdesk
Ray Knochelman has lived in Park Hills all his life - one that, according to him, has been fairly uneventful
Others would disagree, citing his service to his country during World War II and his service to his community as an original firefighter in Park Hills. Some would even go as far as to call him a quiet hero.
"I am still listed on the fire department books as emeritus," Ray said with a smile. "I am 94 years old. It's a long time to be a firefighter."
Knochelman graduated from high school in 1940, and in 1942 he and a friend from grade school decided to join the newly formed Volunteer Fire Department. Park Hills had previously been served by the Covington Fire Department.
"The chief was Norbert Brahm, and he saw to it that we were all trained," Knochelman remembered. "We had one fire truck, a secondhand one, and we kept it in an open bay at the Old Mill station on Dixie Highway. The chief got the truck from somewhere in Kentucky, and it had a 50 gallon extinguisher and a hose and ladders. We didn't have a fire station then."
Knochelman hadn't been there very long when Uncle Sam came calling, and he found himself signed up for the Army Air Corps. He was stationed in England for a year and a half, servicing the 50 caliber machine guns that were mounted on the planes. Once the Allies braved the beach at Normandy, and were winning the war, he followed the Army, still servicing the guns and surrounding them with armor.
"I had met my wife Mary Jane before I went into the service," Ray said. "My sister introduced me. Jitterbugging was big back then, but I had two left feet," he chuckled, remembering. "I told Mary Jane, I am going to be over there for awhile. If you find somebody else, I won't hold you to an agreement."
But when he returned, Ray and Mary Jane were engaged within a month. They married in 1946.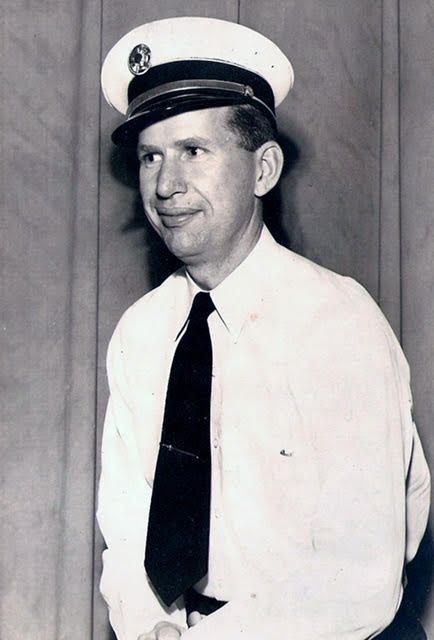 "We would have been married 70 years on May 4," he said. "But she died seventeen years ago, so we had 53 years together. I am grateful for those years. We had four children together, one daughter and three sons, but one of my sons was killed in an automobile accident." He shook his head. "That's the hardest thing anyone can go through, losing a child."
Returning from the war, Ray picked up where he left off in the Fire Department. When he returned, he found that the department had gotten rid of the first fire truck and now had two pumpers, which he said was really all they needed, and a firehouse. They also had a salvage truck. He fought quite a few major fires in the gourmet strip: the Lookout House, in 1973, the White Horse Tavern, in 1972, and the Town and Country Gardens, in 1961.
"The Lookout House was an old structure," he recalled. "We were inside the structure with hoses when they sounded the distress horn, which told us we had to get out and fight the fire from outside. When it is unsafe to be inside they would sound the distress horn and we had to get out quickly."
He recalled that Tuesday was training day, and the volunteers would all work on a training exercise, then they would go into the back and play poker and drink beer. "They don't do that anymore," Knochelman said. "People abused the privilege, and it wasn't allowed anymore."
But the fires were real and the danger was, too.
"My wife used to say she worried herself gray," he said, thinking for a moment. "I never wanted her to worry. But I had a job to do."
He never retired from the Fire Department.
"I just kind of drifted away," he said.
In April, he received a service award from the Park Hills Fire Department for 74 years of service, an award which he appreciates but said that it's all in a day's work.
"Ray has been an icon of community service and dedication for as long as I can remember at Park Hills Fire Department," said Fire Chief John Scott Rigney. "Mr. Knochelman and many others like him built this fire department and have continued its legacy from rubber rain coats to where we are today."
"I have never regretted my service in the fire department," Knochelman said. "There is a camaraderie in the fire department, it is true what they say about it being a big family."
One of the things Ray likes to do is take part in the Memorial Day parade. "I get to ride in the chief's car now," he said. "It's air conditioned."
Ray lives at St. Charles nursing home in Covington now instead of in Park Hills, and he is OK with that. "I almost died last year," he explained. "I had pneumonia, and congestive heart failure and it was very bad." Then he laughed. "But I fooled them. I told my son, I thought the angels were coming for me. He said they probably took a look at you and dropped you!"
Ray believes that Memorial Day is a time when people need to stop and remember those who paid the ultimate sacrifice.
"I don't think the youngsters realize what it is all about," he mused. "You can't forget what happened, and you have to understand seeing the results. I had several friends who didn't come back from the war. War is hell, it is real, and those who served will never forget."
He was quiet for a moment. "It doesn't mean you can't have a cookout, and have fun with your friends and family, but you should take a moment to remember."
Ray says that he thinks the fighting in the Middle East should be left to the tribes who have been fighting since Before Christ. He doesn't have a sure favorite in the 2016 Presidential election. "It doesn't make a hell of a lot of difference who wins," he said dismissively. "They'll be blamed for everything anyway." What president did he think did the best job? "Eisenhower." he stated firmly."He was the commander in chief of the forces in Europe. He did a great job over there and as president."
Knochelman is one of those rare men and women who run toward danger instead of away from it but he isn't ready for any reward yet. Though, if asked for advice, he will give it.
"I am an advocate of the Bible," he said. "Love one another. If that happened, the world would be a great place, wouldn't it?"
Story & photos by Patricia A. Scheyer, RCN contributor