Premium Content
Theatre Review: Thoughtful Effort Looks Effortless in Know's "Fisherman's Wife"
Sun, 06/26/2016 - 18:41
RCN Newsdesk
It's jolly, sexy-time at Know Theatre, where a well-cast, low-budget production of The Fisherman's Wife (a regional premiere) is tucked onto the tiny stage in The Underground (a.k.a. the downstairs lobby/bar).
A Squid and Octopus steal the show.
The comedy is billed as a sex farce, but it's more of a sex sitcom fantasy, with plenty of fast-paced, explicit banter but none of the hallmarks of farce (racing through doors with split-second timing, etc.). There is lots of slipping through doors for extra-marital, and even cross-species, flinging. If you have to ask – recommended for adults only.
Know Theatre fans will remember playwright Steve Yockey for his unsettling and resonant Pluto a couple of seasons back.
This time Yockey is going for silly and breezy, OK, with a whisper of what could happen when ordinary flawed humans meet the extraordinary. He draws inspiration from Hokusai's famed Japanese erotic woodcut (circa 1840), which is faintly drawn on the flats that frame the miniscule playing space. Picture a voluptuously naked shell-diver and many, many tentacles in inappropriate places.
Speaking of tentacles – no, we'll get to that in a minute.
The show starts with a deeply unhappy marriage. Vanessa (Miranda McGee) is bored out of her skull living in a seaside shack with a single piece of furniture, a straight-backed wooden chair. She's miserable, sexually frustrated, and not afraid to show it. McGee shows off her comic sensibility and, as always, nails her character.
Meanwhile, hubbie Cooper (Cal Harris) likes to fish. He's miserable, too. Harris plays it with a hangdog expression and just the right dollop of suppressed hostility.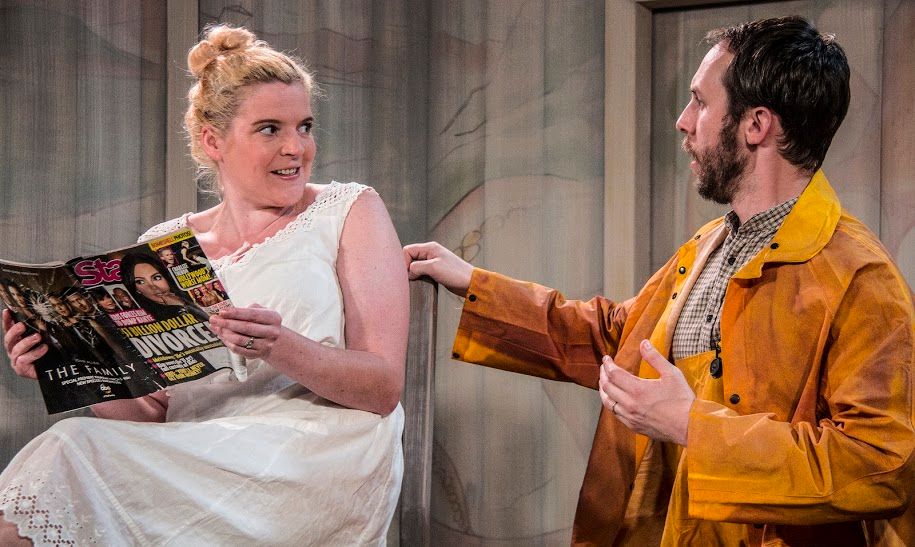 No sooner does Cooper leave than Vanessa gets a visit from a mysterious and "alternatively attractive" traveling salesman. James Creque shares the joke with the audience, and uses his late-night DJ voice to take the mic and tell the story of one of the salesman's many mariner tattoos, brought to life by a puppet show.
Meanwhile, Cooper encounters Squid (Eileen Earnest) ad Octopus (Andrew Ian Adams) under the dock, who explain to anyone who cares that humans see them as humans. They are dressed in 1930s-style by-the-sea bathing costumes and they both like male victims to ravage.
Yockey gives the deep sea predators the nutsiest material, and Earnest and Adams gleefully throw themselves into it. They're a solid team, but there's no arguing that Earnest, the best comic actress in town, plays it to the hilt with crazy long false eyelashes and the air of a dominatrix.
She rules not just the other characters but the audience, which, on opening night was populated with lots of performers fresh from Cincinnati Fringe. Earnest is a whiz at improv and she showed everyone a good time.
Adams and Earnest also share a daffy musical interlude and lead a fundraiser which kept the audience warmed up for the second act. And operate the puppets. (Whew.)
Credit director Andrew Hungerford and his entire creative team for making thoughtful effort look effortless and delivering nifty summer fun.
The Fisherman's Wife, through July 16. Know Theatre, 1120 Jackson St., Over-the-Rhine. 8 p.m. Thursday- Saturday, 3 p.m. Sunday. Tickets $20. 513-300-5669 and knowtheatre.com.
---
Meet The Squid
Eileen Earnest has been a stand-out comedienne on stages across the region for several seasons, who discovered her comic chops in hometown Enon, Ohio. ("Its claim to fame is the Enon Apple Butter Festival and an Adena Indian Burial Mound in the middle of town.")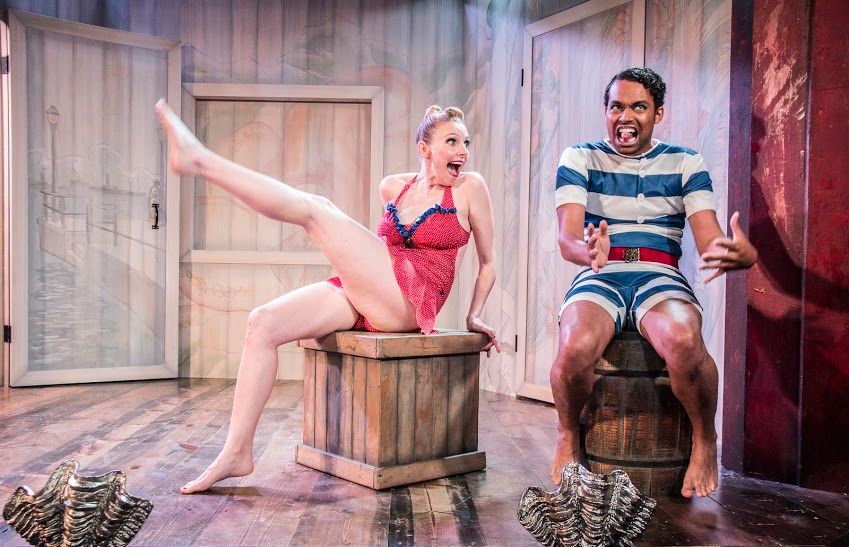 RCN: Who's The Squid?
EARNEST: Squid and Octopus are a brother and sister duo that act as the primary sexual deviants in Fisherman. Basically, we serve as the chaos muppets who wreak havoc on a civilized, dysfunctional marriage. We also wear sexy swimsuits from the '30s. Obviously.
This is my first dalliance with Yockey's work. I like that his characters, while exotic and otherworldly, are dealing with very human issues.
He offers the audience a really interesting option with Fisherman: You can absolutely enjoy this whack-a-doodle sex farce with sea creatures that contains betrayal, assault, adultery, theft, and puppetry all while rooting for the least awful person, or sea monster, in that particular moment, only to switch sides a scene and a half later.
Yockey shows you the flawed and broken while at the same time reveals that they created their own mess. You will laugh, feel uncomfortable, and then laugh again.
RCN: When did you find the funny?
EARNEST: I knew that comedy was going to play an important role in my life early on. I remember preparing for our 3rd grade Christmas Choir Concert.
My class had been assigned "Frosty the Snowman". The boy who they had picked to play Frosty was a tragic disappointment in the role and my choir teacher asked if someone else wanted to give it a go.
My hand shot up before I really knew what I was doing. The Frosty mascot costume was meant for an adult. The eyeholes were four feet above my head and so my only visual was staring at my feet and the gymnasium floor.
It was constructed of chicken wire, wood, and wall insulation. It smelled like my Grandma's garage and was heavy as sin. I hopped, spun, wiggled, and shook with glee inside that deathtrap. I loved every sweaty second of it.
The day of the concert I donned Frosty like a badge of honor and when the familiar tune began I frolicked around the floor like a prima ballerina.
And then my career path was made clear. I wouldn't know this until days later when I viewed the grainy VHS lovingly recorded by my father, but at some point during my twirling, one of my feet had inadvertently gotten ensnared by the cord to the 10-foot tall Christmas Tree that served as our set.
In a moment, I had taken down that tree like David slew Goliath.
Blissfully unaware of the chaos around me, I danced on. What I did hear was laughter. Unreserved glee rippled from the audience of parents and grandparents crammed into uncomfortable bleachers in an un-air-conditioned cafetorium.
These adults had assembled for yet another display of their children's awkwardness and were anxiously awaiting the end. But then I surprised them and they laughed. And that laughter was magical to me. I had never heard something that gave me so much pride.
After that, I was hooked. It was easy to figure out what makes people sad, but determining what brings people to laughter, what truly evokes a sense of joy, that was an entirely different craft.
Sadness is remarkably universal, but discovering senses of humor is as varied as snowflakes. I think it will be a lifelong journey.
Written by Jackie Demaline, RCN Arts