Premium Content
Fan of "Downton Abbey"? You'll Love this New Exhibit at the Taft Museum
Tue, 06/28/2016 - 08:11
RCN Newsdesk
"Woman like me don't have a life. We choose clothes, and pay calls and work for charity and do the season. But really we are stuck in a waiting room until we marry." - Lady Mary Crawley.
Get ready to drool as you stroll through the Taft Museum of Art galleries for Dressing Downtown: Changing Fashion for Changing Times, on exhibit July 2 through September 25.
Three dozen upstairs and downstairs costumes are featured from the first four seasons of the British TV hit that defined "costume drama". They cover the years 1912 to 1923, "a period of sweeping change, culturally and socially," observes assistant curator and installing curator Tamera Muente. "There was a world war, women going into the workplace, the suffragette movement..."
What did all that change mean? For one thing, the wartime rationing of fabrics meant voluminous skirts were out. For another, women had to step in for the men who were at war, and practical clothes suited a working life. When the war ended, "Things weren't going to go back to the way they were."
Some fun facts and need to know:
Yes! Dowager Countess Violet's wardrobe staple, her purple silk two-piece day dress is on view, with jewelry and a toque hat. The costume, with its S-bend corset "sets her character," Muente says. (Indeed it does.)
Muente adds, "You could not put yourself into an S-bend corset. There are dozens and dozens of fasteners." Thank goodness for all those ladies maids.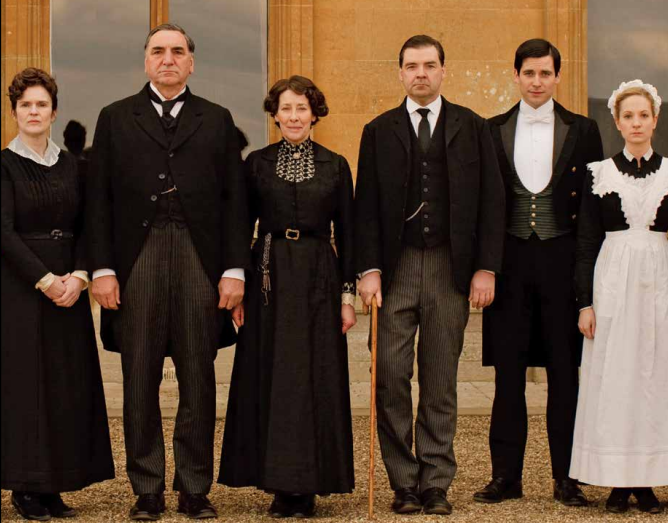 Think about it. The Charles Phelps Taft family (whose home is now the museum) probably would have known the Crawleys – you know, if they were real. Remember – Cora was born in Cincinnati. (The Tafts would have been of the same generation as the Dowager. Wonder what they would have made of her…)

The costumes, shown with photo stills from the show, are divided among the special exhibit galleries and in the historic home, which houses the museum's permanent collection.
"The costumes in the Fifth Third Gallery are arranged mostly chronologically," Muente explains, and, "in the historic house are placed in rooms appropriate to the costumes." You'll find a footman in the dining room, and in the Duncanson foyer, there are gentlemen in tweed and wool hunting/walking outfits. The Abbey inhabitants fit very comfortably into the rooms of the Taft home.
Fashion-plate Lady Mary is well-represented. Evening dresses, day dresses, coats, riding habit. Her younger sister Edith is seen in breeches(!)

The costumes, already on their mannequins, came to the Taft in individual crates "about the size of a phone booth" accompanied by their costume specialist who fluffed them, steamed out any wrinkles and added jewelry and hats.

Yes, the women of Downton Abbey are tiny.

You can touch! A little. Fabric swatches to touch are in the seating and video viewing area outside the Fifth Third Gallery. "They are modern fabrics we purchased to provide touchable samples of versions of similar fabrics."

Which dresses are restored from original period garments? How do designers create costumes to reflect each character's personality? Get the audio guide ($6 museum members, $8 non-members.) Downton Abbey's costume designers and the series historical advisor, Alastair Bruce, tell all.
Downton Abbey's costume designers, says Muente, "would find fragments of period garments in good condition and build new garments around them." She suggests taking a close look at Lady Sybil's Bohemian-style, crushed velvet maternity dress. Only the embroidered cuffs and wide hem are vintage.
If you were hoping to partake of the special Thursday afternoon teas, you've waited too long, they're sold out. You can, however, still partake of exhibit-themed fare at lunch at the museum café. Among the items: Mrs. Patmore's pasty, chicken tikka masala, shrimp and celery salad, and much more. Reservations are required 24 hours in advance. Call 513.352.5140 or email [email protected]. 
Dressing Downton, July 6-Sept. 25. Taft Museum of Art, 316 Pike St., Downtown Cincinnati. 513-241-0343 and http://www.taftmuseum.org/. Hours: 10 a.m.-5 p.m. Tuesday-Sunday. Tickets: $20 adults, $15 (ages 6-12), Children age five and under admitted free. Guest pass requires additional $10. Dressing Downton tickets are timed at 30-minute intervals starting at 10 a.m. and sold in advance only. The last entry is at 4 p.m. Tickets are available at dressingdowntoncincy.com/tickets.html. Find programs and events info at www.taftmuseum.org/events/lectures.
Written by Jackie Demaline, RCN Arts