Trail Advocates Applaud Higher Priority in Regional Transportation Plan
Tue, 06/28/2016 - 07:45
RCN Newsdesk
For the first time in recent history, bicyclists and pedestrians have become a priority in the Greater Cincinnati region's transportation policy, the organization Tri-State Trails said in a news release.
This month, the Ohio Kentucky Indiana Regional Council of Governments (OKI) board of directors unanimously approved the 4-year update to their 2040 Regional Transportation Plan. The update includes 17 prioritized bike and pedestrian related projects, worth an estimated $191 million. Previously, the 2040 Plan included only three prioritized bike and pedestrian projects equating approximately $2.5 million. The significant increase was due to a partnership between Green Umbrella's Tri-State Trails initiative and OKI to elevate bicycle and pedestrian projects in the 2040 Plan, and an incredible request for more bike and pedestrian options during OKI's public involvement process leading up to the June vote.

"We applaud OKI for their leadership to include the voice of bicyclists and pedestrians in the 2040 Plan update," said Frank Henson, Chair of Tri-State Trails and President of Queen City Bike. "The Tri-State needs a comprehensive active transportation network to remain economically competitive with peer regions."

Tri-State Trails participated in OKI's community engagement process for the 2040 Plan by providing a recommendation of prioritized multi-use trails corridors from the Green Umbrella Regional Trails Plan. "We are most appreciative of their assistance and participation in the process to help us identify the most important bike and pedestrian projects in our region," said Bob Koehler, OKI Deputy Executive Director, in a news release. "Organizations like Tri-State Trails are great advocates for people using the active transportation system."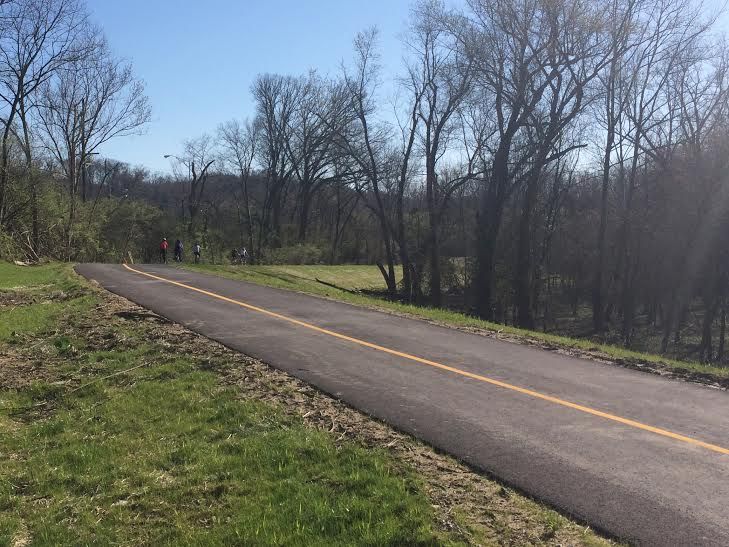 Little Miami Scenic Trail (provided)

Multi-use trails, on-road biking facilities like protected bike lanes, and sidewalks are a fraction of the costs of highways, and they serve a more inclusive user group, including those that do not have access to a car. "The updated 2040 Plan recognizes the growing demand we are seeing for more walkable and bike-friendly communities," commented Kristin Weiss, Executive Director at Green Umbrella. "Our region needs more active transportation infrastructure to encourage new users to commute by walking or biking. Collectively, this can have a profound impact on air quality, congestion, and public health."

"Physical activity is a key factor in a person's overall health, and having access to a safe, robust trail system enables people to incorporate exercise into their daily routines, said Megan Folkerth, program officer at Interact for Health. "Incorporating the trails system into OKI's 2040 Plan paves the way for a healthier community for all of us in the future, and will help us make Greater Cincinnati one of the healthiest regions in the country."

OKI administers some of the largest transportation funding mechanisms available to local governments in the local region. The 2040 Regional Transportation Plan serves as a guiding document in OKI's project review and scoring process for federal transportation funding and is updated every four years.
You can view OKI's 2040 transportation plan by clicking here.
-Staff report
Top photo: Riverfront Commons in Newport (provided)