Premium Content
This Eyesore is About to Be Awesome Thanks to Molly Malone's
Mon, 07/18/2016 - 17:44
RCN Newsdesk
When last used, the property at 106-108 East Fourth Street in Covington was a Mexican restaurant, but that was years ago. Since then, it has sat vacant and is viewed as an eyesore by many neighbors.
Soon, though, it will get a complete makeover.
Molly Malone's, the popular Irish pub in the historic building next door, is expanding, and hopes to paint the old Mexican restaurant the colors of the Irish flag.
Well, maybe. The City of Covington's urban design review board (UDRB) wasn't thrilled with the color scheme, so that part isn't final. What is known is that the Irish are coming in a big way.
"We always found the first floor to be too small, especially if we had a big soccer game," said Molly Malone's manager and co-owner Josh Rhodes. "We're not able to turn tables, we're very confined to that first floor. So being able to expand into the building next to us will give us more bar space and allow us to cater the person who wants to come into the Irish pub, have a pint and have a meal, and to appease our soccer fans."
Molly Malone's - which is co-owned by Rhodes, Paul Shanley, Donal Ryan, and Tadgh O'Callaghan - is one of the most popular destinations in the region for soccer fans. But because of the 90-minute length of soccer matches, which often attracts fans an hour before and an hour or more after, the tables were not turning fast enough for the business. The expansion will allow Molly Malone's to maintain its important relationship with soccer fans and to reintroduce itself as a family-friendly Irish pub.
"It gives us a lot more space to grow our atmosphere and to greet more of Covington," Rhodes said. 
Local architect Andrew Piaskowy presented his renderings for the expansion at Monday afternoon's UDRB meeting. The dramatic makeover will add 95 more seats for dining, a patio with glass garage doors for seasonal use, and rooftop access. The kitchen and bar will both grow.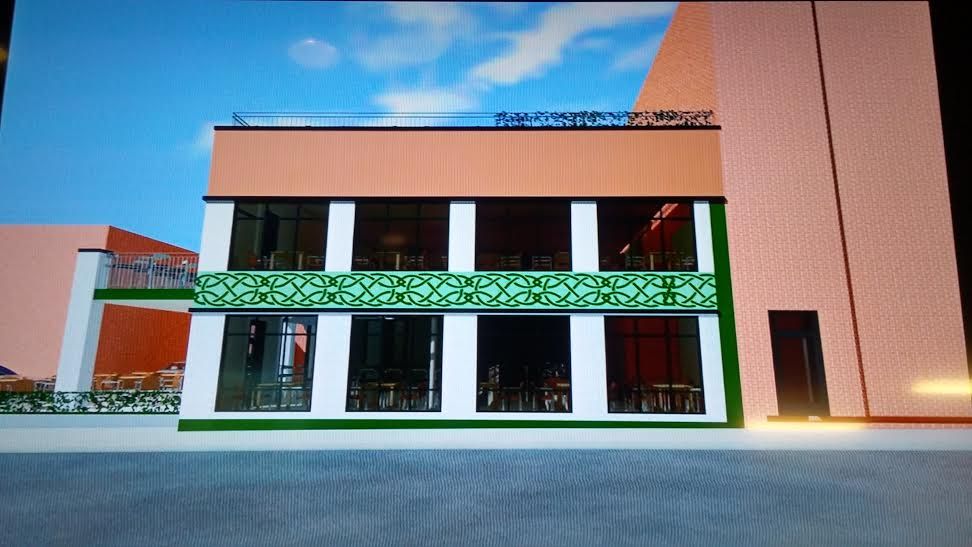 Whether the orange, white, and green of the Irish flag are used to hammer the identity of the pub home will be determined at next month's UDRB meeting.
In the meantime, work is already underway at the site. Demolition work is being done and Rhodes hopes to have the addition open for business during the Cincinnati Bengals season.
"Soccer fans are going to be excited. There will be a lot more space, especially come time for your bigger events like the World Cup when we have a line around the building," Rhodes said. As for the colors, "We're wanting to identify with our Irish identity and I think Andrew (Piascowy) did a good job of pulling it together. Are we going to let the colors stop us in our tracks? No. We want to be good neighbors for the city and we want to make sure it works for us and for the Boone Block and for Roebling Point."
The Roebling Point entertainment district is on the verge of some significant developments that will accompany the Molly Malone's expansion. The Kenton County Administration Building is slated to be redeveloped either as a new home for Northern Kentucky University's Chase College of Law or as a residential tower, once the county government vacates it for the newly acquired Bavarian Brewery Building across town. Additionally, Smoke Justis, a new sports bar and restaurant is slated to open soon where the Down Under bar used to operate.
All together, Roebling Point, with its namesake coffee shop and restaurants like Keystone and Blinkers, attracts a different crowd that complements the businesses at the Banks in Cincinnati or Mainstrasse Village in Covington, Rhodes said. 
Rhodes and co-owner Shanley, who attended Monday's meeting, said that work on a refreshed menu is underway and that a new brunch menu should be ready to roll out in a couple weeks.
-Michael Monks, editor & publisher
Top photo via Kenton Co. PVA