Premium Content
Four Years Later, NKY's Urban Renaissance Owes Great Credit to Catalytic Fund
Fri, 08/05/2016 - 20:36
RCN Newsdesk
In a quiet, small conference room on the fourth floor of RiverCenter I, there is a terse, succinct philosophy scrawled on the wall.
Time Kills Deals.
That is a common refrain from Jeanne Schroer, the former Corporex executive and real estate guru who is now the president and chief executive officer of the Catalytic Fund. In this office, she and her small team of aggressive and ambitious professionals are working to change the course of history for Northern Kentucky's River Cities.
And in a world where time kills deals, this group doesn't waste any.
"I have worked in commercial real estate development for more than thirty years and I've seen a lot. Real estate requires a lot of patience and a long-term perspective; however, it is important to have a sense of urgency about getting things done because outside events that you have no control over can impact a project," Schroer said. Bank financing can change when a lender is purchased by another or interest rates could fluctuate unfavorably, or a loan officer could find a new job. All those things could kill a deal, she said. "It is important to keep everyone that is working on a project focused because if we procrastinate, sure enough, something bad is going to happen as time elapses.
"I don't have to tell these guys that," she said, pointing to her team of three that joined her in the conference room in a recent afternoon group interview. There's Joey Klare, the manager of real estate finance and investment whose role spans from identifying potential developments to administering the capital, and even managing the organizations information technology. Tara Johnson brings a background in economic development and a master's in community planning, and handles the organization's communication strategy. Jen Rawers is a commercial photographer who has been helpful in identifying sites and compiling data for the Catalytic Fund.
The organization is small but the impact is big.
It was just a little more than four years ago, in May 2012, that Schroer announced that the Catalytic Fund had raised the $10 million it needed to project an impact of $100 million in potential new development in Covington, Newport, Ludlow, Bellevue, and Dayton. "The purpose of the Fund is to create more market rate housing, either single family home ownership or market rate rental," Shroer said in an article by The River City News at the time, "so it might be a developer wanting to acquire a property and rehab it, and if it's a single family, sell it, or if it's a larger building, that they could adapt for a multifamily or retail site."
Schroer speaks at the Boone Block groundbreaking (RCN file)
It took four years to raise the initial capital but was made possible when some local heavy-hitting institutions all joined together to make it happen: BB&T, the Haile/US Bank Foundation, Central Bank, Corporex, Duke Energy, 5/3 Bank, First Financial Bank, the Greater Cincinnati Foundation, PNC Bank, and US Bank. The timing also aligned with the appointment of Chuck Scheper as mayor of Covington to fill an unexpired term through 2012. He was, at the time, vice chairman of the fund, and is now chairman. 
Projects started rolling out immediately, and four years later, the landscape of the River Cities is completely different.
Some of the projects that the Catalytic Fund has had a hand in: The Hotel Covington, the Market Lofts (15 market rate apartments), the Mutual Building (12 market rate apartments and first-floor commercial spaces), the Pike Star project (market rate apartments and first-floor commercial), and most recently, the Boone Block, a transformation of a sprawling historic office building into nine luxury townhomes - all of which sold before construction was completed.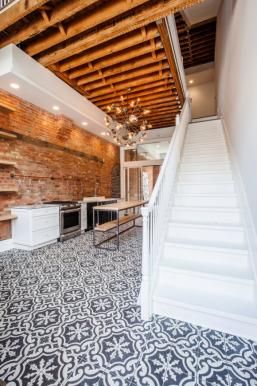 Interior of Boone Block townhouse
The Fund, which provides gap-finance opportunities and consulting services among other offerings, has also been critical in securing grants for smaller projects like the expansion of Carabello Coffee in Newport, for Frida in Mainstrasse Village, and Braxton Brewing Company in downtown Covington. The Scholar House in Newport received a standby loan from the Fund, just in case the Brighton Center-backed project was unable to secure traditional backing (which, it was able to do).
The transfer of properties belonging to the City of Covington and Corporex that led to the relocation of the Kentucky Career Center to the former Robke Chevrolet lot on Madison Avenue, and the Life Learning Center to the former Stewart Iron Works building, is what Schroer says she is most proud of. "Because it was very complicated and I love doing complicated things," she said.
The landmark Marianne Theater in Bellevue had for years been one of those complicated things, but through a collaboration with the Catalytic Fund and the City of Bellevue, a potential development has been identified and the site could eventually be home to a brewery.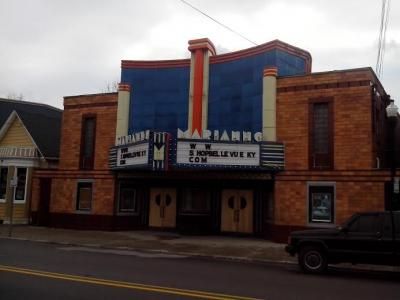 Marianne Theater in Bellevue (RCN file)
The preservation of the Bavarian Brewery Building as a new site for Kenton County's government offices and exploring the feasibility of reusing the current county building as a new home for Chase College of Law or for residential, are projects that the Catalytic Fund played a significant role in, too.
Now, with a portfolio of successful projects, the Northern Kentucky River Cities are more than ready for their close-up. That promoted the Fund to create Beyond The Curb, a tour of urban living opportunities that started in 2015 in Covington and then in Newport. Last spring, the tour moved to Bellevue and Dayton, and this fall will head into Ludlow before repeating the cycle again.
Rendering of Carabello Coffee expansion in Newport
"Beyond the Curb has been a great way to get really well-acquainted, not only with specific properties in the communities, but also different people than we may typically work with," Johnson said. "Typically what we may work with is the staff at the city and the elected officials, or anybody in the private sector, but it's been really good to get to know a wide variety of the people who are very passionate about their communities."
The promotion is paying off and Northern Kentucky's River Cities has seizing the opportunity to attract new residents drawn to the trend of urban living, and the cheaper, larger options available on the south side of the Ohio River compared to what's available in Cincinnati.
"I live a mile from the riverfront park (in Cincinnati) and I have a yard," said Klare, a Newport resident. "If you drop a pin in Fountain Square, it's the same distance from Liberty Street (in Over-the-Rhine)."
"I've often said since the mid-nineties that for me, the vision for the region's urban core is that the main street is the river, and what a unique place to market nationally that you have a river as your main street and you have a large corporate presence along with individual communities and living options from luxury condos to single family homes in all price ranges within walking distance to a major employment center," said Schroer, whose professional experience also includes teaching real estate at the University of Cincinnati.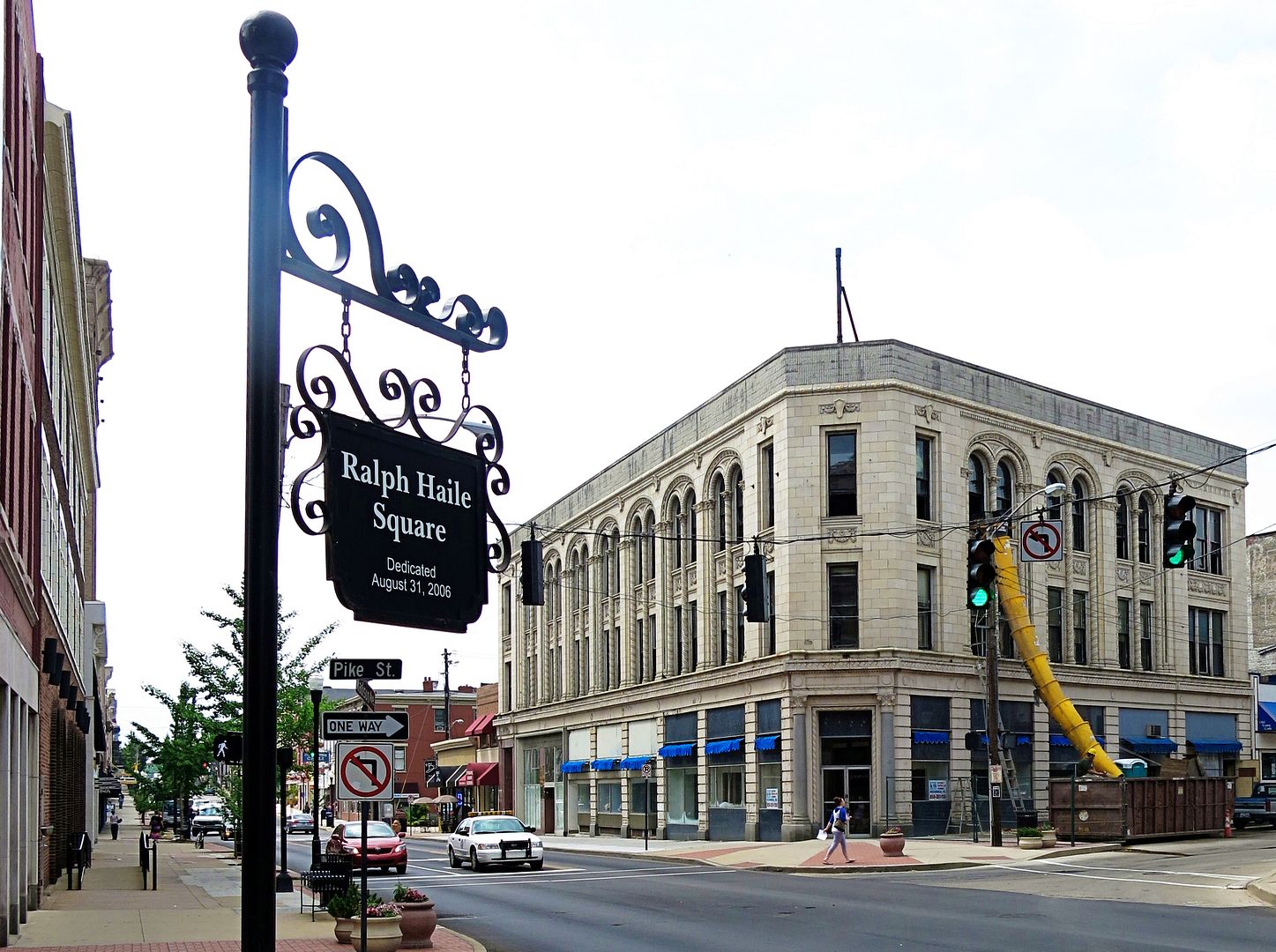 Mutual Building under renovation in 2015 (RCN file)
With the transformation of Cincinnati's downtown, riverfront, and Over-the-Rhine becoming a national story, Northern Kentucky's River Cities are now doing their part to extend that momentum more broadly across the region, thanks in large part to the Catalytic Fund. There have been thirteen projects with $2.1 million put at risk in investments/development valued at $51 million, according to numbers provided by the Catalytic Fund. 105 residential units are online or are coming online, along with 226,000 sq. ft. of commercial space, and 308 full-time jobs to be created based on that square footage.
And there's more to come.
"There are currently nine buildings that we have submitting funding or grant requests for," Klare said. "That will add to every single one of those categories."
One major project on the immediate horizon is Duveneck Square, a mixed-use development that will ultimately lead to 175 new apartment units and more commercial spaces on what is now mostly a vacant parking lot across two blocks of downtown Covington at Pike and Washington Streets.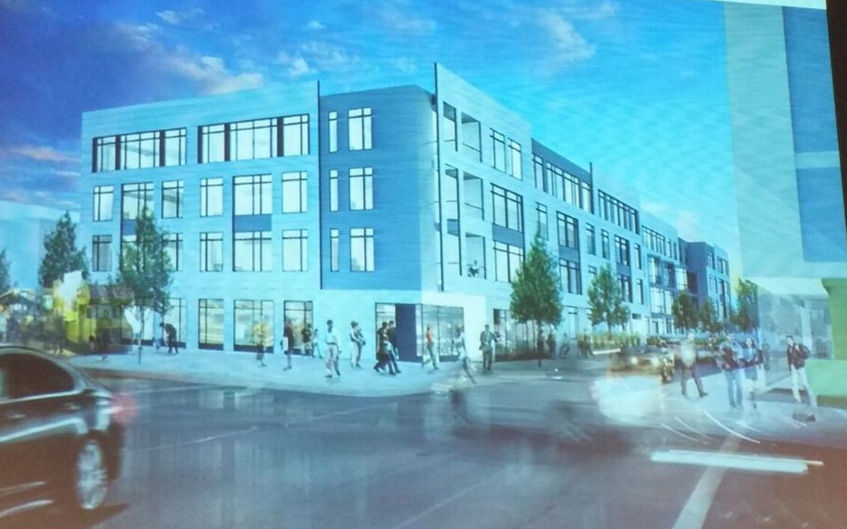 Rendering of Duveneck Square project
"Duveneck Square has been a big dream of ours that I saw before the Catalytic Fund even started," Schroer said. "I would drive by that site every day and thought that area could be one of the best spots in the region and I obviously held on to that and now I think we are seeing that Duveneck is a tipping point project that is going to add a critical mass."
Last year the Catalytic Fund was officially made a Community Development Financial Institution (CDFI) by the U.S. Treasury Department, which opens the development corporation to federal funds such as Financial Assistance Awards, allocations of New Market Tax Credits, and bond guarantee programs that are administered annually. New Market Tax Credits, in particular, were catalysts for major developments in Cincinnati like Mercer Commons and Washington Park, Klare said. 
The end game for the fund is to create an environment where the organization is no longer necessary because the private market has gotten to the place that it needs to in order to take over.
"One thing we've been able to do is make it less pioneering," Johnson said. 
"Beyond the Curb had people from Indian Hill, Hyde Park, Mason, Alexandria, and Florence coming to see areas that maybe two years ago they were still afraid of," Klare said. "And they're spending six hours walking around."

Longtime vacant Tanino's Cafe building was transformed into apartments (RCN file)
"There was a lack of marketing for these cities and that's how Beyond the Curb began," Rawers added.
The word is out now, and the River Cities are hot. And if time kills deals, the sense of urgency is paying off.
"We are setting a high standard and being aspirational," Schroer said. "Covington and the River Cities can support and deserve excellent, high-quality developments."
Written by Michael Monks, editor & publisher