Premium Content
Slush Puppie Founder's Dayton, KY Roots to Be Celebrated with Art
Fri, 08/26/2016 - 17:39
RCN Newsdesk
The swirling contraption of red and blue ice-cold goodness is now ubiquitous in gas stations and convenience stores across the planet - and the man who gave the world the Slush Puppie was born in Dayton, Ky.
Will Radcliff spent most of his life in Cincinnati, but his birthplace on the south side of the Ohio River will pay him tribute soon.
"Why not pay tribute to this cool guy who created this international brand that is still living and breathing today? Everybody knows who the Slush Puppie man is," said Catherine Hamilton-Hicks, a resident of Dayton who wants to preserve the memory of Radcliff, who died in 2014, and his connection to the River City. 
On Saturday, her husband will be dressed in a Slush Puppie costume cheering on runners in the first River Cities Relay, which will meander through five cities that night. And it won't be just any mascot costume - this is one of the originals, commissioned by Radcliff in the 1970s and produced by Schenz Theatrical Supply in Cincinnati.
"I was cruising on eBay and I found one of the original Slush Puppie costumes in Wisconsin," Hamilton-Hicks said. The seller wanted $1,100 for it, but she got him down to $500, and then to clean it up, she took it back to where it came from. John Schenz, who still operates the company, remembered creating the costume more than 40 years ago. "He said this is one of the originals. This could be one of the very first ones. It was in remarkably good shape."
Screenshot from eBay listing (provided)
Hamilton-Hicks allied for and won a nano-grant from Skyward to create a piece of art depicting the Slush Puppie brand. It will be on display for runners and everyone else to see this weekend. Pop artist Tony Dotson, who recently helped Frisch's spruce up its Covington location in a more modern and fun way, performed the task that Hamilton-Hicks asked him to.
"It's the Slush Puppie standing on a Yellow Brick Road, and shows that things are possible. Dream big. Things are magic!"
That's what Radcliff did when he created his now iconic brand that he sold in 2000 to Cadbury for more than $16 million. The story goes that Radcliff was looking for a new opportunity when he stumbled on the slushy machine at a trade show in Chicago. He liked the product but determined there was no magic to it, so he created the identity and the Slush Puppie dog - and got very rich. "The guy was a genius," Hamilton-Hicks said.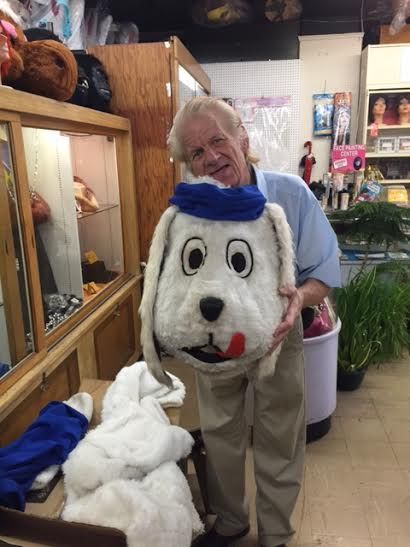 John Schenz reunited with his creation (provided)
Ultimately, a statue of Radcliff's famous dog along Dayton's riverfront - for which the city just crafted a master plan - is desirable, Hamilton-Hicks said. "Kids could come up and hug the puppy and get their picture taken with him," she said. "It would be an asset to set the city apart.
"Even though there are million-dollar homes on the riverfront and other attractions in Dayton, at the end of the day, it's the stories that count."
Those stories will continue at the Tharp Museum which is dedicated to Dayton's history. The costume and artwork will be donated to the museum and when schoolkids visit it, they will learn a new piece of their city's history. 
There are also plans to build a financial resource around the brand to help families buy school supplies when needed - a "slush fund", if you will.
"I think it's in the realm of possibilities," Hamilton-Hicks said. "It's doable."
As Saturday's race takes off for the first time, the Slush Puppie brand returns to its humble Dayton roots - a frozen treat celebrated all over the world, but a local tradition that may have been forgotten, or never even known.
This weekend, that changes, Hamilton-Hicks hopes. The new artwork will be unveiled at 202 Berry Street in Dayton.
"One man's story can put a little town on the map."
Written by Michael Monks, editor & publisher
Top photo: Artwork created by Tony Dotson (provided)