Premium Content
Rick Robinson: A Sunday in DC Means Weed, Boobs, Peaceniks, & Gay Cowboys
Tue, 08/30/2016 - 21:14
RCN Newsdesk
Washington, D.C. is Disneyland for protesters and their causes, lost and found. If there is a movement crying out for action, the first place people will come to is the District of Columbia. Not that it's done protesters any particular good in the past.
For instance, last year a retired postman from Florida (they're always from Florida) flew a gyrocopter into restricted air space and landed on the lawn of the United States Capitol carrying letters for every Member of Congress about campaign finance reform. Personally, I thought this said more about the inefficiency of the US Postal Service than PAC contributions, but who am I to judge?
This past Sunday, I decided to wander the streets of DC in search of the protests of the day. I started at the epicenter of all things grumpy: the White House.
As if announcing the dawn of a new day of demonstrations and bedlam in our nation's capital, I arrived in DC just as the bells of historic St. John's Episcopal Church rang out over Lafayette Park. It wasn't Buffalo Springfield's "For What it's Worth," but you get the idea.  
For as long as I've been wandering around DC, there's been a tent with a permanent protest set up on Pennsylvania Avenue across from the White House. The old woman who was a mainstay at the encampment died last year, but others have filled in to keep the protest alive. Today's volunteer was Philippa Melaku.
While Melaku was ready to talk about the laundry list of peacenik agenda items advertised at the tent, his pet protest seemed to be Human Rights in Tibet. A cause I support, I told him my favorite joke by the late, great comedian Mike DeStefano: "I went to a Chinese restaurant. They had a suggestion box. I wrote down Free Tibet."
Melaku chuckled, but upped the conversational ante. He told me about his three trips to Tibet where he documented human rights abuses and how the Dali Lama once visited him at his White House bivouac. Considering his serious nature, I decided to forego my Bill Murray/Karl Spackler routine about caddying for the Dali Lama. "Gunny Ga Goo Goo," I mumbled to myself as I dropped a dollar in his tip jar.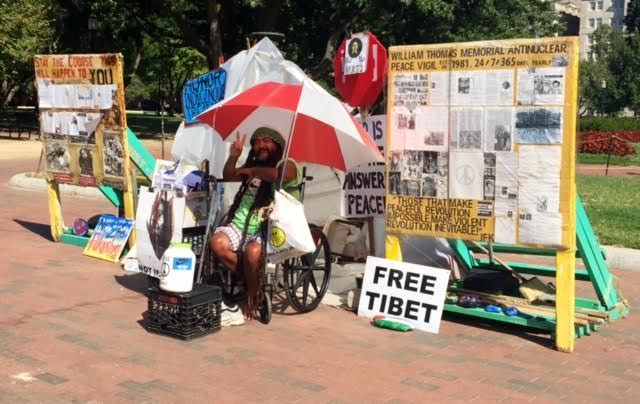 Moving towards the gates of the White House, I noticed a short blond woman in a pink dress holding a sign and also mumbling as she walked in circles. As I approached, the mumbling turned to yelling in Spanish in a very/very/very masculine voice. The only word I recognized was "Miami." When I noticed her blond wig barley covered her three-day beard, I decided to move on.
As I retreated from the White House grounds towards the National Mall, a very nice woman in a Sunday-go-to-church dress gave me a pamphlet about the Jehovah's Witnesses. She pointed at the blond. "He ain't with us," she assured.
I headed from the White House to the Constitution Garden's Pond for "National Go Topless Day." According to its not-safe-for-work (NSFW) web site (www.gotopless.org), on August 28 "dedicated people in cities around the world are invited to stand up for women's right to go topless in public." The photos from the web site display bare chested women in worldwide protests supporting "nipple equality" – and, of course, being followed around like puppy dogs by a bunch of guys with cameras.
The DC Go Topless Rally was a bust. I arrived at the appointed time and found nothing more than a bunch of disappointed guys with cameras. I pointed them in the direction of the White House and told them to look for the blond in the pink dress.
Still I had more important things to do than search for topless women. I was off to the DC State Fair – an interesting concept as DC is not actually a state.
The DC State Fair was held on a vacant lot in a portion of the city undergoing a process commonly known as "gentrification" – which means there are a lot of nice new buildings and restaurants, but junkies still sleep during the day in the empty lots in between. In fact, as I approached the DC State Fair, the Parade of Pets was underway as young urban dwellers marched their pets up and down First Street and feverishly attempted to keep them from peeing on the sleeping junkies in the vacant lots.
Like most state fairs, DC's had a focus on the city's agrarian underpinnings. The blue ribbons for Tastiest Tomato, Best Honey, and Largest Fruit all drew curious onlookers. But the largest crowds gathered around those booths dedicated to DC's top crop – weed. This fair – held just two blocks from the Bureau of Alcohol, Tobacco and Firearms – is the home of the Second Annual "Best Bud" competition.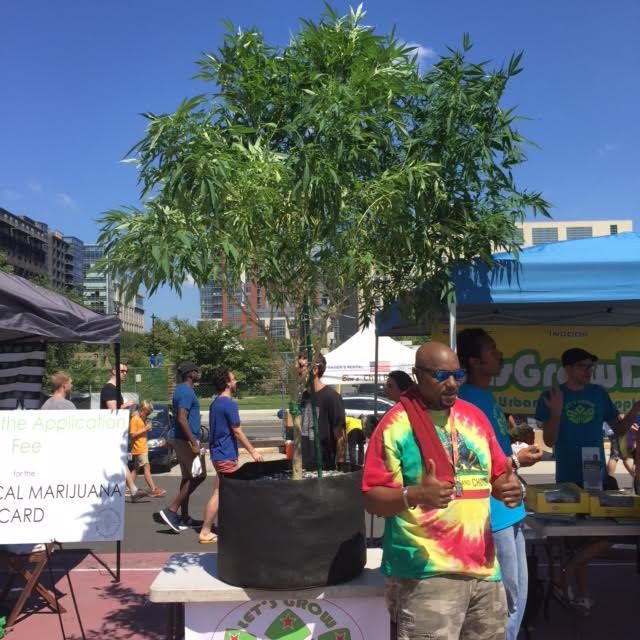 Like many states and localities in the nation, marijuana is legal to use and grow in DC. However, unless it's medical, it's illegal to purchase or sell. Of course, clever business people figure out loopholes. A local t-shirt shop sells a commemorative shirt for $44. Along with the shirt comes a "souvenir box" containing two grams of marijuana.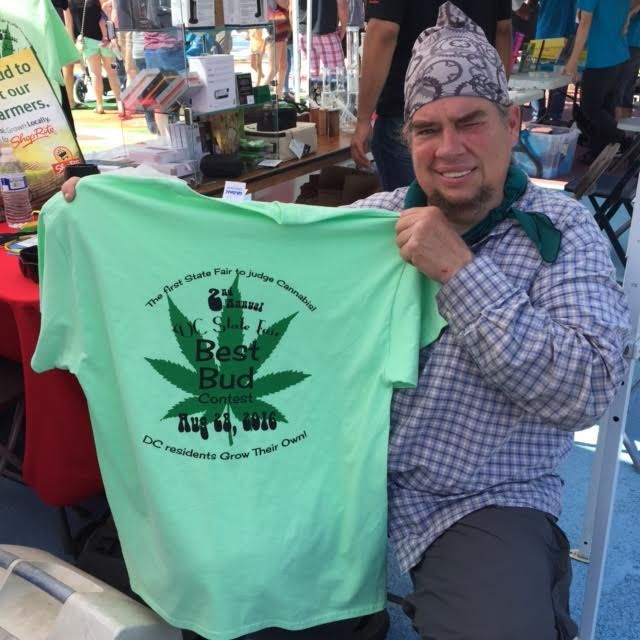 With nearly three decades in "organic landscaping," Mark Perry is the organizer of DC's Best Bud competition. This year he received 40 pre-entries, but only 21 actually showed up and submitted buds. "Typical of a bunch of stoners," he said. "You can't expect them to be on time."
Perry explained the buds (which are actually several hundred flowers woven together) were judged on five qualities: appearance, feel, trim, cure and smell. Although smoking is not a judging quality, judges use blue-light, 100x magnifying glasses to observe the quality of the tri-comb crystals which contain the bud's THC. Perry explained the crystals range from clear to white to yellowish white – the latter containing the most potent THC.
Perry definitely knew his weed.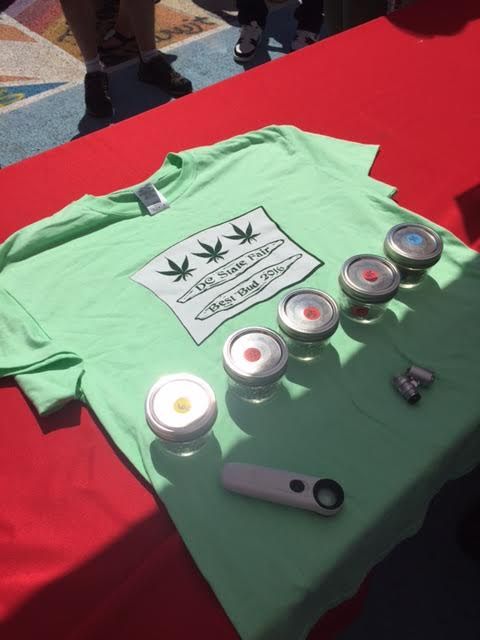 As the judging took place, an old stoner approached and asked if he could enter a bud in his possession as the "People's Choice" entry. No dice. Perry was running a fair competition. So the old hippie asked me if I wanted to buy it instead. I thought about it, but The River City News didn't cover weed in my per diem.
And at precisely 4:20, Perry awarded the blue ribbon for the Best Bud in the nation's capital.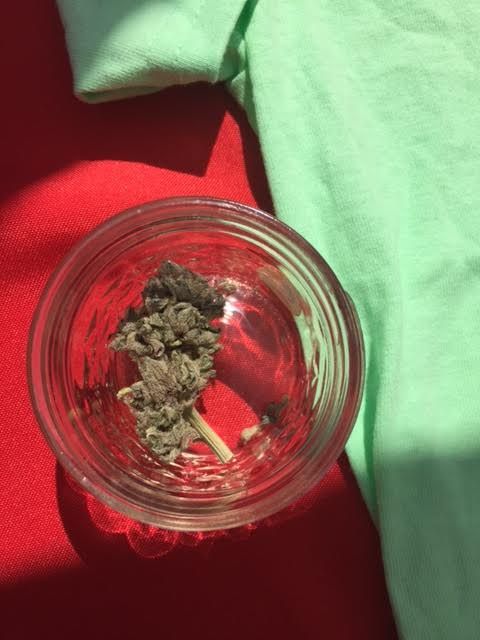 Following the competition, the buds were distributed to state fair volunteers. I checked. It was too late to sign up.
There were also lots and lots of hemp products to be purchased at the DC State Fair. I discovered Hemp Butter was not a tasty breakfast condiment, but a moisturizing cream. Another booth selling hemp products (and bongs) displayed a six foot marijuana tree.
I wandered around the rest of the booths supporting causes as wide-ranging as DC Statehood and the American Cancer Society.
I was hot and I was tired, but I couldn't leave quite yet. It was time for dance instruction by the DC Rawhides – a LGBT Cowboy Line Dance Group. I won't go into detail on this one. But next time you see me, ask to see my blue ribbon.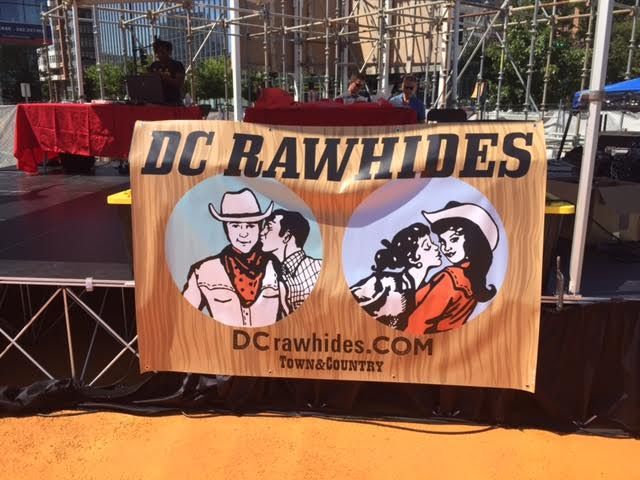 Follow Rick Robinson on Facebook and at www.authorRickRobinson.com.