Riverfest 2016: Covington, Newport & Bellevue Road Closures, Other Rules
Thu, 09/01/2016 - 21:36
RCN Newsdesk
The Western & Southern/WEBN Fireworks at Riverfest are this weekend and that means road closures and other rules that must be noted in Covington, Newport, and Bellevue. 
The event takes place on Sunday, September 4, along the riverfront.
COVINGTON
Road Closures
All streets north of East Fourth Street and east of Madison Avenue will be closed to vehicular traffic at 6 p.m. The Roebling Suspension Bridge and the Clay Wade Bailey Bridge will be closed to all traffic beginning at 6 p.m. The Fourth Street Bridge to Newport will close at 8 p.m.
Madison Avenue will remain open to allow access to public parking lots and garages until they are full or 6 p.m., whichever occurs first. Once the parking lots and garages have reached full capacity, Madison Ave. will be closed to through traffic north of East Fourth Street. There are exceptions for TANK buses, invitation holders to the Metropolitan Club and hotel guests with room keys and parking passes.
Devou Park, Kenton Hills, and The Bluffs will have restricted traffic beginning at 2 p.m. Access to these areas will be restricted to residents and their guests only.
Streets inside of the Impact Area will not reopen and residents and guests will not be permitted to exit the Impact Area in a vehicle until the CPD Event Commander determines that it is safe to do so. This may be up to an hour after the fireworks are completed.
The safe evacuation of the pedestrian traffic leaving the Impact Area will be the first concern of CPD. Traffic movement will be coordinated as soon as all pedestrians have safely cleared the area.
Parking
The following areas within the Impact Area will be posted as "No Parking Tow Away Zones". Vehicles parked in these areas will be towed starting at 7 a.m.:
Riverside Drive (the entire street)
Garrard Street between East Second Street and Riverside Drive
Kennedy Street between East Second Street and Riverside Drive
Shelby Street between East Second Street and Riverside Drive
Scott Blvd. north of East Fourth Street (including parking meters)
Greenup Street north of East Fourth Street (including parking meters)
East Third Street east of Madison Avenue (including parking meters)
Park Place (including parking meters)
Court Street (including parking meters)
Surface lots along the floodwall on Rivercenter Blvd. between Madison Avenue and Johnson Street and below the Roebling Suspension Bridge
Grass areas in Devou Park
All vehicles parked in garages and parking lots located in the Impact Area will not be permitted to leave until pedestrian traffic has cleared and the CPD Event Commander has determined that it is safe for vehicle traffic.
Alcohol & Other Restrictions
Alcohol is prohibited on City property and in public places at all times. All coolers and beverage containers are subject to inspection by CPD officers and will be checked at designated checkpoints.
For guests attending private events, no alcohol is permitted in the Impact Area after 6 p.m. Anyone wishing to bring alcohol to a private event must have it in the Impact Area before 6 p.m. After 6 p.m., Police officers will not allow anyone with alcohol to enter the Impact Area.
Glass containers, bicycles, skateboards, pets, roller blades, roller skates, and fireworks are all PROHIBITED in the Impact Area. Motorized vehicles or scooters are not permitted on floodwalls. Swimming in both the Ohio and Licking Rivers is also prohibited during Riverfest.
Arrangements for handicapped access in the Impact Area can be made by visiting the CPD Command Center.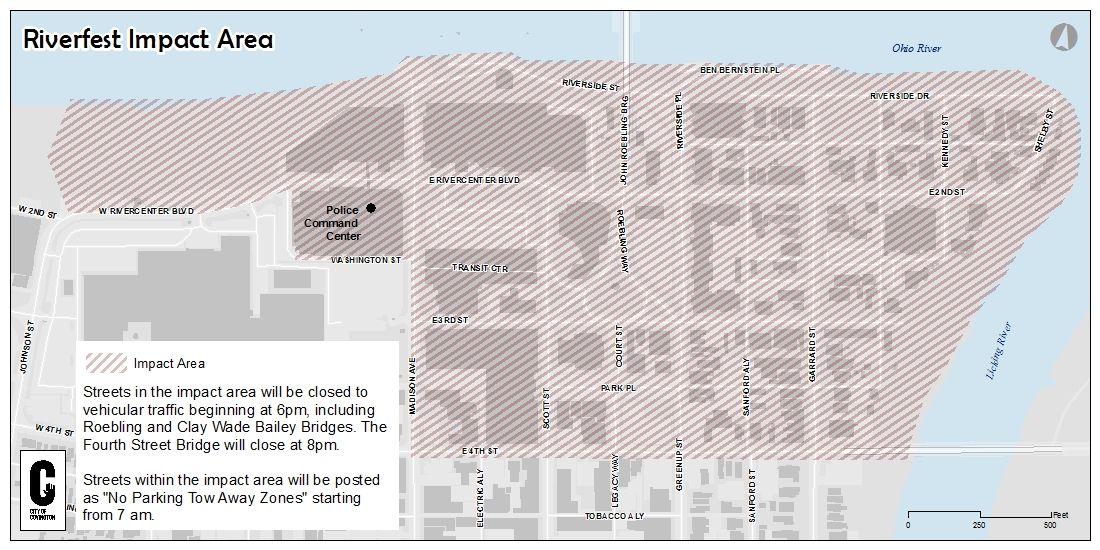 SEE DETAILS ABOUT NEWPORT AND BELLEVUE ON THE NEXT PAGES
NEWPORT
Road Closures
Riverboat Row closes at 8 a.m. 
Columbia Street (north of 4th Street) closes at 8 a.m.
Purple People Bridge closes at 5 p.m.
Taylor-Southgate Bridge closes to vehicular traffic at 6 p.m. and to pedestrian traffic at 7:30 p.m.
Monmouth Street from 3rd to 11th Streets closes at 7:30 p.m. There will be no parking on Monmouth.
Dave Cowens Drive closes at 7:30 p.m.
North and South I-471 ramps to Route 8 (Exit 5) closes at 7:30 p.m.
10th Street between Saratoga and York Streets closes at 7:30 p.m.
4th Street Bridge closes at 8:30 p.m.
Licking Pike (Route 9) northbound at Aspen Drive closes at 9 p.m.
I-471 northbound will remain open during the event unless the safety of motorists determines that it needs to be closed.
All traffic leaving the event is being routed to I-471 or I-275.  If you are directed to a route or direction that you are not wanting to take, please continue on the route as instructed, and once on the interstate, you can simply take any exit to get turned around if you need to. Due to street closures and the large amount of traffic, the direct route to your destination, may not be available.
When leaving Newport:
At approximately 

9:00 PM

, Monmouth St will reopen and change to a one-way street going South to send all traffic to I471.
All traffic West of York Street will be directed South to 12th Street.  12th St will be a one-way street going West to send all traffic to 275. 
After the event, the NKU buses will stage on Dave Cowens (Route 8) entrance ramp to I471 South for everyone that arrived on the buses.  
All traffic near Dave Cowens (Route 8) after the event will be sent to I471 North or South.  
Additional rules
DO NOT bring any Beverages, or ALCOHOL of any type into the venue.  (Parents with infants may bring water, milk, or other simulated milk products.) 
DO NOT bring any Coolers, Grills, Tents, Large Umbrellas, or Large Chairs.
DO NOT bring any Roller-skates, Rollerblades, Scooters, Motorized Vehicles, or Bicycles.
DO NOT bring any type of PETS.
DO NOT park your vehicle illegally, or anywhere that you would not park it at any other given time (such as: Expressways, medians, road shoulders, entrance ramps, exit ramps, roadway, or No Parking Zones)
DO NOT bring or fly any Drones, Remote Controlled electronics, or any other flying objects.
DO NOT bring any laser pointers or other light emitting devices.
NO SOLICITING North of 4th St. without a Special Riverfest Vendors license issued specifically for the event. 
Plan on which side of the river you want to be on prior to 6:00 pm when most of the road closures occur.  Pedestrian traffic closes at 7:30 pm.
Allow yourself plenty of time to arrive early due to limited parking and road closures.
Plan for long delays when leaving the event due to a large amount of vehicular traffic.       
Dress appropriately for the weather.
Small children should consider wearing hearing protection.
See information for Bellevue on the next page!
BELLEVUE
Rules
The No Tailgating Ban will be strictly enforced: There will be no tailgating permitted on any public right of way or city-owned property, including parks or privately-owned property within the Riverfest Event Area.
Once you park you will not be permitted to consume alcohol or grill out at your vehicle. Open alcohol containers in a public location are a violation of state law and violators will be dealt with appropriately, police said in a news release.
Do not follow the direction of your GPS because many streets in Bellevue, Newport, and Covington will have changed from their regular traffic flow patterns to accommodate the increased traffic. Follow the signs or directions given by Bellevue Police officers or VIPS.
The ramp leading to northbound I-471 will not open until the pedestrian traffic has cleared out of the event area. Expect to wait 30 minutes after the fireworks end before traffic is allowed to move west on Fairfield Ave.
The southbound ramp will not open until all the shuttle buses have departed Cowens Drive, which should be 45 minutes after the fireworks end. Memorial Parkway ramps will not close and it is suggested that you use those ramps. Please remember everyone did not arrive in town at the same time so everyone can not expect to leave at the same time. Exiting Bellevue to the south is your best option, police said.
All parking regulation will be enforced throughout the city and those violators blocking the roadway or parked in a prohibited location will be towed. Premium paid parking will be available on the lot of The Party Source after 3:00 p.m.
A Mobil Command Center will be located in The Party Source lot next to the New Riff Distillery should you need a police officer.
-Staff report
Photo: Fireworks at Riverfest in 2014 (RCN file)