Premium Content
High School Football: Ludlow Toppled at Home; Highlands Loses Again; & More
Sat, 09/03/2016 - 11:47
RCN Newsdesk
Pendleton County topped Dayton by a score of 16-7 in a battle of the defenses Friday night in Falmouth.
If the two teams' history was any indicator, it was always destined to be a barn-burner. Coming into the game, the two teams had played seven times since 2004. Pendleton County had won four of the matchups, and only once had either team's margin of victory been more than a single score.
Friday night, the score remained knotted at zero until midway through the second quarter, when Pendleton County junior Jordan Smith scored on a quarterback keeper. The Wildcats converted the extra point to take a 7-0 lead.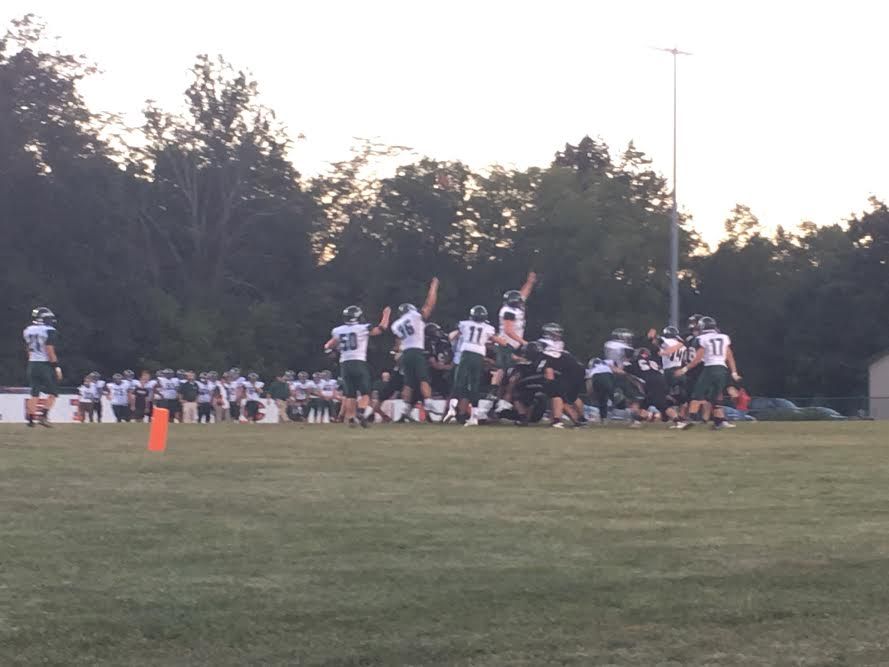 Dayton answered on their final possession of the quarter after a fumble by Pendleton County. Senior Trevor Simpson hauled in a 25-yard reception to set up a first-and-goal for the Green Devils and two plays later, junior running back Seth Chinn punched it in to tie the game at seven apiece.
After halftime, Pendleton County gave several different players touches in the backfield, either through pitches or handoffs, allowing them the freedom to make a play.
"We love having that kind of variety," said Pendleton County head coach Brian Burgemeir. "It gives us an advantage because we can rotate guys in and give them breaks, since most of them play defense too. When they play like they did tonight, it really shows for us."
In the first possession of the second half, the Wildcats marched to the goal line, but were thwarted on four consecutive run plays. Their defense responded after the turnover on downs, however, forcing a two-point safety three plays later, when Dayton's punter stepped out of bounds while trying to punt from the Pendleton County end zone.
The Wildcats put together a long drive after the safety, capped off by a short rushing touchdown by junior fullback Zach Blevins. Blevins' touchdown pushed the lead to two scores, and they never looked back.
Pendleton's defense relentlessly invaded Dayton's backfield, particularly in the fourth quarter, and never let the Green Devils into the red zone for the rest of the game.
"We knew Dayton had a really strong run game and they could throw the ball when they need to," said Burgemeir. "We worked all week on getting pressure from our defensive line. We have some depth there, so we tried to keep those guys fresh too. Our defense is really playing well right now."
With the win, Pendleton County improves to 1-1 on the season. They will host Jackson County next Saturday night.
With the loss, Dayton falls to 1-2 on the season. Next Friday, they take on the Vikings of New Miami High School in New Miami, Ohio.   
Paris 27, Ludlow 23
Big plays and little plays propelled this well-played game that resulted in a Paris victory on the Panthers' home field. 
Paris opened the game with a strong drive but ended up with no points, and Ludlow answered, jumping out to a 16-0 lead. 
The second half would see a big Paris comeback that was then washed out by Ludlow. But a long 48-yard bomb would put Paris up for good.
See photos from this game in the slideshow below.
Next week, Ludlow (1-1) travels to Gallatin County.
Other Scores
Covington Catholic 34, Sycamore (OH) 33, OT It took extra time but the Colonels picked up their second win of the season. Cov Cath (2-1) welcomes Lexington Catholic to Park Hills next week.
Campbell County 33, Newport Catholic 28. The Camels, fresh off their stunning upset of Highlands, put another notch in the victory column, topping the Thoroughbreds on the road. Campbell Co. (2-1) welcomes Cooper to town next week. New Cath (1-2) plays host to Belfry.
Scott County 42, Highlands 33. It's two losses in a row for the Bluebirds who fall to 1-2 on the year. The schedule doesn't get any easier for Highlands (1-2) as the Birds travel to Union next week to face Ryle (3-0).
Simon Kenton 39, Conner 27. The Pioneers remain unbeaten, taking care of the Cougars in Independence on Friday night. Next week, Simon Kenton (3-0) travels to Edgewood to take on rival Dixie Heights. Conner (1-1) plays host to Scott.
Walton-Verona 17, Holmes 0. The Bearcats had little trouble with the visiting Bulldogs and after losing their first two games by a combined score of 82-0, Walton put up a shutout of its own. Walton-Verona (1-2) greets Henry County next week while Holmes (1-2) travels to Erlanger to take on Lloyd.
Scott 56, Newport 16. Scott ran away with this one early and cruised to its first victory of the season at home in Taylor Mill on Friday night. The Eagles, who were blown out in the first two games of the season, look to keep their newfound winning ways when they take their 1-2 record to Hebron for a date with Conner next week. Newport falls to 1-2 and will visit neighboring Bellevue next week.
Dixie 28, Milford (OH) 13. Dixie picked up its second easy win of the season. The Colonels (2-0) play host to rival Simon Kenton next week.
Beechwood 29, Somerset 7. Beechwood welcomed Somerset to Ft. Mitchell and then sent them home with a big loss on their record. The Tigers (2-0) complete their 3-game homestand with a visit from Franklin County next week.
Bishop Brossart 13, Bellevue 6. It's shaping up to be one of those seasons for Bellevue as the Tigers fall to 0-3. The Mutangs improved to 2-1 with their win in Alexandria on Friday. Next week has Bellevue hosting Newport and Brossart bussing out to Trimble County.
Cooper 52, (Lex.) Bryan Station 28. The Jaguars picked up their second win in a row, at home Friday night over Bryan Station from Lexington. Cooper (2-1) will be tested next week when they travel to take on Campbell County.
Ryle 42, Boone County 7 (Thursday). In Thursday action, the Raiders had no trouble with the host Rebels in Florence. Ryle (3-0) plays host to Highlands next week while Boone (0-3) will look to end its 23-game losing streak when exington Lafayette visits next week.
Alex Valentine reported from the Dayton-Pendleton Co. game
Brian Frey shot photos at the Paris-Ludlow game
Michael Monks compiled the scores