Premium Content
Football: Holy Cross Comeback Falls Short; Bellevue, SK Roll; More
Sat, 09/10/2016 - 10:26
RCN Newsdesk
Though the series is in its infancy – having only met twice -- Taft vs. Holy Cross has turned into an evenly matched game. When they met last season, Taft squeaked by the Indians with a five-point victory. This year, the Senators were victorious again, 27-19. However, they had to withstand an attempted comeback by the Indians, who stormed back from a 14-point deficit with two-and-a-half minutes remaining only to run out of time and maybe pondering, "What if?"
Taking advantage of Taft penalties midway through the final quarter, Holy Cross turned the Senators' misfortune into points, scoring on a pass play from junior quarterback Dylan Couch to senior receiver Corey Lyons on a drive that took five minutes and began inside its own 40-yard line. Down by eight with fewer than two minutes remaining, the Indians' decided against an onside kick.
Holy Cross got on the scoreboard first, taking advantage of a fumble by Taft sophomore Chris'Seon Stringer on a punt inside the Senators' 35. The Indians' picked up the football and advanced inside the 10-yard line. Several plays later, Couch rolled to his right and found senior receiver Dominick Finnell for the score and a 7-0 lead. After several big plays from sophomore Demarco Bradley and Marvin Hall, Taft junior quarterback Dashawn Lawrence rolled to his right, lofting a pass toward the end zone. Standout senior two-way linebacker/running back Derrick Barnes stepped in front of the waiting hands of the Senators' receiver and outraced everyone 97 yards the other way, putting Holy Cross up by 13.
On its ensuing possession, Taft put its first points up almost immediately with junior running back Dwight Hayes racing nearly untouched through the line 70 yards for the touchdown and a 13-6 score early in the second quarter. After forcing a three-and-out by the Indians' on its next series, Taft's Bradley provided the play of the night, zigging-and-zagging nearly 70 yards, leaving several Holy Cross defenders grasping at air and leaping into the end zone to bring his team closer, 13-12. But, the Senators were not done – this time, its' defense stepping up, stuffing Barnes on a run play in his own end zone, resulting in a safety and a 14-13 lead for the home team.
Closer to halftime, Taft stretched its lead, compliments of a 47-yard pass play, as Lawrence found a wide open Hall for a touchdown and a 21-13 score. Forcing an Indians' punt on their initial possession of the third, Taft jumped on several Holy Cross penalties, culminating in a quarterback sneak by Lawrence and a 27-13 lead.
With six minutes remaining in the game, Holy Cross began to mount its comeback but could not take advantage of several opportunities presented to them: A dropped potential interception by Christian Current which would've given his team the ball deep inside Senators' territory with the game winding down, in addition to facemask and pass interference penalties on Taft. The home team had an opportunity to seal the game on its final defensive possession too, but dropped a potential interception near the end zone, giving Holy Cross another chance. Ultimately, Couch was sacked and the Indians' chances ran out – along with the clock.
Next week, Holy Cross (2-1) stays on the road to face Scott.
Simon Kenton 43, Dixie 14
Simon Kenton walloped Dixie Height to the tune of 43-14 on a thick, muggy night in Edgewood Friday night.
The Pioneers set the tone early, marching 87 yards on their first possession, with senior Cameron Racke finishing off the drive with a touchdown by way of 7-yard quarterback keeper.
Not much changed but the score for the rest of the first half. Simon Kenton was never forced to punt, and faced just one fourth down in the half, which they converted. For the game, the Pioneers racked up 444 total yards of offense to Dixie's 285.
Simon Kenton dominated the battle of the trenches, as they were bigger, stronger, and more physical on both sides of the ball.
On offense, they opened big holes for ball carriers and gave Simon Kenton's two quarterbacks plenty of time to find receivers downfield. On defense, they stifled Dixie Heights' rushing game, which had been potent in the Colonels' first two games of the season.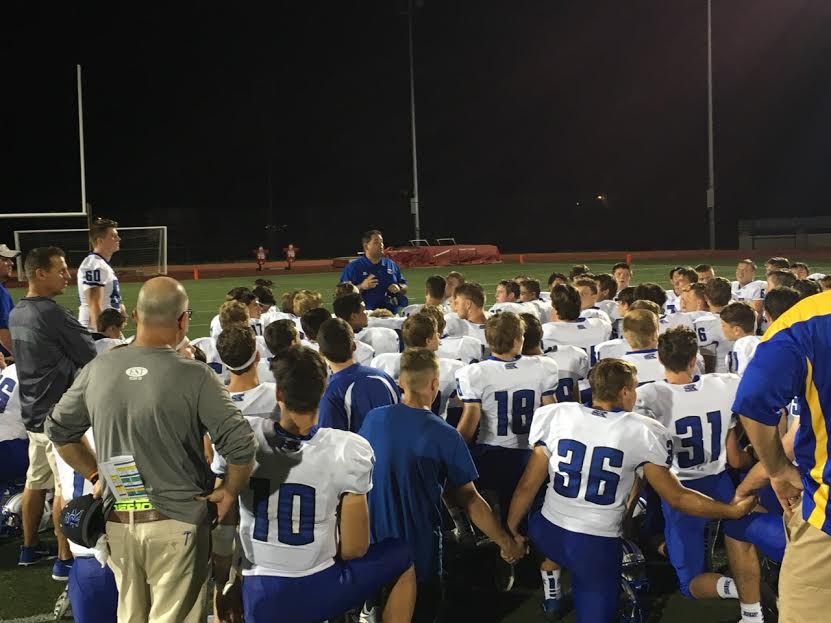 After the Pioneers' touchdown, Dixie fumbled around midfield. Simon Kenton senior running back Dylan Hampton capped off the following eight-play drive with a 4-yard touchdown run, his fifth of the season. The Pioneers converted the 2-point try to take a 15-0 lead late in the first quarter.
Dixie showed signs of life on their next possession, when senior running back Jose Torres broke free for a 72-yard touchdown run. Coming into Friday's matchup, Torres ranked third in the state, regardless of class, with 237 rushing yards per game, and had found the end zone five times in two games.
But the Colonels' offensive line struggled to create openings for Torres for most of the night. Outside of the long touchdown, he gained just 25 yards rushing on 15 attempts.
The other half of Simon Kenton's dual quarterback system, junior Matt Shearer, quickly halted the home team's momentum on the Pioneers' next drive, when he found senior Timmy Cottrell racing down the middle of the field for a 37-yard reception. Shearer shed a tackler and skated into the end zone one play later for an 8-yard rushing touchdown.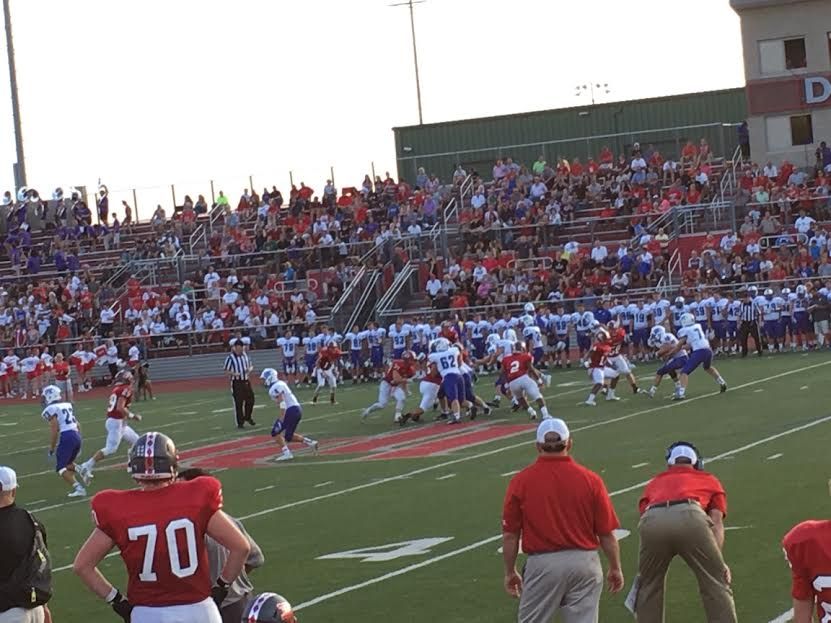 In the first half, Simon Kenton rarely let more than 10 seconds run off between plays on offense, opting to play at an up-tempo speed that head coach Jeff Marksbury says is advantageous because of the skill sets of his players and the team's depth of talent.
"It's definitely a trump card in our hand that we can play fast to keep teams on their toes and get people tired. We have depth at skill positions and on defense, and we work on that in practice. We try to go fast all of the time, since we can platoon and keep guys running in and out," said Marksberry.
After Torres was stifled on three straight run plays for the Colonels, Simon Kenton regained possession. Cottrell again streaked past Dixie's secondary, and Cameron Racke hit him in stride for a 38-yard touchdown to give the Pioneers a 29-6 lead with just under 10 minutes left in the first half.
Dixie effectively moved the ball on their next drive, picking up two first downs on their first three plays, but their drive eventually fizzled out. After the punt, junior receiver Fisher Hayden scored on a leaping, juggling 28-yard touchdown to give the Pioneers a 36-6 lead at halftime.  
In the second half, the Pioneers picked up right where they left off, when sophomore running back Jon Sergent broke free to score from 35 yards out less than a minute into the half.
Six different Simon Kenton receivers caught at least one pass. Junior Sam Murray led the sextet with 82 yards on 6 receptions.
Dixie senior Giante Hicks scored the final touchdown of the game on a three-yard run with 10 minutes remaining, and leapt over the pile and into the end zone to convert the following 2-point try. Barker broke several long runs in the half, finishing the night with 78 rushing yards on just five attempts.
Hicks and junior Brandon Barker put together a nice running game for Dixie in the second half. Barker broke several long runs in the half, finishing with 78 rushing yards on just five attempts.
With the win, Simon Kenton improves to 4-0 on the year, behind an average margin of victory of 20.5 points per game. Next Friday, they travel to Union to take on the Jaguars of Cooper High School.
With the loss, Dixie Heights falls to 2-1 on the season. They travel to Hebron next week for a matchup with Conner High School.
Bellevue 37, Newport 8
Bellevue got its first win of the season on Friday night when neighboring Newport came to town.
Adam Hazeres and Alex Scott put up early touchdowns for the Tigers who jumped out to a 16-0 lead and never looked back. The Wildcats struggled to move the ball all night and Bellevue's Jason Craig added two more touchdowns to keep the game out of reach.
Newport's Tyler Porter added the Wildcats' lone highlight, a 70-yard touchdown run late in the game.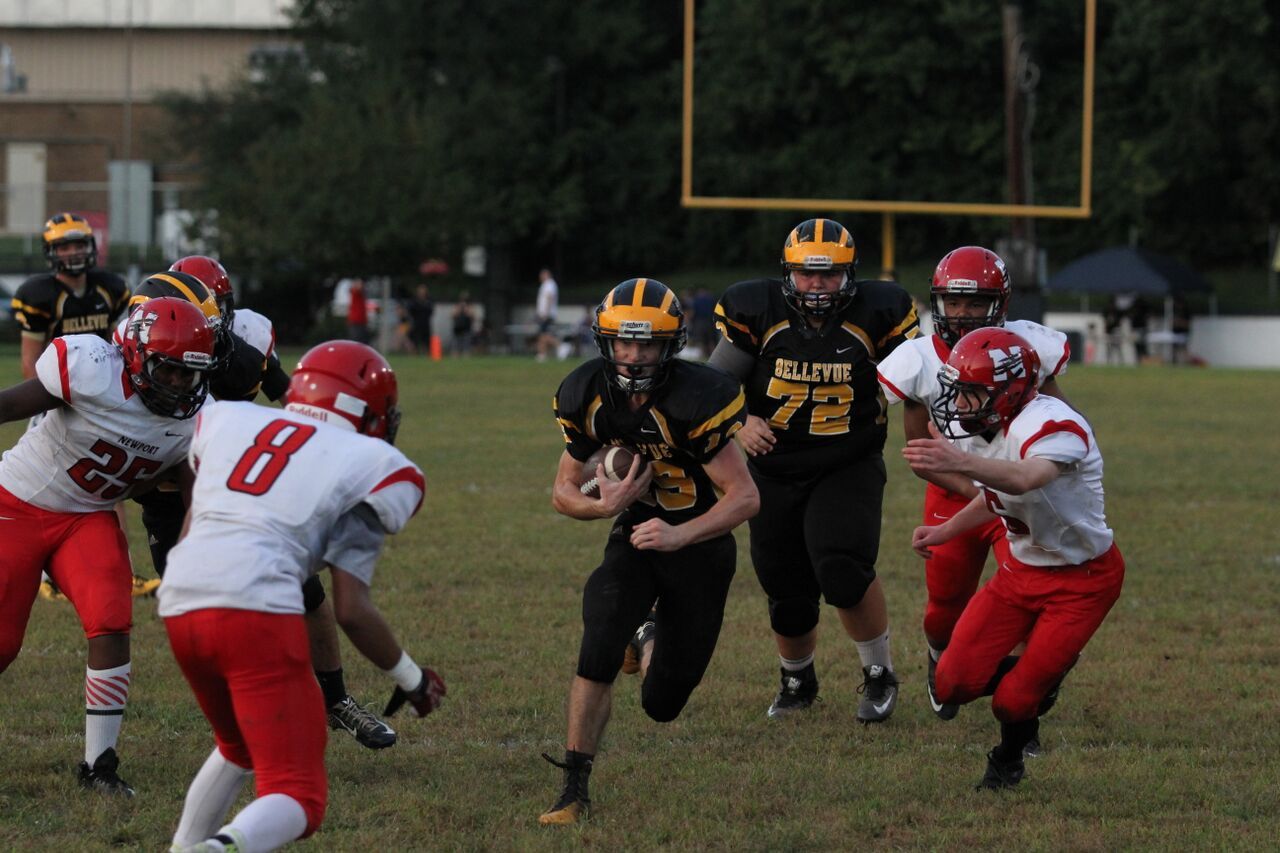 Bellevue (1-3) hosts Holmes next week while Newport (1-3) welcomes Owen County to town.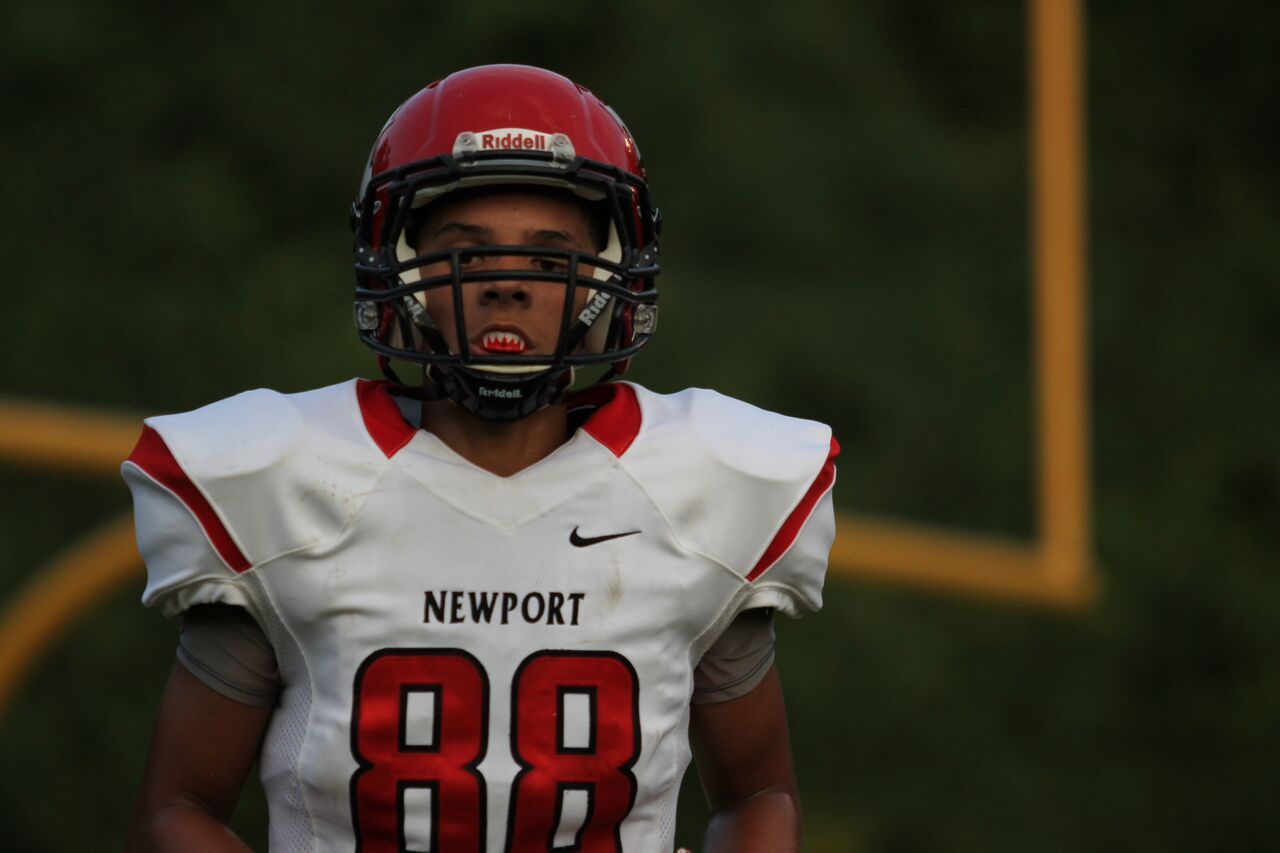 Other scores:
Ryle 50, Highlands 14. The Raiders routed the Bluebirds in Union on Friday to improve to 4-0 on the season. Highlands, meanwhile, drops its third consecutive game and falls to 1-3. Next week, Ryle travels to Alexandria to take on Campbell County while Highlands will have its hands full at (Louisville) St. Xavier.
Belfry 41, Newport Catholic 8. The 'Breds were routed at home on Friday when the undefeated Belfry Pirates stormed into town. New Cath is now 1-3 on the year and will host Harrison County next week.
Cooper 44, Campbell Co. 14. After putting together two nice wins against Highlands and New Cath, the Camels ran into a wall when the Cooper Jaguars rolled into Alexandria and thumped them. Cooper is now 3-1 on the season and will face a tough test next week Simon Kenton comes to Union. Campbell Co. will look to pick up another win next week when Cooper's neighbor, Ryle, visits.
Lloyd 22, Holmes 0. It's two games in a row for the Bulldogs in which the offense put up a goose egg. Holmes falls to 1-3 on the season while Lloyd is trending in the other direction at 3-1. Next week has the Juggernauts traveling to Garrard County while Holmes visits Bellevue.
Covington Catholic 21, Lexington Catholic 20. The Colonels eked out a victory over visiting Lexington Catholic for their third straight win. Cov Cath is now 3-1 on the season and plays host to Beechwood next week.
Walton-Verona 29, Henry Co. 7. It's back-to-back wins for the Bearcats who are now 2-2 this season. Walton hosts Lexington Catholic next week.
Beechwood 57, Franklin Co. 21. The Tigers' record remains unblemished as they easily sent the Flyers back home with a loss. Beechwood (3-0) has a date at Cov Cath next week.
Conner 60, Scott 8. Conner had no trouble when Scott visited Hebron on Friday. The Cougars improve to 2-1 and host Dixie next week. Scott (1-3) hopes to get back on the winning side of things when Holy Cross visits Taylor Mill next week for the Eagles' homecoming game.
Lafayette 40, Boone Co. 13. Make it 24 losses in a row for Boone County after the visitors from Lexington had no trouble with the Rebels. Boone (0-4) hits the road next week for a trip to South Oldham.
Gallatin Co. 17, Ludlow 15. The Panthers found themselves on the losing end of another close game as Gallatin escape with a win at home. Ludlow (1-2) hopes to changes its fortunes next week when Trimble Co. visits.
Dayton 27, New Miami (OH) 20. The Greendevils evened up their record at 2-2 with this road win. Dayton welcomes Bracken Co. on September 23. 
Bishop Brossart 44, Trimble Co. 8. The Mustangs picked up their third win of the year in a big victory on the road. Brossart (3-1) travels to Nicholas County next week.
Jason Finnell reported from Holy Cross-Taft; Alex Valentine reported from Dixie-Simon Kenton; Brian Frey reported from Newport-Bellevue; Michael Monks compiled the score report.