Acclaimed International Artists Returning to Covington to Expand Boone Block Mural
Mon, 09/12/2016 - 16:27
RCN Newsdesk
They are coming back to finish what they started.
The London Police - the acclaimed international street artists from Amsterdam, The Netherlands - will be back in Covington for the next nine days working on a giant work of art on the north-facing wall of the Boone Block Lofts building, which is being transformed into nine luxury townhomes.
A team of four skilled artists headed by London Police duo Chaz and Bob, will create the 40-ft.-by- 40-ft. wall. The three-story space serves as combined canvas and vertical garden for the mixed-media installation of art and ecology. The work will be the culmination of the vision for the site of the late Mike Amann, founder of Covington-based creative firm BLDG, who initiated an international street art movement in Covington, bringing artists like London Police, Vhils, and Faille to the city. Amann passed away in 2013 and BLDG is curating the artwork.
Interior of the Boone Block Lofts (RCN file)
The London Police, known for their iconic "lad" characters and precision marking, encourage public engagement. Their most recent installations in the U.S. are found at the Quinn Hotel in New York, The Coney Art Walls project in Coney Island and Sun Life Stadium in Miami, Florida. Their body of works spans a 16-year period and appears in over 35 countries around the world.
The artists had a celebrated stint in Covington in 2013 and left their mark all over town.
The project fuses two important pieces of downtown Covington's revitalization effort: public art and restoration of historic properties. 
"The Living Wall is an integral element of the (Boone Block) project's adaptive re-use of the 24,720 square-foot landmark structure," said Jeanne Schroer, president and CEO of the Catalytic Fund, an organization that helps attract financing for urban developments in Northern Kentucky. "The Boone Block is a transformative project developed in a manner that preserves and improves the streetscape, encourages further development, increases residential density, and supports the economic vibrancy of Covington."
Wide view of mural's location prior to renovation of Boone Block (RCN file)
Funding from the Greater Cincinnati Foundation launched the mural component of the initiative, and fundraising for the green wall portion of the project continues. Former Covington Mayor Chuck Scheper, chairman of the board at Bexion Pharmaceuticals, is also on the governing board of the GCF.
"A Living Wall is a fitting endeavor that speaks to the renewed optimism, creativity and vibrancy of the community," Scheper said.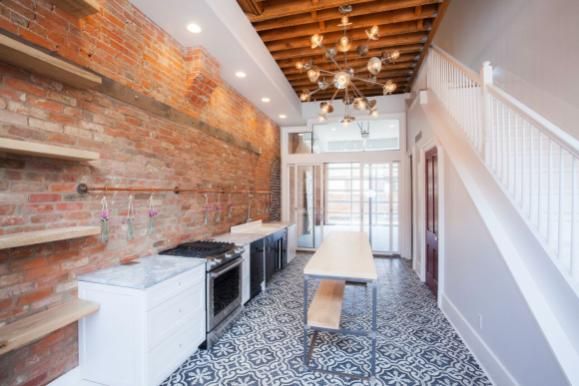 Interior of the Boone Block after renovation (RCN file)
Boone Block Development, LLC prepared the site, with contributions of labor and materials to prime the wall, rough in the water source for the proposed irrigation system and install the exterior lighting at project completion. Tony Kreutzjans, Boone Block principal, contractor, and owner of Orleans Development experienced London Police murals up close in Amsterdam earlier this year.  Kreutzjans explained, "The scale of their work is phenomenal, the Living Wall is a major contribution to public art, it already has become a destination drawing interest far beyond the local region."
-Staff report