IT'S A NO: NKU Won't Move Chase Law to Kenton County Building
Mon, 09/12/2016 - 17:00
RCN Newsdesk
Chase College of Law will remain in Highland Heights.
Northern Kentucky University president Geoffrey Mearns announced on Monday that the campus has concluded an evaluation related to a possible move of the law school to downtown Covington, and concluded that it was not financially viable for the university at this time.
"While we remain deeply committed to serving our region's urban communities, this particular project is not financially feasible for NKU," Mearns said in a statement. "I thank our Board of Regents and our partners in local government for working collaboratively with us during this evaluation process, specifically the Kenton County Fiscal Court for presenting this concept to NKU."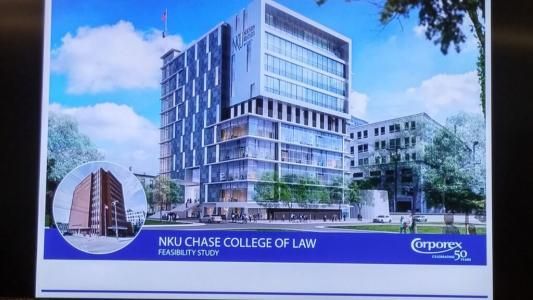 Kenton County had hoped to lure NKU's Chase Law to Covington as it prepares to vacate the 1969 building on Court Street near the southern foot of the Roebling Suspension Bridge. The county announced earlier this summer that it had bought the old Bavarian Brewery Building near I-75 and 12th Street/Martin Luther King Boulevard where a new government campus will be created.
"President Mearns's comments reflect the ongoing funding issues confronting our region's postsecondary education institutions. While a pathway to financing the renovation of the county administration building existed, a solution to the ongoing operational funding challenges facing NKU did not," Kenton County Judge/Executive Kris Knochelmann said in a statement. The county, the Catalytic Fund, and Corporex evaluated possibilities for the towering structure that still houses the old detention center's infrastructure on multiple floors, years after the jail moved to a new facility in South Covington. Renderings were created of what the building could look like as a new home for Chase, and an evaluation was also done to explore the possibility of making the building residential.
"The current county administration building lacks the free surface parking and interstate accessibility desirable for delivering governmental services but, thanks to this study, we now know that the building can be successfully renovated into a marketable residential structure," Knochelmann said. "We'll begin working with the members of the Fiscal Court toward that end as we continue the development of the new county administration center at the 12th Street exit on I-71/I-75."
-Michael Monks, editor & publisher