Premium Content
NKY Football: Cov Cath Downs Beechwood; Holmes Beats Bellevue; HC Spoils Scott's Homecoming; & More
Sat, 09/17/2016 - 08:54
RCN Newsdesk
It was a tale of two halves and a slow start for Covington Catholic Friday night at Wooten Field in Park Hills, as it was blanked by Beechwood in the opening quarter. However, the Colonels' found the end zone with less than two minutes to play until halftime, courtesy of a four-yard run by senior running back Anthony Best to put his team up 10-3 heading into the break.
But once the third quarter began, the tide began to shift Cov Cath's way.
Colonels' Head Coach Eddie Eviston said it took a while for his key guys to get going. Coming out of halftime, "We had to make some (adjustments). We weren't coming off the ball really all that well in the first half and they gave us some fits with what they were doing defensively," he said. "So, offensively, we just sat down and did a couple things to try to put our guys in a better position to succeed and…we started running a little bit harder, coming off the ball a little bit stronger so I think that made a difference."
After a three-and-out by the Tigers, it faced a fourth-and-17 just inside its own territory near midfield. When sophomore Logan Castleman fielded the snap, he rolled to his right only to be met by a host of Colonel defenders, turning the ball over on downs and shifting the momentum in Cov Cath's favor. One play later, junior quarterback AJ Mayer found an open Josh Newman for a 25-yard score and a 17-3 lead, three minutes into the third. But the Colonels' were not finished.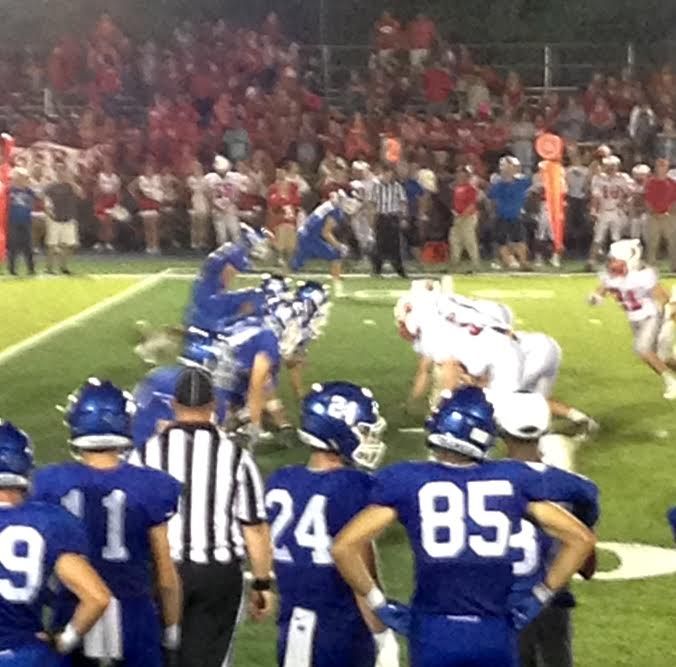 Dropping back to pass on first down, Beechwood junior Brayden Burch was intercepted by Best, who took it 34 yards the other way for a touchdown and a three-score advantage. "AB with the interception and then on offense, he just got into the game. It just took us a while as a whole team to get into the game a little bit," Eviston said of the team's momentum.
On its ensuing possession, Beechwood struck back immediately courtesy of a 96-yard kickoff return by junior James Davis. The junior found a seam and bolted up the middle of the field, breaking several tackles on his way to the end zone and keeping the Tigers within 14. But that's as close as they would come.
Beginning on its own 23, Cov Cath's Casey McGinness broke free up the left side for 27 yards and a new set of down for the Colonels at midfield. Following two more McGinness runs and an eight yard run by Mayer, senior Ryan O'Connell  took the handoff around left end for a five-yard touchdown run and a 30-10 lead (the extra point failed).
The Colonels' capped their scoring output on the night with a four play, 70-yard drive, ending the third quarter with a 58-yard pass play from Mayer to sophomore Jack Coldiron as time expired, making the score 44-10.
Mayer, who did not play the final quarter, finished his night 16-of-27 for 301 yards, three touchdowns and one interception.
CovCath (4-1) travels north next week to face Columbus (OH) St. Francis De Sales next Friday evening, while Beechwood (3-1) visits Holy Cross.
Holy Cross 27, Scott 0.
The Indians bounced back from a tough loss across the Ohio River at Taft last week, and spoiled Scott's homecoming game in Taylor Mill.
Things got ugly fast for the Eagles as Holy Cross scored on its first possession, and then penalties forced Scott to try for a field goal that resulted in a kicker slipping and falling. The Eagles never got on the board.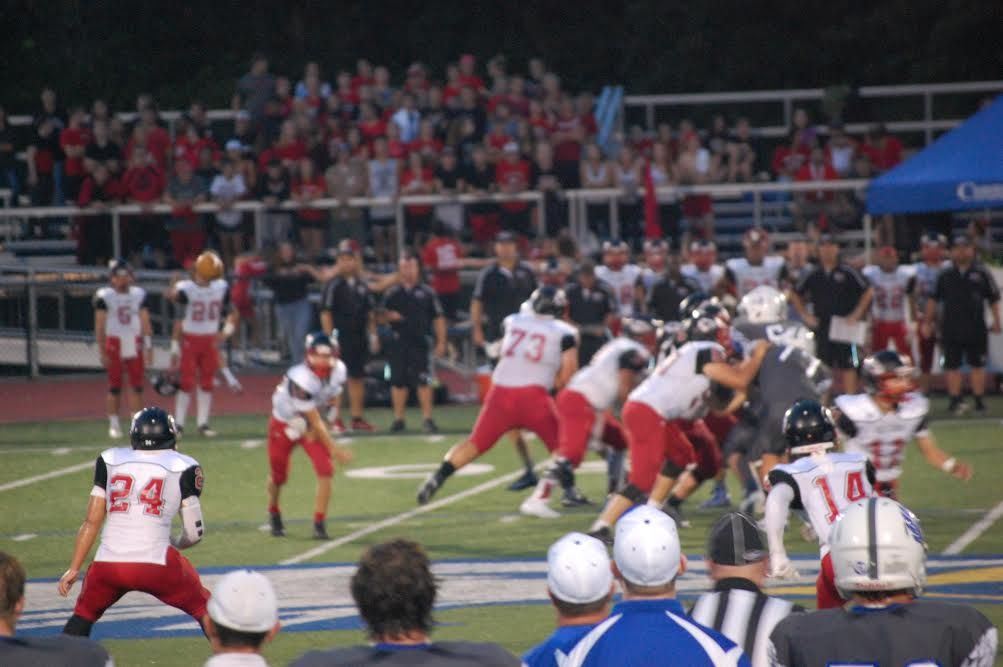 Photos from the game by Patricia A. Scheyer are in the slideshow below.
Holy Cross is now 3-1 on the season and has a date with Beechwood next week. Scott, which has been outscored 87-8 in the past two games, is now 1-4 and will host Mason County next week.
Holmes 32, Bellevue 7.
The game in Bellevue started on time despite delays around the region due to a passing thunderstorm. Players lost their footing on occasion due to some slick spots on the field, though.
Holmes got on the board first with a 42-yard touchdown drive by senior running back Seth Hille, one of three big plays for him on the night. 
Bellevue, meanwhile, struggled to move the ball. Even a solid punt by Miguel Garcia that put Holmes at its own 11 resulted in a Bulldog touchdown on the next play when Hille ran for 89 yards. Later in the half, a 38-yard pass to senior running back Salih Abdullah set up a 3-yard touchdown run by quarterback Jashuan York, and at the half, Holmes led 26-7. 
A 10-yard touchdown run by Adam Hazeres was Bellevue's only score.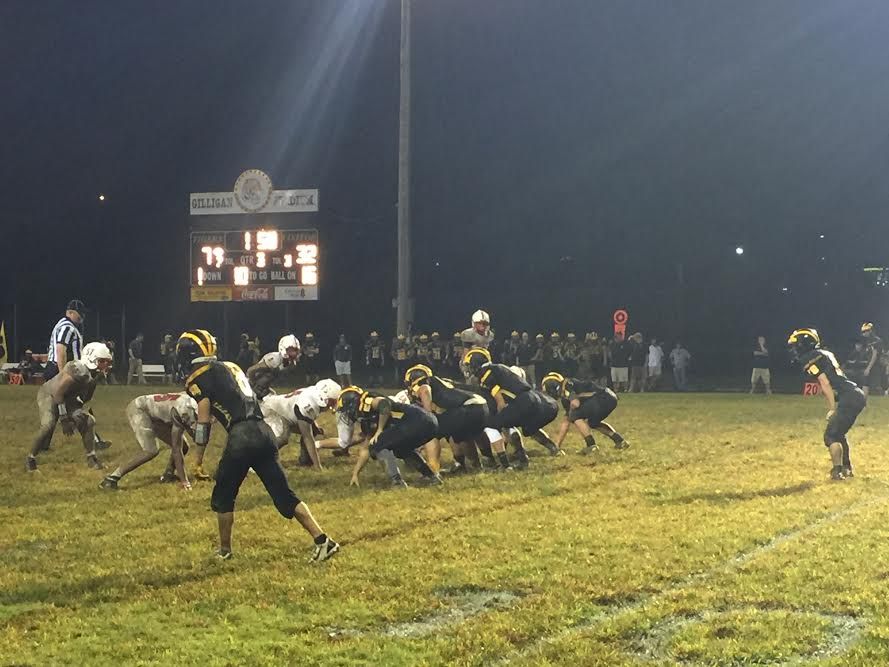 The Tigers fumbled the second half kickoff return, Holmes recovered the ball, and one play later, Hille was in the end zone again after another 42-yard run. Bellevue would fumble another kickoff, and then dropped the ball a third time, and never threatened Holmes's lead.
Holmes (2-3) plays Harrison County next week while Bellevue (1-4) hosts Bethlehem.
OTHER SCORES
Simon Kenton 46, Cooper 20. One of the most talked about games of the week ended up being a blowout victory for the Pioneers. Simon Kenton is now 5-0 on the year and heads to Ft. Thomas next week to face Highlands. Cooper (3-2) will look to rebound with a trip to struggling Lexington Catholic next week.
Newport Central Catholic 42, Harrison County 10. The Thoroughbreds ended a 3-game skid with a big win over visiting Harrison County. New Cath is now 2-3 on the year and will have its hands full next week at Conner.
Ryle 38, Campbell County 7. The Raiders stormed Alexandria and overwhelmed the host Camels on Friday night to remain unbeaten at 5-0. Ryle travels to George Rogers Clark next week while Campbell County (2-3) visits Western Brown (OH).
Ludlow 54, Trimble County 0. After two consecutive tough losses, the Panthers ran up the scoreboard on their visitors from Trimble County. Ludlow (2-2) hits the road to Williamsburg next week.
Lexington Christian 51, Walton-Verona 9. The Bearcats' 2-game winning streak was snapped by the undefeated Eagles of Lexington Christian. Walton (2-3) travels to Carroll County next week.
Conner 40, Dixie 8. It's back to back wins for the Cougars, who have outscored their opponents 100 to 16 in the past two games. Conner (3-1) hosts Newport Catholic in Hebron next week. Dixie drops to 2-2 on the year and will travel to Boone Co. next week.
South Oldham 35, Boone County 14. The struggles continue for the Rebels, losers of 25 consecutive games. Boone County (0-5) hosts Dixie next week.
(Louisville) St. Xavier 45, Highlands 18. The Bluebirds' slide continues as the traditional powerhouse falls to 1-4 after a tough trip to Louisville. Things don't get easier next week when Simon Kenton rolls into Ft. Thomas.
Written by Jason Finnell in Park Hills, Patricia A. Scheyer in Taylor Mill, Brian Frey in Bellevue, and Michael Monks in Covington.