Premium Content
City Leaders, Neighbors Speak Against Plan for New Subdivision
Mon, 09/26/2016 - 11:44
RCN Newsdesk
It was an "explosion of emotion", as described by one resident of Park Hills on Wednesday night at a special meeting called to discuss only one topic: the proposed development of 12.87 acres by James Berling, a residential project that would have an entrance on Audubon Road.
More than sixty residents, mostly from Audubon, came to the standing room-only meeting - and most were not happy with the proposed project, arguing that it does not fit in the community and that they were not made properly aware of the plans.
"I think most of the people here are upset because they weren't informed," said councilwoman Pam Spoor, and people applauded.
Steve Lilly, from Planning and Development Services (PDS), gave a timeline of events from his agency's viewpoint, saying there was a pre-application request on August 15, then a property subdivision plan delivered on August 16, and a preliminary email sent on the 16th to various agencies such as the water district, Duke Energy, the fiscal court, sanitation district, and the city clerk. On August 17, a final email was sent to local utilities and the city clerk. A meeting was held on August 18 at the PDS office. Julie Alig, from the city, forwarded  all the emails she received to the council members and Mayor Matt Mattone, who contacted the council members to see if anyone wanted to attend the meeting with him, and no one replied. Mattone, a representative from Bayer Becker engineering services, and Philip Ryan, from the Kenton County Planning Commission, attended.
Developer James Berling did not attend the special meeting held Wednesday night. 
After the last meeting city council meeting on September 12, Berling said that he was going to build the 25-home subdivision exactly according to the regulations within the R-1C and the R-1D zoning restrictions, and he said at that time that he would like to meet with the residents.
Without Berling there to vent their frustration to, the attention turned to Mayor Mattone, whom several residents said could have raised the red flag on the upcoming development and could have told council and the community in no uncertain terms to gird for battle, that this was serious. Mattone said that council has known everything he knew about the development since the April 22 caucus, and he has been surprised at the lack of reaction from council until now.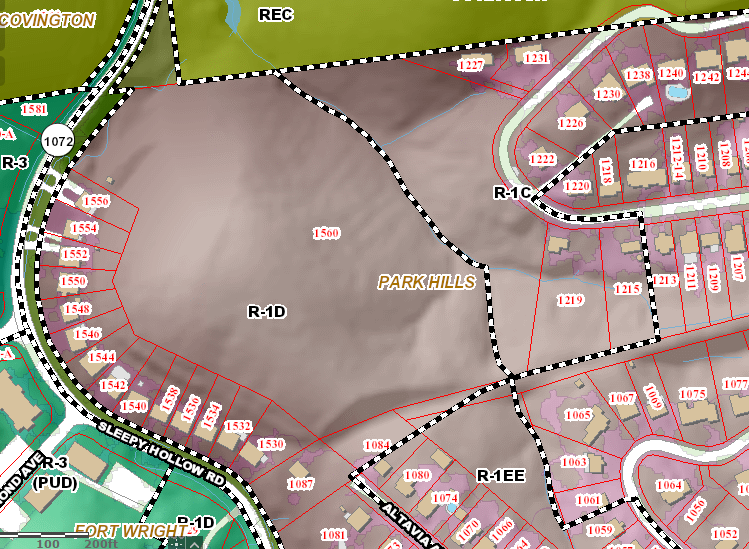 Mattone opened the meeting by giving a brief history of how the situation had unfolded: After a call from Berling in late January of this year, Mattone called him back in February and Berling apparently told the mayor at a Saturday morning meeting that he was hoping to move forward with a plan to develop his property. However, since Berling has owned the property since 1973, Mattone did not get a feeling that any development was imminent. At the April 25 caucus,  Mattone tried to discuss the city buying a property on Altavia that abuts Berling's property, but council members were not in favor. Mattone told council he was concerned because of the high traffic on the new road going to and from the site where a large development may occur.  
Mattone further specified that the gentleman who owns the property wants to develop the area, and put roughly 20 new houses there behind Altavia. According to the minutes, Council members Monty O'Hara, Kathy Zembrodt, and Greg Claypole thought there would be no problem. Even though council members Pam Spoor, Steve Elkins, and Skip Fangman were not present at the April caucus, they were given the minutes which described what was said at the meeting. 
"Well, I didn't read it that way," said Spoor, who hadn't attended due to her daughter's birthday. "If I had had a clue I would have advocated notifying the residents."
She said she couldn't believe that a neighbor of hers wanted to put dormer windows in their house and the plan was rejected by PDS, but Berling wants to take the driveway of a single family house and make it an entrance to a subdivision for 25 houses, which will vastly increase traffic on a narrow, undulating street, with parking on one side, and that plan is accepted.
Berling attended the August 22 caucus meeting and gave a presentation on the subdivision. He described the subdivision in detail. Minutes show the only question asked was one by Spoor who asked if the trees would be preserved, and Berling told her that he would preserve as many as possible.
Residents wanted to know what they could do to stop this project from happening. Suggestions ranged from talking to Berling to declaring a moratorium on tearing down any house in the historic district.
One resident suggested that the city could do an emergency zone change, but City Attorney Todd McMurtry told the audience that they could change the zone but then they would probably be sued for Regulatory Taking, which includes a violation of the fifth amendment, specifying the right to own property, and the fourteenth amendment which guarantees due process. He said the issue would be seen as a civil rights violation, and the case would be very expensive.  
When asked what the chances were that the city would lose, McMurtry said, fairly strong, because it would be taking value away from a person's property.
During the entire process, Mattone wanted it made clear that Berling has every right to develop his property, regardless of the public outrage.
A resident asked if the city has torn apart every loophole, and the answer seemed to be no, that there were still some things that can be tried. The land in question is extremely hilly, and has many trees, some over 85-feet tall. Residents seem to think the land will be leveled, and the gully filled in, which could lead to water problems for the houses on Audubon.
One proposition was that the land has not been reviewed by the city for years and instituting a review could delay the process, but it wasn't considered a viable strategy since the land is reviewed by the planning commission every five years, and the city has always let the zoning stand on that particular piece of property. The point of access was a concern that the people and the city kept coming back to. Spoor said in her conversations with Berling she had asked why he didn't want to access the property through his property on Sleepy Hollow Road, and she said he gave vague answers about cost. Berling did not respond to requests for comment.
After the September 12 meeting, Berling had said access through the Sleepy Hollow property would not be physically possible.
After two and a half hours of discussion, Mayor Mattone closed the meeting. The plan currently is to gather a few city representatives, along with a few citizens, to meet with Berling. Most of the residents feel strongly that they need to fight this plan, even if it looks like they could lose.
"I don't think this is a good thing for the city of Park Hills," Mattone told the crowd. "In a perfect world maybe we would have notified everyone." Mattone noted that he is a preservationist and has a degree in architectuire, and that he thinks the city should use this development as a catalyst to protect the historic fabric of Park Hills. "If we don't, I think Park Hills as an entity will start to erode. I am the mayor, and I have to follow the rules. But I think we need to use this moment to try and preserve what we have." 
Clarification: An earlier version of this story identified Mayor Matt Mattone as an architect. He is not a licensed architect, but has a degree in architecture.
Written by Patricia A. Scheyer, RCN contributor