Premium Content
NKY Football: Cov Cath Ends 10-Year Losing Streat to Highlands; Other Scores
Sat, 10/15/2016 - 10:39
RCN Newsdesk
Led by junior quarterback AJ Mayer's four rushing touchdowns on 163 yards, Covington Catholic emphatically erased a 10-year losing streak vs. Highlands, 63-26, Friday night at David Cecil Memorial Stadium in Fort Thomas.
The Colonels wasted little time getting on the board in the first quarter. On its second play from scrimmage, Mayer found sophomore running back Casey McGinness down the middle of the field for a 68-yard catch-and-run down to the Bluebirds' 10-yard line. Three plays later, Mayer fought his way into the end zone from under a yard out for a 7-0 Cov Cath lead two minutes in.
Following a three-and-out, Highlands' punter Camron Johnston mishandled a snap on his own 35, then was immediately taken down by a host of Cov Cath defenders. The Bluebirds' defense stopped Mayer short of the end zone on third down but the Colonels' quarterback had his second score in as many tries, converting a successful fourth down try to put his team up 14-0.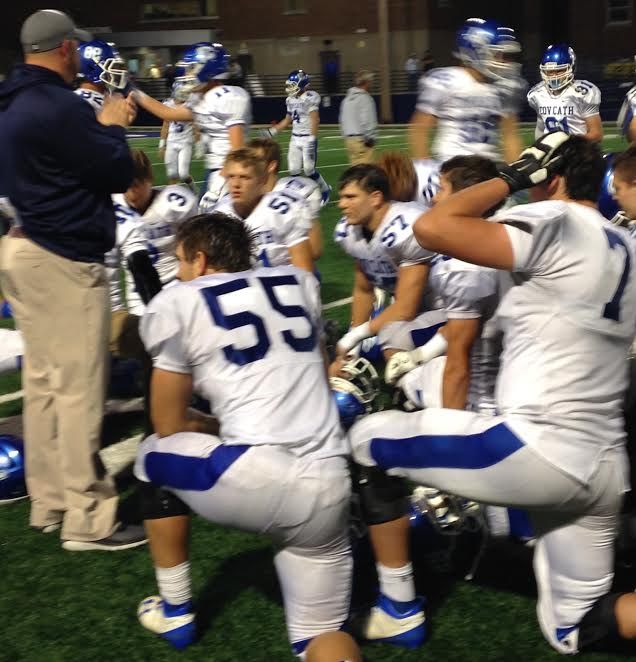 After a short punt by Johnston, Cov Cath took advantage of good field position. After a McGinness run advanced the Colonels' down to the Bluebirds' 33, Mayer scrambled 33 yards on third down for the score and a 21-0 lead to close out the opening quarter. Then, a Brady Gosney interception by Cov Cath's Max Schrand, followed by a 20-yard run by senior Grant Dyer would add up to the Colonels' next scoring drive. On first-and-goal, senior Anthony Best took a hand-off in from two yards out for a 28-0 Colonels' lead.
McGinness found a hole up the middle on the Colonels' next possession after another Highlands' punt, putting Cov Cath up five touchdowns. However, the Bluebirds' capitalized on its ensuing possession. After several completions to senior receiver Evan Fickenscher to get into Colonels' territory, Gosney next found junior Braden Posey for a 16-yard gain. Going for it on fourth down inside the Cov Cath 20, the Colonels' defense jumped offsides, giving Highlands a new set of downs. Several plays later, Gosney lofted a 10-yard touchdown in-between two Colonels' defenders to junior Jared Wogan. It was 35-7. Bending but not breaking on its turn, the Bluebirds' defense stalled a long Cov Cath drive inside its 20 and took over on downs. Senior running back Grant Murray and Posey helped piece together a sustaining drive for Highlands, culminating in a 10-yard touchdown run by senior Jared Pulsfort. The Colonels' lead was cut to 35-14 at the half.
On their first play to begin the third, Murray ran around the left side 80 yards for a score to cut the deficit to 15 after a missed extra point. The Colonels' countered Highlands' momentum with a scoring drive of its own with a short touchdown run by Dyer and a 42-20 lead. Upon holding the Bluebirds' scoreless inside its 5, McGinness ran through the right side 95 yards for his first touchdown of the night on the Colonels' first play. But, a personal foul penalty took the touchdown off the board. However, the sophomore found the end zone later in the drive for a 49-20 Cov Cath lead.
Highlands took advantage of another unsportsmanlike penalty by the Colonels' on its next possession, following a late hit out of bounds on Murray. Posey's score closed the gap for the Bluebirds, 49-26, a few minutes into the final quarter.
Cov Cath answered nearly a minute later with Mayer keeping the football, racing 53 yards up the middle for a 56-26 advantage. Junior tight end Kameron Butler wrapped up the scoring for the Colonels, adding a touchdown catch with 6:24 remaining.
It's Colonels vs. Colonels next week as Cov Cath (6-2) returns home to face Dixie (5-3) next Saturday afternoon at 1:00 p.m. Highlands (1-7) travels to face Grant County (3-5) next Friday evening.
Despite breaking the 15-game losing streak (including the playoffs), CovCath Head Coach Eddie Eviston made one point clear to his team after the victory: "We've got bigger things than this," to accomplish.
Holy Cross 56, Newport 0
The Indians picked up their fifth win of the season by whipping their host, Newport.
Holy Cross was missing three usual starters for the game but still wasted no time in putting away the Wildcats early. The lead was 49-0 at the half.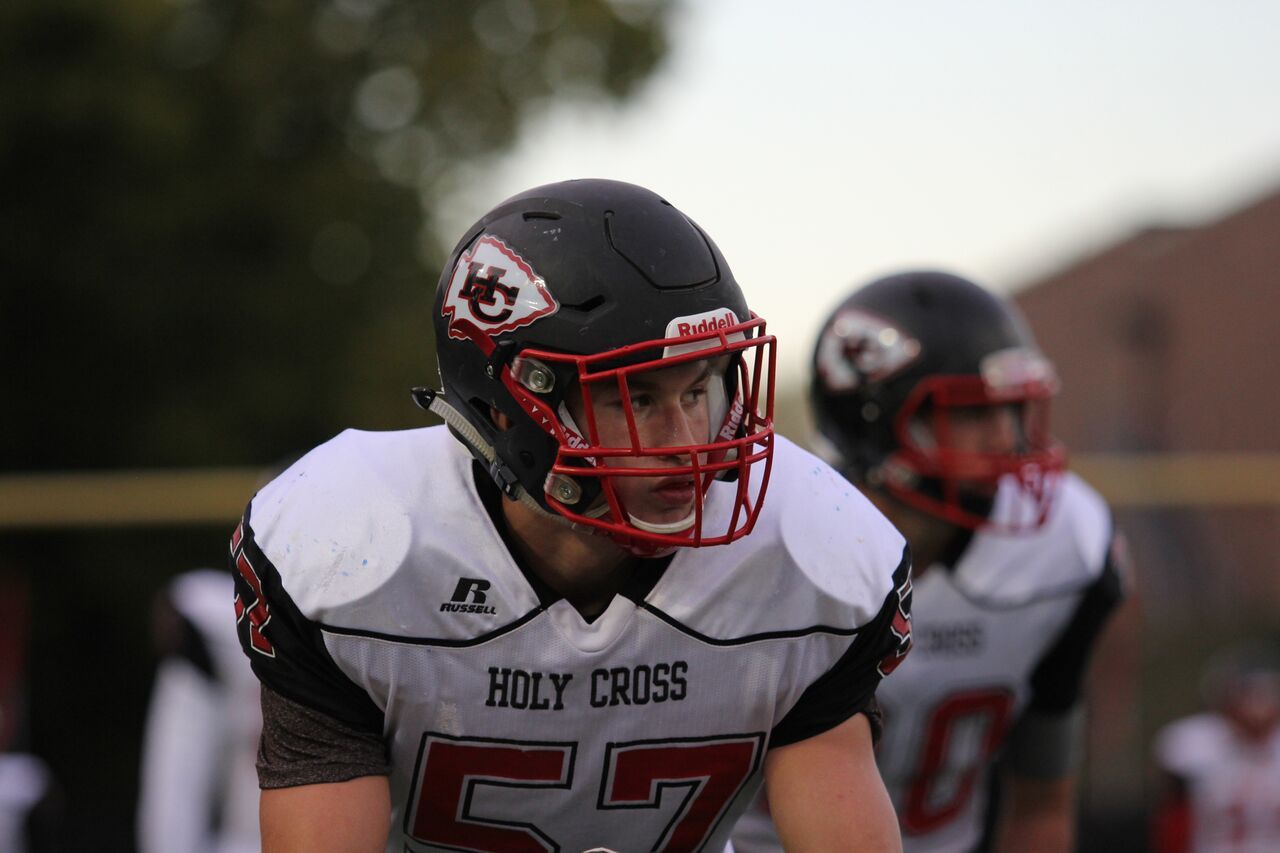 Newport produced only 33 yards of offense and the Wildcats have now been outscored in their past two games by a margin of 114-0.
Next week, Holy Cross (5-3) hosts Lloyd (4-4), while Newport (1-7) battles Newport Central Catholic (4-4)
Bellevue 7, Dayton 0.
The Tigers got revenge after an earlier-season loss to their rivals fom Dayton. In this low-scoring Battle for the Paddle in Bellevue, both teams struggled to move the ball, gaining fewer than 200 yards between them.
The game was scoreless till late in the game. Bellevue moved the ball into the Dayton 10-yard line but fumbled, and when Dayton, on the ensuing possession, turned the ball over on an interception, the Tigers brought the ball back to the Dayton 1-yard line, and eventually punched the game's only touchdown.
Next week, Bekkevue (2-6) hosts Ludlow (3-5) for the teams' 100th meeting, while Dayton (2-6) welcomes Beechwood (7-1).
OTHER SCORES
Mason Co. 35, Holmes 34 (OT). The Bulldogs were close to notching their third win of the season, but instead picked up their third straight loss in a tough overtime battle with Mason Co. Next week, Holmes (2-6) travels to Taylor Mill to take on a struggling Scott (1-7).
Simon Kenton 50, Campbell Co. 20. The Pioneers continue to roll and picked up an easy win in Alexandria against the hosting Camels. Simon Kenton is now 8-0 on the year and will face fellow undefeated Ryle (8-0) in Union next week. Campbell Co. (3-5) travels to Boone Co. (0-8).
Walton-Verona 52, Trimble Co. 13. Make it four in a row for the rolling Bearcats, who had no trouble keeping Trimble Co. at bay Friday night. Walton (6-3) has its regular season finale next week at New Richmond (OH).
Newport Catholic 28, Lloyd 18. Back-to-back wins for the Thoroughbreds and New Cath's record now stands at 4-4 with two games left - against crosstown rival Newport, and then, mighty Beechwood. Lloyd drops to 4-4 and faces Holy Cross next week.
Ryle 42, Conner 28. The Raiders surged to an 8-0 record but will be fully tested next week when undefeated Simon Kenton rolls into town. The loss snapped Conners 5-game winning streak and the Courgars fall to 6-2 before next week's visit to Cooper (6-3).
Bishop Brossart 53, Paris 34. The Mustangs picked up their third straight win and improved to 6-2 on the season. Next week they travel to Berea.
Bourbon Co. 17, Scott 14. A long season continues for the Eagles, losers of five consecutive games. Scott falls to 1-7 on the year, and next week will try to rebound when Holmes comes to Taylor Mill. 
Cooper 41, Boone Co. 13. An easy win for Cooper as Boone County's losing streak rapidly approaches 30 games. Cooper (6-3) wraps up the regular season at home against Conner next week while Boone (0-8) hosts Campbell Co.
Written by Jason Finnell in Ft. Thomas, Brian Frey in Newport and Bellevue, and Michael Monks in Covington