Premium Content
NKY Football: Ryle Tops Simon Kenton; Boone Snaps 28-Game Losing Streak
Sat, 10/22/2016 - 10:29
RCN Newsdesk
The penultimate Friday night of the high school football regular season was a whopper in Northern Kentucky. In a battle of undefeated teams, Ryle toppled Simon Kenton, while a 28-game losing streak ended for Boone County when the Rebels picked up their first win since August 29, 2014. In The River Cities, Newport Catholic had no problem winnin the Battle for the Bell over Newport, and Beechwood rolled to another big win - this time over Dayton. Bellevue scored its second straight win by knocking off Ludlow in a wild finish, and Scott held on to beat Holmes in a low-scoring affair. 
RCN's recap of Friday night action:
Ryle 32, Simon Kenton 25
Behind a balanced attack, Ryle secured home field advantage throughout the playoffs and snapped Simon Kenton's 19-game regular season winning streak Friday night at Borland Stadium in Union, 32-25, in a matchup of two previously undefeated teams.

Runs by junior Jake Chisholm and seniors Cole Burch, Colin Demetrakis on its game-opening drive, the Raiders put the Pioneers' defense on its heels to begin the game as it methodically drove down the field, culminating in a 10-yard score, with senior quarterback Tanner Morgan hitting senior Zach Cusick in the front corner of the end zone. After a successful two-point conversion, Ryle led early, 8-0. The Pioneers' ensuing possession began deep in Raiders' territory as junior Sam Murray took the kickoff down to the Ryle 35. Several plays later, senior Dylan Hampton found the end zone from three yards out. Simon Kenton elected to go for two, but quarterback Cam Racke was stopped short of the goal line. The Raiders led 8-6.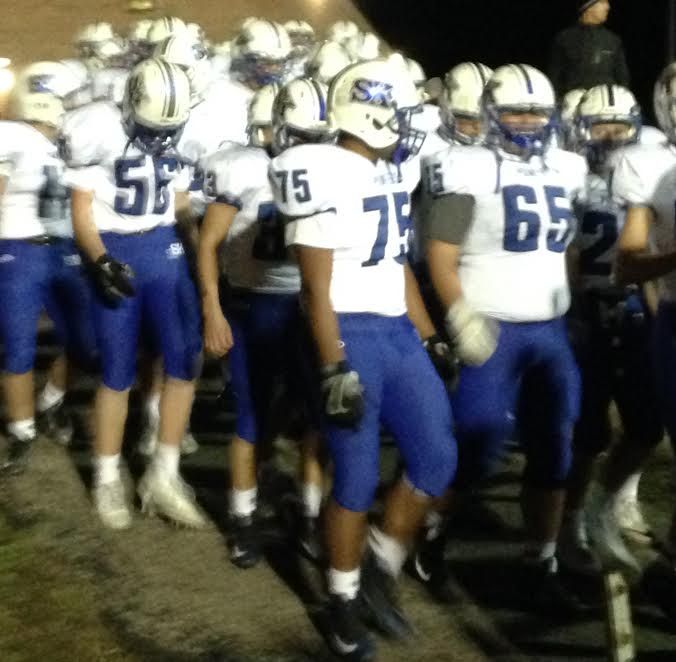 Ryle's second scoring drive featured the pass, with Morgan targeting senior Bryce Ashley multiple times, ending with the Western Michigan-commit spotting the receiver for a 22-yard touchdown and a 15-6 lead to close out the first quarter. When the Pioneers were forced to punt on their next possession following a sack of Racke, Ryle began deep in its own territory at the Simon Kenton three. The Raiders' brushed off a false start penalty and despite facing 97 yards to go on its drive, it subtly chipped away behind several runs by Chisholm. However, the S.K. defense did not break. On fourth-and- one, Morgan faked a handoff to Chisholm and found Ashley in the flat, but the receiver was tackled immediately, the Raiders' long drive coming up empty. Then, it was Racke and the Pioneers' turn to drive the length of the field on its ensuing possession – and it didn't take long. On third-and- seven at its own four, the senior hit Luke Vance in stride and the receiver outraced Raiders' defenders to the end zone for a 96-yard touchdown. But Ryle countered to extend its lead to four going into halftime, 18-14, following a 30-yard field goal by Zach Rytlewski.

To open the third, the Raiders played add-on. Beginning the drive with good field position at its own 42, Morgan found Ashley, who took it to the Simon Kenton 37. Several plays later, Chisholm took a handoff in from a yard out to put his team up 25-14, with 7:16 to go in the quarter. On its ensuing drive, the Pioneers' punted back to Ryle. But, it got the ball right back. Dropping back to pass on first down, Morgan was intercepted by linebacker Gavin Ball. Despite starting its drive on the Ryle 23 after Ball's big return, the Pioneers were only able to muster a field goal. The visiting team faced an eight-point deficit entering the final quarter, 25-17.

The Raiders' were poised to close the game out early in the final quarter following a quick-strike catch-and-run over the middle from Morgan to junior Easton Pilyer and 32-17 margin. But Simon Kenton countered once again. After it forced a three-and- out on Ryle's ensuing possession, the Pioneers' Jacob Book gave the team new life with a touchdown and six minutes remaining in the game. It was 32-25.

With the ball and one last chance with 2:06 to go, Racke was only able to advance the Pioneers out to its own 31-yard line, his fourth-down pass broken up by the Raiders' Cooper Scherr.

Ryle (9-0) stays home next week to face Dixie Heights, while Simon Kenton (8-1) looks to bounce back vs. Scott in Independence.
Boone County 20, Campbell County 14. The Rebels needed overtime to do it, but Boone County managed to pick up its first win since August of 2014. The team went 1-10 that year - losing its final nine games of the season, before going 0-11 in 2015. The Rebels started the year 0-8 this season with their closest game being an 11-point loss to Dixie. But now the streak is over and 1-8 Boone County will take its new streak to Ft. Thomas next week for a date with Highlands. Meanwhile, Campbell County drops its third straight game and falls to 3-6 on the season. The Camels travel to Henry Clay in Lexington next week.
Newport Central Catholic 56, Newport 8. This game was pretty much over by halftime and the Thoroughbreds are now riding a 3-game winning streak and improve to 5-4 on the season.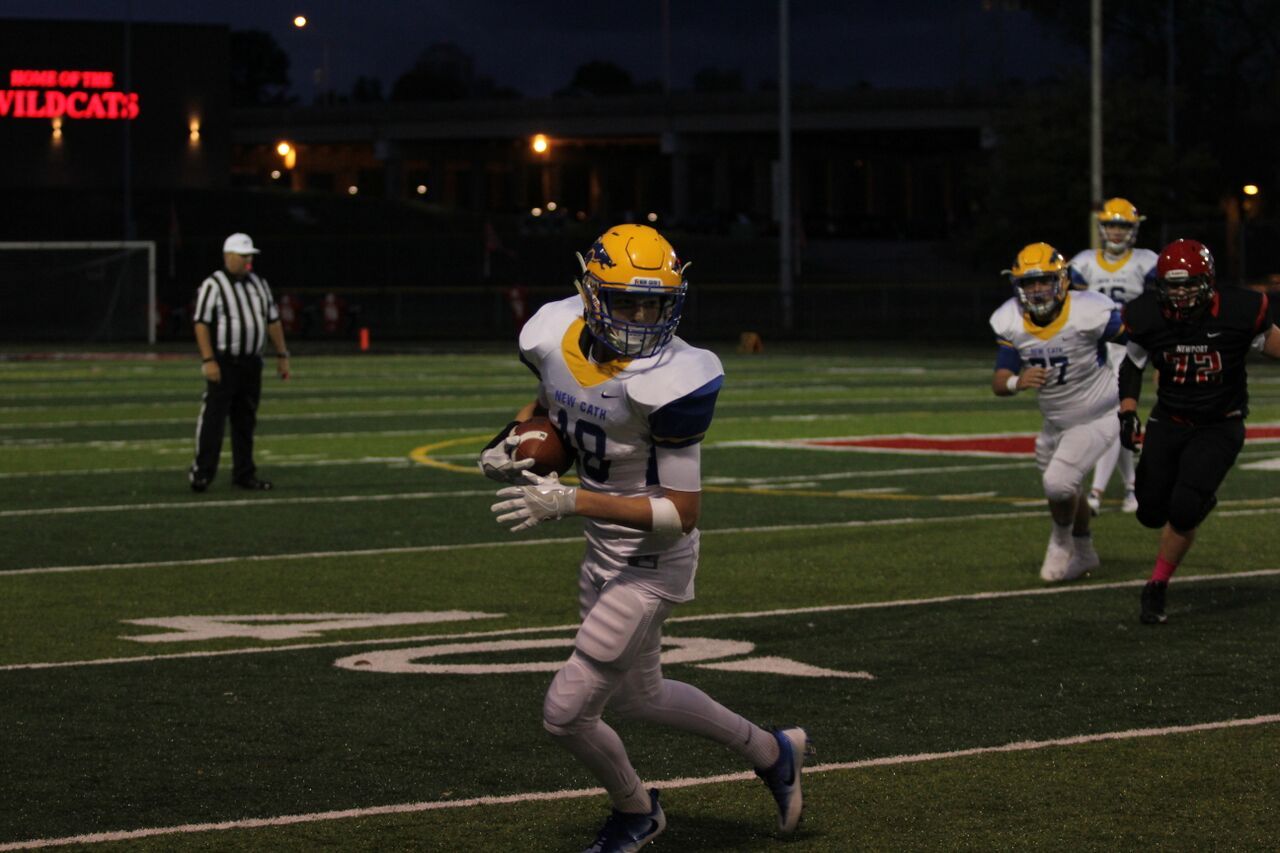 Next week, New Cath will welcome Beechwood to town. Newport's losing streak is now 7 and the 1-8 Wildcats finish the regular season next week against Holmes.
Bellevue 20, Ludlow 15. These two River City teams met for the 100th time in a game that ended wildly. Ludlow was trailing 14-7 with just over two minutes left in the game but a score on a long touchdown pass and a two-point conversion put the Panthers ahead 15-14.
But Bellevue answered.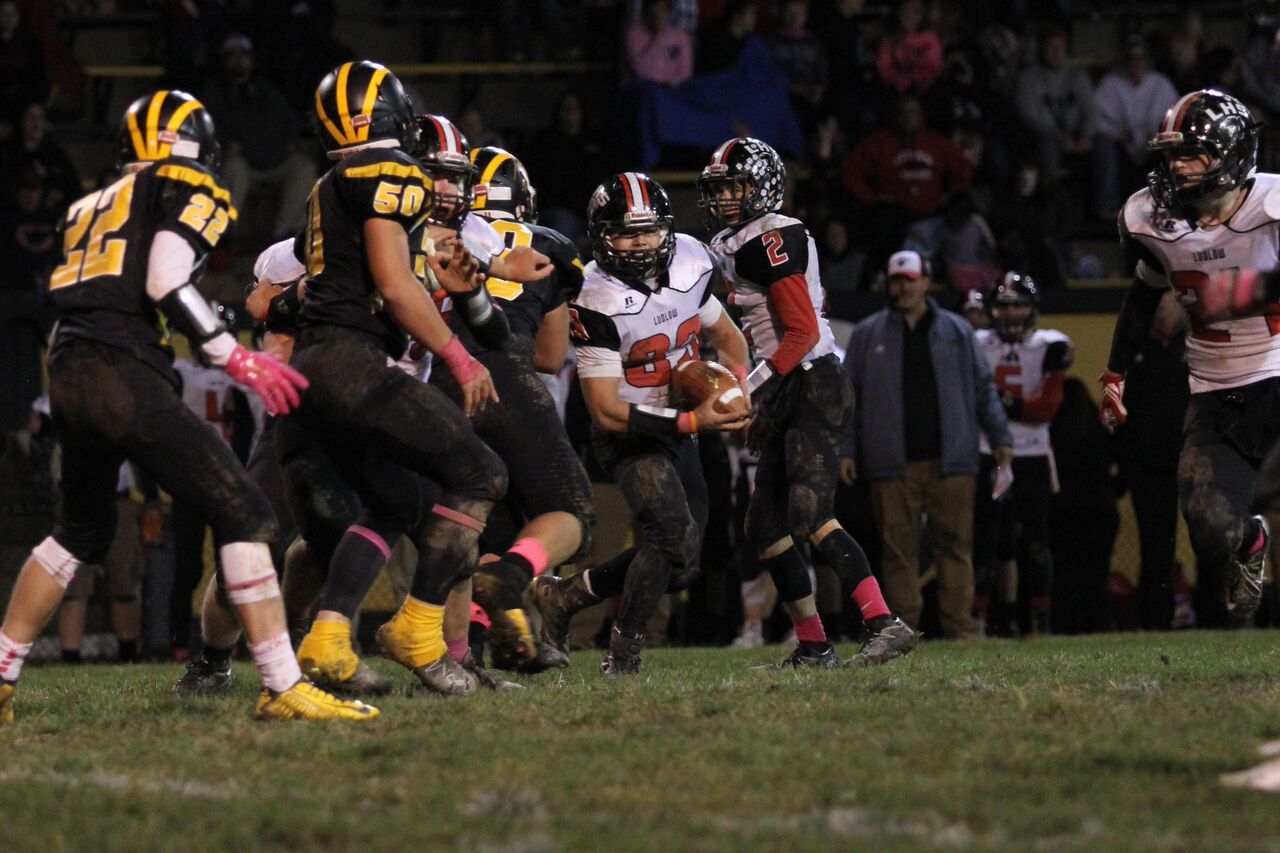 A 58-yard Tiger touchdown pass with under a minute to go put Bellevue up 20-14. Ludlow threatened with a long drive, deep into Tiger territory but failed to convert on 4th down and turned the ball and the win over to Bellevue.
Bellevue (3-6) will take its two-game winning streak to Holy Cross next week while Ludlow (3-6) hopes to bounce back when Bracken Co. comes to visit next week.
Beechwood 50, Dayton 0. A big scoring season for Beechwood continued on Friday night in a rout of the hosting Dayton Greendevils. The Tigers have won their last four games by a margin of 215 to 28, and their last two by a score of 98 to 6. Beechwood is now 8-1 and in the midst of a 5-game winning streak that it hopes to extend at Newport Catholic next week. Dayton (2-7) finishes the regular season at home next week against Carroll County.
Covington Catholic 33, Dixie Heights 12. The Colonels are riding high with a 3-game winning streak and a record of 7-2. Covington Catholic will be tested next week when Scott County visits Park Hills. Dixie, meanwhile, falls to 5-4 and will travel to Union next week for a date with red hot Ryle.
Scott 9, Holmes 6. The Eagles were able to snap a 5-game losing streak in toppling the Bulldogs in a low-scoring affair. Scott picked up its second win of the season will take its 2-7 record to Independence to dance with Simon Kenton next week. Holmes (2-7) finishes the regular season at Newport.
Highlands 50, Grant County 0. The most shocking losing streak of the season is over. Highlands snapped its 7-game losing streak in a blowout in Dry Ridge. The Bluebirds (2-7) are back in Ft. Thomas next week for a date with Boone County, which just ended its 28-game losing streak.
Bishop Brossart 42, Berea 20. The Mustangs continue to roll, picking up their fourth straight win and improving to 7-2 on the season. Pendleton County visits Alexandria next week for Brossart's regular season finale. 
New Richmond (OH) 28, Walton-Verona 7. The regular season is over for the Bearcats and ended with a big loss in Ohio. Walton's 4-game winning streak is snapped and the regular season ends with a record of 6-4.
Reported by Jason Finnell in Union, Brian Frey in Bellevue and Newport, and Michael Monks in Covington