Premium Content
NKY Football: 6 Local Teams Remain After Round 2 of Playoffs
Sat, 11/12/2016 - 09:40
RCN Newsdesk
Early Lloyd turnovers keyed Newport Catholic's momentum Friday night in the second round of the 2A state playoffs, as the Thoroughbreds overpowered the Juggernauts, 48-14, at Newport Stadium. The opening quarter featured two lost fumbles by Lloyd, enabling New Cath to jump out to an early lead.
Sophomore running back Kyle Kelly capped a three-play opening drive for the Thoroughbreds with a 45-yard run, giving New Cath a 7-0 lead. Its next points came just two minutes later after Lloyd's second fumble when senior quarterback Patrick Henschen found senior receiver Trent Wrobleski in the end zone to make it 14-0. Then, the New Cath defense got involved. Thoroughbreds linebacker Kurtis Sutkamp picked up a Lloyd fumble and outraced several Juggernauts into the end zone to give the home team an early three touchdown advantage.
New Cath's Kelly found the end zone on the Thoroughbreds ensuing drive of the second, but a holding call brought the ball back to the 25-yard line. Then, two plays later, Henschen's pass sailed over his receiver's head and into the waiting hands of a Lloyd defender at the 9 to bring the possession to a halt.
After a short punt by the Juggernauts kept the ball in Lloyd territory, New Cath capitalized. On first-and-10 at the 36, Henschen found receiver Luke Moeves down the left sideline, the senior making a shoestring catch for a 28-yard gain. On second-and-goal, Henschen faked a run up the middle only to jump up and throw to Moeves for a four-yard score and a 28-7 lead.
Lloyd ate up much of the third quarter clock on its possession out of halftime, driving nearly 70 yards to pull within 14, 28-14. Involved on eight plays in the drive, running back Travon Mason carried the Juggernauts down the field bit-by-bit, stringing together five and six yard runs. Junior quarterback Jordan Fann then found Lashunn Townsend for a six-yard touchdown with 3:16 left to play in the third.
But New Cath countered on its next possession. With solid field position near midfield, Henschen hit a streaking Job Freppon over the middle for a 38-yard touchdown to stretch the Thoroughbreds lead, 35-14. When Lloyd was forced to a three-and-out deep in its own territory, the Juggernauts punter was swarmed under by New Cath defenders after a bobbled snap at his own four-yard line. Henschen found the end zone with a sneak up the middle on third-and-goal with 11:18 to go in the final quarter to make it 42-14.
The Thoroughbreds Chris Cannon capped the night's scoring with an 18-yard run through the Juggernauts' line with just over two minutes remaining in the game.
Lloyd finishes its season at 6-6, while New Cath (7-5) advances to the Regional Finals to face Holy Cross, whom it defeated 21-0 in Week 7 of the regular season.
Holy Cross 13, Walton-Verona 10
The Indians are in the third round of the Class 2A playoffs for the first time since its state championship-winning 2011 season. Holy Cross is riding a 5-game winning streak and is now 9-3 on the season. Next up is a date with Newport Central Catholic. Walton ends its season at 7-5.
OTHER SCORES
Class 1A
Beechwood 44, (Louisville) Holy Cross 0. 
The Tigers had no trouble holding off their visitors from Louisville. Holy Cross got off to a rough start and never recovered, after a first-down fumble was countered by Beechwood with a 31-yard touchdown pass to Aiden Justice, who would score four times Friday night.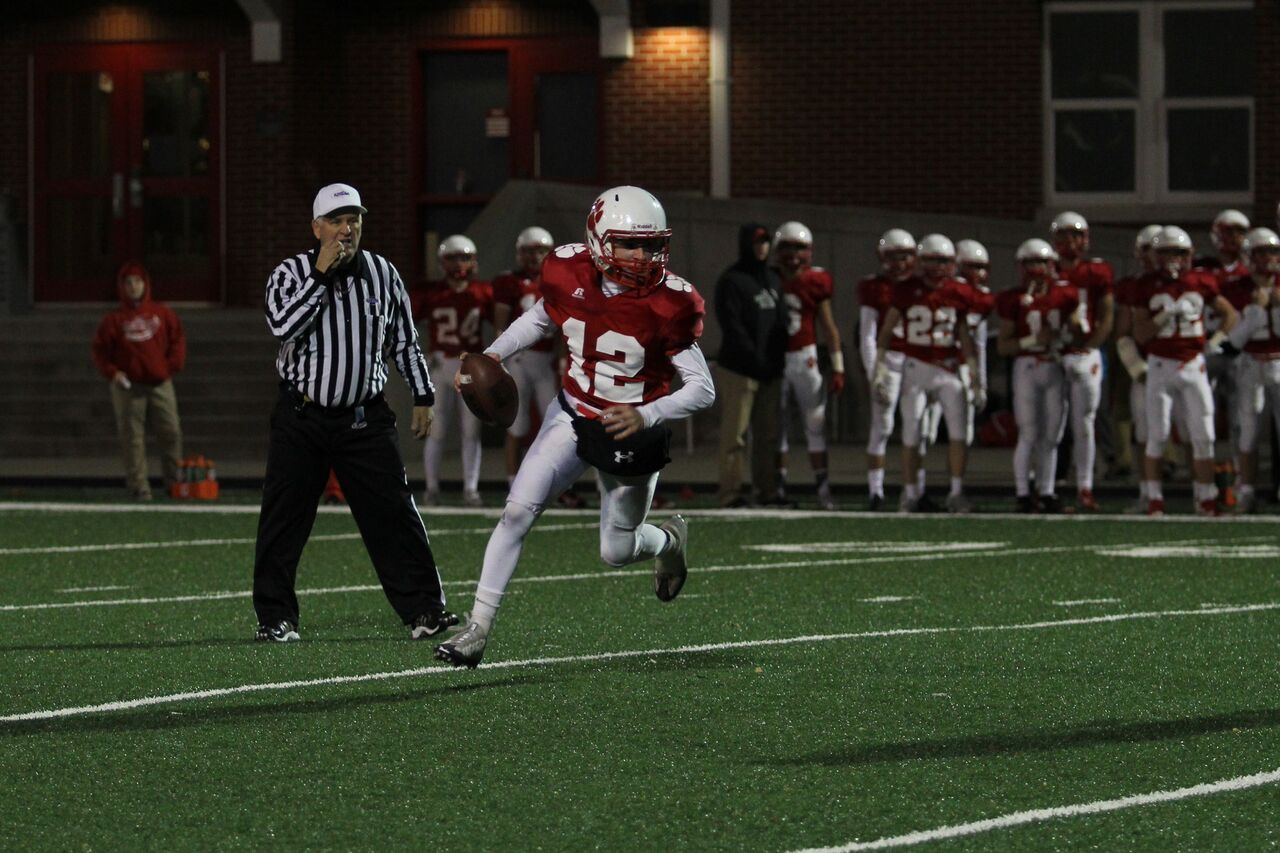 Beechwood added a safety to pad its early lead at 9-0, and then 30-0 at the half. 
The Tigers (11-1) will be at home again next week for round 3 of the Class 1A playoffs when Kentucky Country Day (10-2) visits.
Class 5A
Covington Catholic 48, (Louisville) Doss 21. 
The Colonels have put away two teams from Louisville in the opening rounds of the playoffs but next week will have to travel there. Cov Cath (9-3) had little trouble with Doss in Park Hills on Friday night and has now won five of its last six games. Next week, the Colonels travel to face (Louisville) Fern Creek (10-2), which beat Dixie Heights on Friday.
(Louisville) Fern Creek 39, Dixie Heights 6.
The season ends for the Colonels at 6-6 after they were beat up by a tough Fern Creek squad.
Class 6A
Ryle 49, Cooper 20.
In this battle of crosstown rivals, the Raiders came out on top again in Union on Friday night. Ryle stays undefeated at 12-0 after putting away Cooper early. Earlier in the season Cooper fell to Ryle by a touchdown in one of the Raiders' closest games of 2016. Cooper's season ends at 7-5. Ryle moves on to visit Scott County (10-2) next week.
Scott County 46, Conner 19.
A very good season for the Cougars came to an end Friday night when they were walloped by Scott County. Conner ends its season at 9-3.
Simon Kenton 57, Campbell Co. 14.
Simon Kenton has bounced back nicely with three straight wins since its hopes of an undefeated season were dashed by Ryle on October 21. The Pioneers (11-1) had no trouble putting away the struggling Camels in Independence. Campbell County's season ends at 4-8. Next week, Simon Kenton hits the road for a date with (Lexington) Lafayette (11-1).
Written by Jason Finnell in Newport, Brian Frey in Ft. Mitchell, and Michael Monks in Covington