Premium Content
Thomas More Forced to Vacate 2015 National Title in Women's Basketball
Tue, 11/15/2016 - 16:06
RCN Newsdesk
She is one of the most exciting and successful athletes in Northern Kentucky sports history and led Thomas More College's women's basketball team to back-to-back national titles, but on Tuesday, the National Collegiate Athletic Association (NCAA) announced that a living arrangement in which Sydney Moss found herself after suffering a serious injury to her knee, will force the Saints to vacate one of those championships.
"As I consider the implications of this ruling, I'm concerned not for myself, but rather for the members of our women's basketball team who worked so hard to achieve a remarkable feat of wining the 2015 NCAA Division III national championship," said women's basketball head coach Jeff Hans at a news conference on the Crestview Hills campus of Thomas More. "The decision handed down to our program doesn't take away the dedication and determination thse young ladies exhibited both on and off the court to accomplish their goal."
The new season for the Saints begins Tuesday evening in Danville where Thomas More takes on in-state rival Centre College. Hans and Thomas More president David Armstrong met with the current players - Moss has since graduated - late Tuesday morning to discuss the NCAA's ruling. Armstrong said the meeting was "emotional".
On Tuesday, the NCAA issued a ruling that stated in part that Thomas More "failed to monitor its women's basketball program", a program that won national titles in 2015 and 2016 - each time with undefeated records. The 2016 results are not affected by the decision but all 33 wins in 2015 - including the championship - will be vacated.
The NCAA said in part:
Thomas More College failed to monitor its women's basketball program when it did not identify and report a women's basketball student-athlete living impermissibly with a former assistant women's basketball coach, according to a decision issued by the Division III Committee on Infractions. The head women's basketball coach also failed to fulfill his head coaching responsibilities when he did not monitor the former assistant coach and did not promote an atmosphere for compliance in his program.
When Moss suffered an injury to her knee, she was unable to work and to live at her apartment due to the presence of stairs, Armstrong said. She went to live with Jerry Allen, the a part-time assistant coach at Thomas More who now coaches at the high school level. Allen is a longtime friend of Moss's, but an anonymous tip to the NCAA in February of 2015 suggested that the arrangement amounted to improper additional benefits for a student-athlete.
Thomas More believed that the situation was OK because of the pre-existing relationship between Allen and Moss.
The NCAA disagreed.
For eight months, the former assistant coach provided free housing to a student-athlete while she recovered from surgery. Even though the former assistant coach and his family had an existing relationship with the student-athlete, NCAA rules do not allow college employees to provide cost-free housing to student-athletes.

While the student-athlete was living with the former assistant coach, three staff members learned of the arrangement and assumed it was permissible without checking to see if it would be allowed under NCAA rules. Because the staff members did not recognize the arrangement as an extra benefit, the student-athlete competed an entire season while ineligible.

The head coach failed to monitor his former assistant coach when he was unaware of the living arrangement until the former assistant coach brought it to his attention. He approved of the situation until the athletics director learned of it and decided to end it due to the appearance of a student-athlete living with a coach. The head coach did not promote an atmosphere for compliance when he did not follow department protocol and seek clarification about the living arrangement with the athletics director.
Armstrong said that while Thomas More accepts the penalty, the college would seek better clarification on the definition of pre-existing relationships. He also said that Moss was not personally culpable in the activity that led to Tuesday's announcement.
"Nothing in the (NCAA Committee on Infractions)'s report detracts from the reality that she had a wonderful athletic, academic, and personal collegiate experience at Thomas More College because of the values that the college and Division III athletics espouse," Armstrong said. "The college will always appreciate her contributions to our campus community well beyond her athletics success and be proud to have her as an honored alumnus."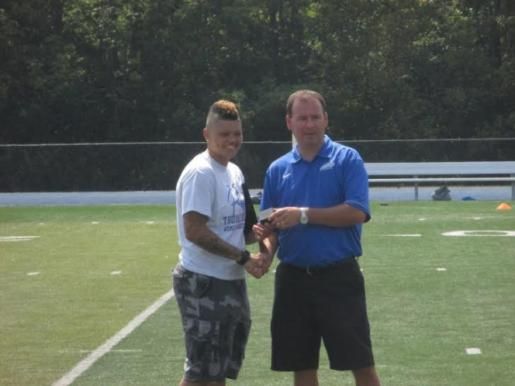 Sydney Moss and Coach Hans receiving championship rings in 2015 (RCN file)
The NCAA handed down the following penalties:
Public reprimand and censure for the college.
Two years of probation for the college from Nov. 15, 2016, through Nov. 14, 2018. Thomas More will still be eligible for post-season play.
A vacation of all wins in which the student-athlete competed while ineligible. The college identified all 33 games from the 2014-15 season as affected and officially vacated.
A $2,500 fine (self-imposed by the college).
An outside audit of the college's athletics program, with an emphasis on financial aid policies and procedures. The school must implement all recommendations made by the reviewer (self-imposed by the college).
Several staff members, including the head coach, athletics director and compliance officer, must attend at least one NCAA Regional Rules Seminar.
The decision was ridiculed on social media by popular sports blogger Matt Jones of Kentucky Sports Radio, a media organization that primarily focuses on University of Kentucky athletics.
Thomas More is going to have to vacate their Women's National Basketball Championship due to rules violation

— Matt Jones (@KySportsRadio) November 15, 2016
-
The Thomas More violation is that player Sydney Moss stayed with an Asst Coach while recovering from knee surgery. NCAA is a total joke

— Matt Jones (@KySportsRadio) November 15, 2016
-
So in review...UNC has fake classes, no vacating...UL hires prostitutes, unlikely to vacate. Coach hosts player with nowhere to go, vacate

— Matt Jones (@KySportsRadio) November 15, 2016
Northern Kentucky Chamber of Commerce president Trey Grayson was also on hand to show his support for the college and for Moss.
There is a misunderstanding about Moss, Armstrong said, because she is the daughter of Randy Moss, a standout star of the National Football League for 14 seasons. Sydney Moss does not share in her famous father's wealth, Armstrong said, and she turned to the Allen family because they are also bi-racial and they have a long-standing relationship. "Syndey had a tough upbringing," Armstrong said. "She is famous on her own," he added about the 3-time national player of the year. 
Neither Moss nor Allen were made available for comment, though Moss later weighed in on Twitter, calling the NCAA's decision "an absolute joke". "The NCAA can take what they want but the memories and friendships will last a lifetime," she wrote.
Thomas More College director of athletics Terry Connor also took the news hard. The Saints play in the Connor Convocation Center, which is named for his father, "so my commitment to Thomas More College goes beyond a paycheck; it's personal," he said in a statement while traveling back from Pennsylvania where the Presidents Athletic Conference athletics directors were meeting. "I will do everything in my power to correct the oversights which resulted in the penalty levied today."
The ruling from the NCAA surprised the Crestview Hills campus. "In fact," Connor said, "we were so certain that no improprieties that we provided the NCAA with the information used to make this ruling, that's how confident we were that no violation was taking place. We offered this information to the NCAA as a possibility as to what an anonymous tipster was reporting as a way to put this issue to rest."
Written by Michael Monks, editor & publisher