Premium Content
Bernhard's Bakery Closes Latonia, Newport Locations
Mon, 12/12/2016 - 15:00
RCN Newsdesk
EDITOR'S NOTE: There is an update to this story, published on December 14, at the link below.
Before Closure, Bernhard's Bakery Cited for Roach Infestation, Unsafe Building
---
It is the end of an era in baked goods in Northern Kentucky.
Bernhard's Bakery is closing its two locations after 50 years in operation.
Fans of the bakery's Latonia location raised concerns last week at The River City News Facebook page that the hours and inventory had grown to be inconsistent, but that may be related to a code enforcement problem that the business ran into in Newport. The City of Newport's building inspector ordered that the operation on York Street be closed, citing concerns with the building's electricity. A sign in the window reads that the building is unfit for human occupation, by order of the City of Newport.
Bernhard's Bakery in Newport was ordered to be closed by the City of Newport (RCN)
The baked goods sold at the Latonia location are made in Newport.
"They shut us down in December at Christmastime. We really can't recover from that," said Bernie Hoelmer, who operates the business that his father, Bernhard Hoelmer, founded in 1966. "They told us they wouldn't let us open while the work is being done."
Hoelmer said that the price tag for the needed repairs cited by the City of Newport would be around $30,000. The Hoelmer family owns the York Street building, but not the Latonia building that Bernhard's operates in. 
In 1966, Bernhard Hoelmer, a German pastry chef and father of seven boys, opened the bakery business that bears his name.
The closure comes at a tough time for Ritte's Corner in Latonia where the City of Covington is working on a new strategy to attract businesses to this historic commercial district. Bernhard's Bakery operated in the space that was previously home to the famed Latonia Bakery whose prominent sign still hangs from the building.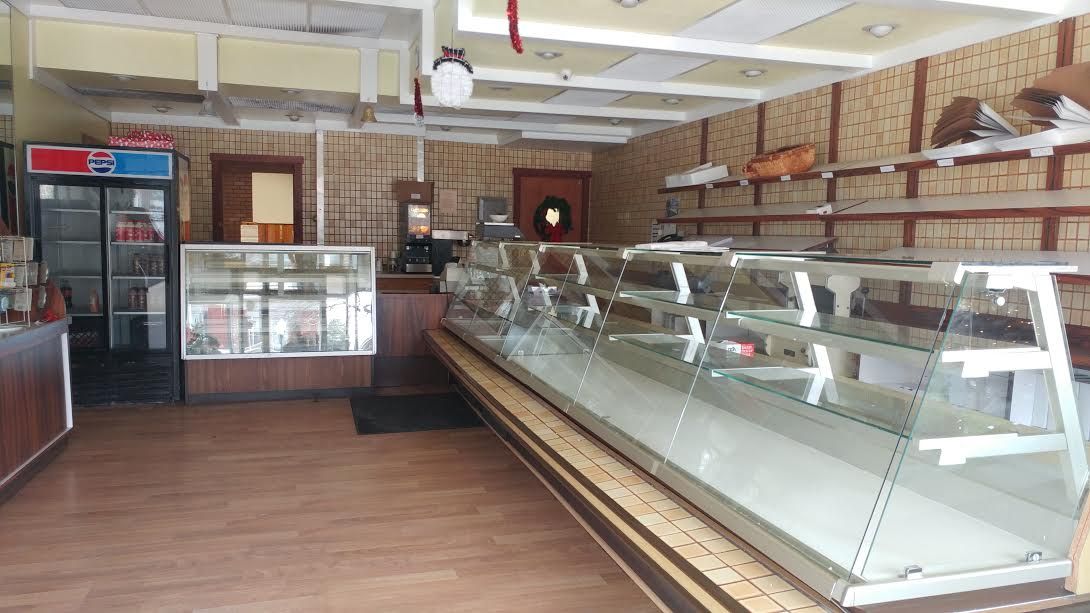 Empty shelves at Bernhard's Bakery in Latonia (RCN)
City of Covington development manager Donald Warner, when reached by email, told The River City News, that the city is working to change the economic conditions in the historic area. He cited infrastructure improvements in the Ritte's Corner area, including a traffic study of Winston Avenue which may lead to more pedestrian-oriented improvements. "Ritte's Corner is also a high priority area for the next round of grants which would allow for funds to underground utilities and improve sidewalks," Warner said in an email.
A recent study by Buxton Company provided the city with analytics related to consumer spending habits near Latonia and a list of potential national chains, retail and restaurant, that may be good fits for the Latonia area. 
Newport City Manager Tom Fromme and building inspector Mike Cronin declined to comment about the York Street building.
-Michael Monks, editor & publisher