Premium Content
With Big Dreams, NKY Theatre Kids Head to Atlanta for Festival
Mon, 01/09/2017 - 10:47
RCN Newsdesk
Picture downtown Atlanta filled with 6,000 theater kids singin' and dancin' in the streets.
OK, that's a little extreme, but there will be 6,000 musical theater students and educators from across the U.S. (plus some international folks, too) gathering Jan. 13-15 for the iTheatrics Junior Theater Festival Atlanta, the world's largest fest for student-driven musical theater programs.
More than 50 musical theater students hailing from Northern Kentucky will be among the thousands of kids performing, participating in interactive workshops led by Broadway professionals, gaining from professional development, enjoying theatrical fellowship and seeing the premiere of Disney's Newsies: The Broadway Musical, a live film of the hit Broadway musical featuring members of the original cast.  
Three dozen rising stars from Moss Dance and Performing Arts Academy in Fort Wright – with 21 chaperones – will climb aboard a bus next week. Moss Academy has been participating since 2015 and in their debut year students Bridgit Connelly, Tara Lynne Skinner, and Emma Moss made it to the final call-back for future Broadway Junior shoots for "how-to" choreography videos for soon-to-be released Broadway Junior musicals.
From the beginning, says Amy Moss, co-owner of Moss Academy, "We've just loved it, it's been a great experience."
CCM Preparatory Department from University of Cincinnati will also participate in Atlanta, including some students already spreading their wings on area stages.
Maybe the biggest part of the weekend is an opportunity to present a 15-minute excerpt of a show to an audience of peers, with a professional panel telling them what they did right and what needs work in categories of creativity, engagement in the performance, understanding of the material, and connection to the lyrics and movement.
The students representing CCM Preparatory Department will present Singin' in the Rain Junior (the full 60-minute show is scheduled on campus later this season). Moss Dance and Performing Arts Academy has prepared a 15-minute cutting from The Music Man Junior featuring young performers including Ellie O'Hara from Park Hills, Ben Mitchell of Fort Wright, and Mitch Holland of Lakeside Park.
Amy Moss and Dee Anne Bryll, CCM Prep's theater faculty member, agree that for all the fun and excitement, it's the opportunities for students, most of whom want to continue to a university theater program, to meet and work with professionals.
The kids agree.
Lily Deye, an eighth grader (at St. Agnes) from Villa Hills, is a Junior Theatre veteran, attending her third festival and playing Kathy (the Debbie Reynolds role) in Singin' in the Rain, Jr. Most recently she was in Children's Theatre of Cincinnati's Elf during the holidays.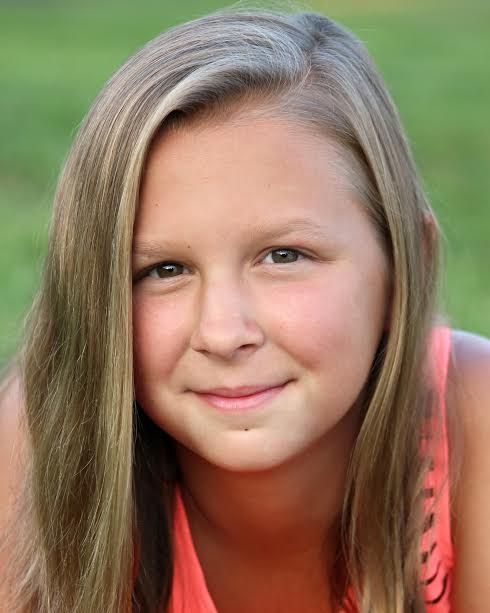 Lily Deye (provided)
Among past highlights for Lily: a brief encounter with Glee and Hedwig and the Angry Inch star Darren Criss. "I got to touch his hand during his concert!"
She's looking forward to Newsies, and to meeting other passionate theatre kids from across the country, but she's already planning to major in musical theatre in college and she wants to hear feedback from the professional adjudicators. "They encourage us to be our best."
Burlington's Tara-Lynne Skinner is also a three-year veteran – she's been part of the Moss Academy troupe since their first festival.
"I enjoy it so much because I get to spend all day with people like me who love musical theatre. You are totally immersed in the experience, get to watch great performances, attend fun workshops and meet Broadway stars and learn about how they got started in the business."
Tara-Lynne, a senior at Beechwood High School, can't wait to perform in Music Man Jr., especially because this will be her last festival. Next year she'll be in college, hopefully in a musical theatre program.
"I have applied to several colleges and will be auditioning soon to see if I get accepted into a musical theatre program. I sang Broadway songs before I sang typical children's songs.
Studying musical theatre and performing have been dreams of mine as long as I can remember."
Like Lily, Darren Criss is featured in Tara-Lynne's best list. "My favorite memory is getting to meet Darren Criss and getting to take a picture with him."
Skinner with actor Darren Criss (provided)
Ethan Marx, who lives in Lakeside Park and is an eighth grader at the School for Creative and Performing Arts is a festival newbie with a big role, also in Singin'. He'll be featured as Cosmo (the Donald O'Connor role.)
"I'm really excited! I'm most excited to see the screening of the Newsies the Broadway Musical Movie! It's the world premiere featuring the original cast and it will be hosted by the director and choreographer.
"I'm also excited to get too see Lynn Ahrens and Stephen Flaherty (creators of shows including Ragtime and Seussical)!"
Ethan says, "My dream would be to go to Michigan or Carnegie Mellon, two great musical theatre schools. I think (the festival) will definitely help because I will get evaluated and receive notes from Broadway professionals. I'm thrilled to attend!"
Written by Jackie Demaline, RCN Arts
Top photo: Students from CCM-Prep (provided)