Premium Content
On Exhibit: New NKU Faculty Member's Photos, Work Inspired by BP Oil Spill at TMC
Sun, 01/15/2017 - 21:25
RCN Newsdesk
Northern Kentucky University's annual Full and Part-time Faculty Exhibition kicks off the new year in the Main Gallery, running Jan. 16-Feb. 3.
More than a dozen faculty in all media will show work in all media.
The River City News is turning the spotlight on new faculty member Rachael Banks, a Louisville native who is new to the NKU visual arts faculty. Her photo series Between Home and Here, Photographs by Rachael Banks will be featured on the Third Floor Gallery.
RCN: Welcome home to Kentucky. Your bio says your work "deals heavily with family dynamics, relationships and notions of identity informed by place." Does your exhibit reflect that?
Banks: Between Home and Here is a series of work that I started when I was living in Dallas, where I moved in 2013 to get an MFA in photography at Texas Woman's University. 
It started as a body of work that dealt with guilt I felt for leaving my family and general homesickness. Making work about the people and things I loved back home (and even the things I didn't like) allowed for me to constructively deal with my conflicted emotions.
For close to two years, I drove from Dallas to Louisville about one to two times a month for two to three days at a time to photograph people, places, and artifacts of close importance to me.
The photographs themselves started to represent tangible memories of people and places that I could then carry with me wherever I went. Even though I live in Kentucky now, I am still adding to the series but I see the newer work as a second chapter to the story.
RCN: What will we see?
Banks: There are 14 photographs that were taken in between December 2015 and last Friday morning. The images can be viewed collectively or individually.
However, I do see my younger brother and sister as the muses for the project and they make several repeat appearances in the exhibit. While I have photographed a large number of people for this series, my brother and sister, for the most part, are the only ones photographed more than once. I see my brother and sister as protagonists in the story that is Between Home and Here.
RCN: Your list of interests includes zine making, literature, punk sub-culture, social media and snail mail. How does that impact your teaching?
Banks: While my roots are in traditional processes, I think it is vital as an educator to be current so that I can further enable my student's to see their potential. It's important to me that students are not only passionate about their creative process, but also have a way to use it as an asset.
A lot of my interests in regards to collaboration, DIY self-promotion, and punk sub-culture contribute to my teaching philosophy on the importance of community.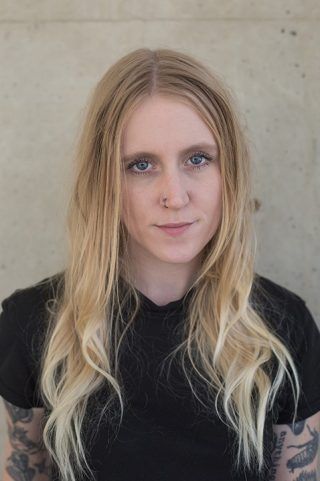 Rachael Banks (provided)
I think a lot of students feel ostracized by their choice to pursue a career as an artist because it isn't seen as the societal norm. I aim to show students that there are more options beyond living within the "norm" and how to do it in a way that makes them successful.
RCN: NKU brings you within range of your hometown Louisville.
Banks: Having my teaching position at NKU and being within range of Louisville and even in Kentucky, for lack of better words, really is a dream come true. When I left home, I knew I would always keep coming back and making work but I didn't think my career path in academia would have allowed for me to come back permanently.
It's really hard to get a full-time teaching job, especially with the increase of adjunct professors working in universities. I would have taken a full-time teaching job anywhere in the country and very happily so. I'm incredibly fortunate to work at a university with supportive faculty and talented students who encourage me to grow as an artist and educator all while only being 90 minutes from all the people that got me where I am today.
RCN: What's coming up in terms of projects?
Banks: I collaborate a lot with my friend Nathan Pearce, who is a photographer based out of Fairfield, Illinois. We have a new zine called Come Thru, It's Lit that comes out this month.
(Note: Urban Dictionary definition of "it's lit": "When something fun is happening or something exciting is happening and you and your friends are turnt up...")
I've also been working on a series of self-published newspapers that fold out into posters and am expecting my second one to come out in February. I'm especially excited about a book-making class that I am teaching this summer at NKU that will have a focus in zine-making and DIY self-publishing.
Full and Part-time Faculty Exhibition / Between Home and Here, Photographs by Rachael Banks, Jan. 16-Feb. 3. Northern Kentucky University Fine Arts Center, Highland Heights. Free. Gallery hours: 9 a.m.-9 p.m. weekdays.
---
Seven years ago, artist Roscoe Wilson became deeply affected by the Deep Water Horizon (BP) oil spill in the Gulf of Mexico. It changed his artistic focus and the result is a politically charged exhibit, Roscoe Wilson: The 87 Days Project, opening Jan. 12 at Thomas More College's Eva G. Farris Gallery.
"Eighty-seven days elapsed before the well was capped," Wilson says of the title, "but questions still remain about the long-term effects of the spill on the environment, safety regulations and company negligence."
He'd been making work about over-consumption of material goods. His new passion became fossil fuels.
The 87 Day Project incorporates sculpture, paintings and prints. Wilson teaches at Miami University's Hamilton campus, where he is a Professor of Art and the Chair of the Department of Humanities and Creative Arts.
He finds his inspiration in the "powerful oil and coal companies (which) have an overwhelming grip on all our lives, from our daily activities to our political system.
"We are manipulated into consuming more every day….The abuse of these technologically outdated fuels, the structure of our current society and political system, and the unwillingness to change are all factors that can and will be devastating to our environment and our lives.
"Change needs to happen now, not for our grandchildren, but for us, in the present. It's already hot out here."
Roscoe Wilson: The 87 Days Project, Jan. 12-Feb. 2. Eva Farris Gallery, Thomas More College, 333 Thomas More Pkwy., Crestview Hills. Opening reception 5-7 p.m. Jan. 12. Gallery hours: 8 a.m.-10 p.m. Monday-Thursday, 10 a.m.-4 p.m. Friday, 10 a.m.-4 p.m. Saturday, 2-8 p.m. Sunday. Gallery talk 1:15 p.m. Jan. 23.
Written by Jackie Demaline, RCN Arts