Premium Content
After Accident Shuttered Covington Location, Steffen's Rental Seeks to Open New Location in Park Hills
Tue, 01/24/2017 - 11:51
RCN Newsdesk
The long-running family business continues to operate at its Florence location and a new location may be on the horizon.
Company president Arden Steffen spoke at a caucus meeting of the Park Hills city council on Monday night, and talked about her plans to acquire 1450 Dixie Highway, the location of Complete Appliance. She spoke of the company's history and how
she is the fifth generation and first female to lead it
. While the company rents large equipment for construction projects, it also handles smaller items, and Steffen said Monday that the proposed Park Hills location would not have the larger items.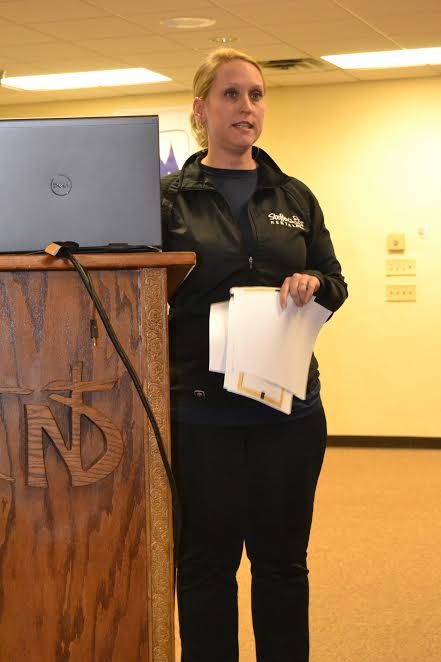 Arden Steffen speaks to Park Hills City Council (RCN)
However, there was concern expressed about the business's need for outside storage, because that is not a permitted use in the Highway Commercial (HC) zone of the city. A text amendment would need to be adopted by council to allow the business to locate there.
Mayor Matt Mattone invited Steffen to present her plans to council and residents at the caucus meeting. She still isn't commenting about the status of the downtown Covington location.
"Why aren't you on Pike Street?," asked Councilman Steve Elkins.
"I can't comment on that," said Steffen.
"One of the big issues is that you can see it from the street," said Councilman Greg Claypole, concerned that the machinery could be visible from the street through or over any fence.
Councilman Jason Reser acknowledged that the city could benefit from the associated taxes, but he worried that the business could make the area seem more industrial, something some in the city want to move away from.
Residents at the meeting asked Steffen about the larger pieces that would be present at the proposed location and she responded that that would likely be a skid-steer, a small construction vehicle used to lift items on a site. Steffen said that the business would install a fence to conceal the machinery. There would also be cosmetic changes to the site, like new paving, updates to the building, and improvements to the back of the structure, she said.
Mayor Mattone said time was important, because Steffen was hoping to have a third location before the deadline related to code 1031 with the Internal Revenue Service, in which an entity can defer any capital gains or losses and the associated taxes.
Council will take up the issue formally at a later meeting.
Other notes:
Resident Gretchen Stephenson shared her concerns about city expenditures associated with security cameras in trolley park that cost over $27,000, a digital sign which cost $12,500, and legal costs of $42,881 related to the fight with a new development of 25 homes by James Berling. She wanted to know if an ordinance could be passed requiring such requests and communications to be on record, even those when people stopped to talk to council members on the street or in the grocery. City Attorney Todd McMurtry said there was no way to prevent council members from talking to people.
"There is no legal basis to tie council members' hands like that," McMurtry said. "You hired them for their judgment."
Stephenson also asked about the feasibility of hiring a part-time city administrator, a topic that was also explored later in the meeting by Mattone, who asked council if the issue could be considered.
 Mattone asked council to look at how other citie operate with an administrator, and they would revisit the issue later.
Councilwoman Pam Spoor spoke about the years that she has spent volunteering her time with the parks and the beautification of the parks. She is stepping back from the parks and allowing two other councilmen to head the parks committee.
"I deeply hope that our public spaces will continue to be cared for, and made beautiful and welcoming," Spoor said. "I sincerely thank the good people of Park Hills for giving me the great privilege of caring for our parks for all those years. It was truly an honor."
Councilwoman Kathy Zembrodt brought up the $100,000 surplus in the budget, and recommended that they pay $60,000 in January towards the city building debt, and another $60,000 next month to get a lower rate of interest. She also said that she has heard from residents that the old VFW property was becoming a dump site, and asked what was going on. Dan Van Handorf, public works director, explained that it was a staging platform for construction projects, but he was trying to clean it up.
Written by Patricia A. Scheyer, RCN contributor
Top photo: 1450 Dixie Highway (via Kenton PVA)