Premium Content
8-Year Old Daughter of Local Firefighters Battles Brain Tumor
Thu, 02/02/2017 - 22:43
RCN Newsdesk
Danielle Duke is vibrant and friendly, and recently celebrated her 8th birthday. Danielle's parents - Jennifer and Robby Duke - are both firefighter/paramedics with the Bellevue-Dayton Fire Department. 
A year ago, though, Danielle began complaining of headaches. Jennifer thought it was odd, because the little girl rarely complained about anything.
"I thought, everybody gets headaches, and they take Advil and they go away," Jennifer remembered. "I wasn't too concerned, but the headaches kept coming. One day Danielle told me that when she got the headaches, it made her eyes freeze. Then I thought we needed to get it checked out."
Their doctor ordered a CT scan, and an MRI, just to be safe. Robby and Jennifer took their daughter to Cincinnati Children's Hospital on May 4, and they didn't leave the hospital for 24 days. The MRI showed a brain tumor attached to both the brain stem and the cerebellum. Danielle had hydrocephaly, or swelling on the brain because the tumor had blocked the cerebrospinal fluid from draining.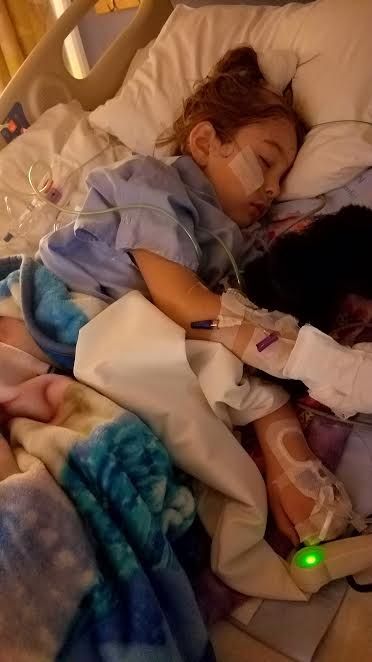 "On Wednesday they did the MRI, and on Friday they operated to put in an internal shunt to help the fluid drain," said Jennifer. "On Monday they operated to take the tumor out, but they couldn't get it all, because of where it was located. But because the surgery touched the cerebellum, when she woke up, she couldn't speak, and she couldn't walk. She learned to grunt. She still grunts sometimes. It took her several weeks to recover, and she was able to speak and walk again after therapy, even though the doctors couldn't assure us that she would. But she surprised them with how quickly she recovered."
That summer, with help, Danielle was almost back to normal, playing happily with her American Girl dolls and Shopkins, and running around the yard with her dog. The doctors wanted to do follow-up MRIs to keep an eye on the tumor to make sure it wasn't growing.
The next MRI was in early October. Jennifer and Robby's worst fears were confirmed: the tumor had grown significantly. Doctors told the parents that they needed to start chemotherapy to keep the tumor from growing any larger.
"They started Danielle on chemo in November, and she received the treatments weekly," Jennifer said. "At first they were giving her two drugs, and she was very sick, and lost a lot of weight. It didn't go well. Once they dropped one drug, she did a lot better."
Danielle started second grade at Campbell Ridge Elementary in Alexandria. Her classmates and teachers are all very supportive, and Jennifer says she has a lot of friends.
"Danielle is a very friendly, outgoing child," she said. "She is very popular."
Danielle is starting on a 12-month regimen of chemotherapy, which will be stronger, and she will have MRIs every 2 months to keep track of the tumor. She has lost a lot of her brownish blond hair, and even though she still has some, it is thin, and she recently was measured for a wig.
Jennifer said having Children's Hospital so near has been a blessing. The medical bills have been steep and ongoing, and even though they have insurance, the deductible is high, and the co-pays are also high and constant. Last week alone the co-pays added up to over $200. There will be a fundraiser to help with the family's medical bills on February 11, at Holy Trinity Church in Newport, from 7 p.m. to midnight. Cost is $30 per person, and $55 for couples before the event, and $35 and $60 at the door. Price includes dinner, dessert and one beer ticket, but there is also a special mug that will be for sale, and with that there is all you can drink beer. There will be split-the-pot, raffles, and mixed drink sales. The event's website can be found at: daniellesfight.weebly.com.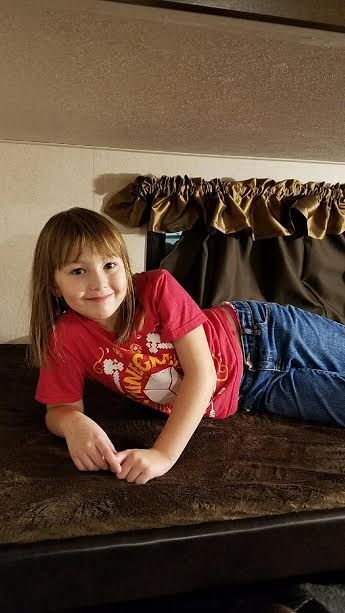 Jennifer and Robby work alternate shifts at the firehouse, so that one of them is always home with Danielle. They have missed a lot of work, trying to be with their only daughter as she has journeyed through this difficult year.
"I am going to be there for her, no matter what," Jennifer said. "She wants me there, she needs me there, and I will always be there for her."
The family takes it all day by day. Danielle, her mother said, can't really grasp the severity of the illness.
"We need a miracle," Jennifer sighed. "Just yesterday, though, Danielle asked me, Why do I have to have this tumor? And I said, I don't know, honey. I wish you didn't have to have it. You certainly don't deserve it."
Written by Patricia A. Scheyer, RCN contributor
Photos provided