Premium Content
In Erlanger, Police are Placed in Simulated Danger for Training
Wed, 02/08/2017 - 05:46
RCN Newsdesk
The unknowing Erlanger resident making a casual call on the city building in recent weeks might have been alarmed to hear loud voices shouting, "Police!", or "Get Down!" as he approached.
A sign at the front of the building offers notice that a police simulator training is underway in the extended city council room, and that things could get loud and scary as a realistic scene is painted.
The Firearms Training Simulator is "the latest and greatest", according to Training Officer Pat Collura of the Erlanger Police Department. 
"It has every weapon that we carry," said Collura. "But instead of a projectile, it shoots a laser into the screen, which carries back to the computer and I can tell what they hit."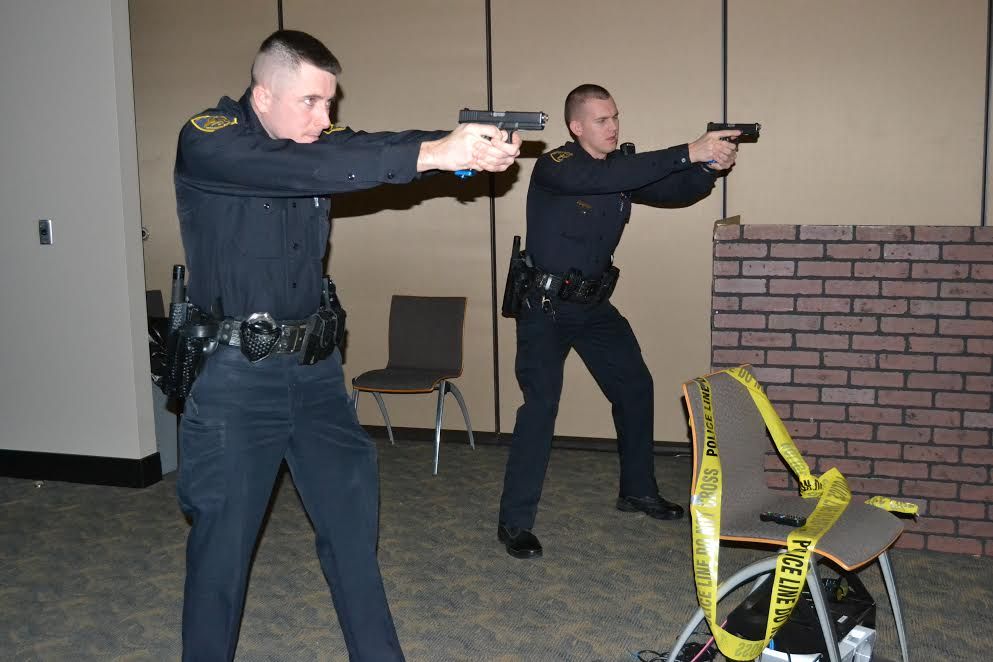 Officers Josh Nezi and Cameron Day address a situation on the screen (RCN)
The simulator belongs to the Kentucky League of Cities in Kentucky, and there are three units shared around the state to help with decision training. The simulator is an interactive use of force and firearms in a simulation that combines the latest technologies combined with unique feature sets, which allows for total training combination. The simulator is preloaded with over 800 scenarios and is capable of letting trainers create their own scene. The weapons are connected to CO 2 cartridges so they have a realistic kick-back when shot.
"They ask us what we are having the most trouble with, and so our scenes are similar to robberies at a Speedway, for example, that we have several of," explained Collura. "We also have trespassers in empty homes, sometimes because of the heroin problem, and that is one of our scenarios."
The trainer unit offers low light scenes that up to 18 people can participate in. It is also portable, so it can go anywhere in the state, as long as the officers go through the required training. Collura said that he and Officer Greg Aylor are both trained to offer the training to others in their department as well as to other police departments in the area.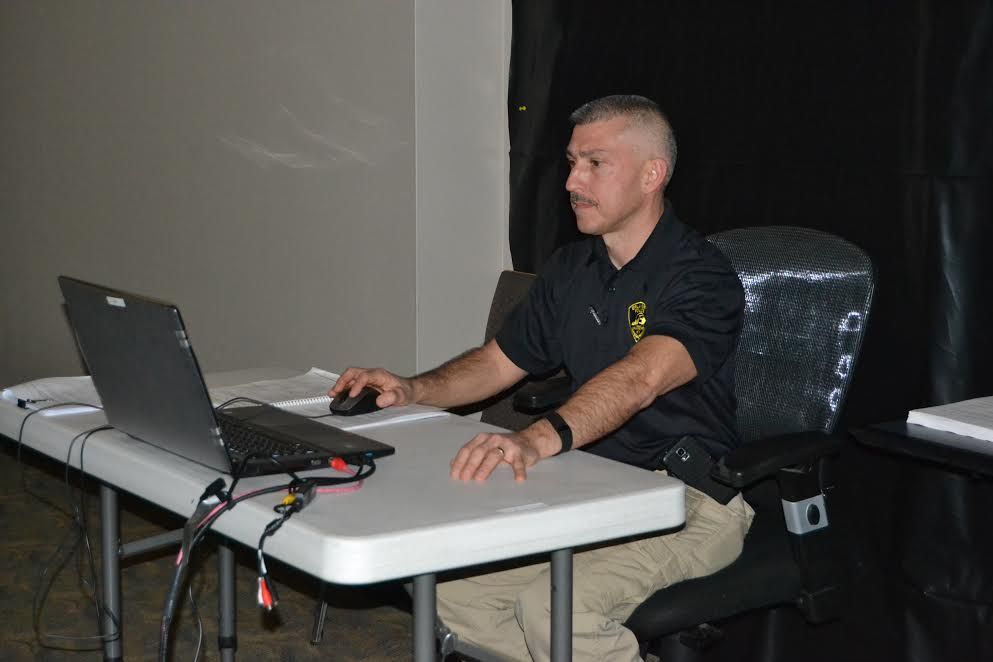 Training officer Greg Aylor operates the computer (RCN)
"We sent out invitations to all the police departments in the area," said Collura. "But we don't just offer the training to police. We had a military unit come in the other day, and we have had some Explorers from the high school, and the mayors group came through. We have hosted this simulator for several years, and one year an officer brought a group of troubled kids through, to give them an idea of the tough job that police do. We want them to see how fast this happens."
Officer Greg Aylor runs several people through the system, and he agreed with Collura's assessment of the realistic situation that can get out of hand quickly.
"Just to demonstrate that, I have the ability to escalate the situation, if I need to," Aylor said. "There is a simulation where a citizen comes to a city council meeting and he has a gun in his waistband. My officers start talking to him to calm him and tell him to go on with what he is saying. The citizen gets more upset and pulls the gun and starts to wave it around. Should my officers shoot?" Aylor waited. "Yes they should, to neutralize the threat. Even if the guy has the gun by his side, he could raise it and shoot before the officer's brain could tell him to shoot. Or he could shoot anyone in the room. First of all, the guy made a bad decision to get the gun out. Secondly, he posed a threat."
Modified weapon used in the simulator (RCN)
Officer Josh Nezi said that the unit assists with how a person deals with the situation, and helps with verbal articulation.
"You have got to be ready for anything," he said.
Officer Cameron Day said when he leaves after going through the simulator, he thinks about it sometimes, and understands that he will be more ready for a situation if he has seen it before in the simulator.
Erlanger Mayor Tyson Hermes went through the simulation with the mayors group, and he was very impressed.
"You even get this three action holster, and the camera reads your body language and responds to what you say," Hermes said. "It creates almost a panic in you. My heart was beating so fast. But it is really incredible. You gain a whole new perspective."
He said once it is over, you can see a dash-cam video, based on what actually happened.
Collura said that Erlanger was the very first host agency of the older version of the simulator trainer back in the 1990s. He said that the purpose of the training is not for scores, and none of the sessions are recorded.
"This is not about teaching them how to shoot," he said. "It is training, and it gives an insight to coordination and defense tactics, but it does not teach how to shoot. We are very clear that this is a decision-making exercise. This teaches officers how to be safe. It teaches them how to be able to come home at the end of their shift." 
Written by Patricia A. Scheyer, RCN contributor
Top photo: A traffic stop situation gets out of hand, and Officers Nezi and Day control the situation (RCN)