Premium Content
Musical Story of Conjoined Twins Comes to Newport's Footlighters
Sun, 02/12/2017 - 20:01
RCN Newsdesk
Ever heard of the Hilton twins? Of course you haven't. But more than a century ago, singing and dancing Daisy and Violet were quite the thing and the highest paid performers of their time on the vaudeville circuit.
Daisy and Violet were conjoined twins.
Their story became the Broadway musical Side Show, a hidden gem for a long time because it's difficult to perform. It pops up on an area stage every few years, winning new fans with its intriguing true story and Tony Award-winning score. Show-stopper duets "Who Will Love Me as I Am" and "I Will Never Leave You" bring a different layer of meaning to their titles.
Daisy and Violet Hilton (via Wiki Commons)
Opening at Footlighters on Feb. 16, Side Show stars a pair of talented musical theater performers, Katie McCarthy and Helen Raymond-Goers.
Along with their rise from a carnival act to vaudeville, the musical follows the conflict of their opposing dreams: Daisy seeks a life in the spotlight and Violet wants to settle down in a home with a husband.
Both women say it is a "bucket list" show.
"The music is beautiful, and the story is compelling," Raymond-Goers said. "Yes, it has been on my bucket list for almost twenty years, and I am beyond thrilled to get to be a part of it now."
Helen Raymond Goers (provided)
Because of the show's challenging score (it's mostly sung-through) and especially technical difficulties, neither expected to do it. "I never thought it would be an option. It was more of an, "I'll never get to do this, but I can always dream!," McCarthy said. "When it was announced that Footlighters was going to have it in their season, I absolutely had to audition."
As for who plays whom, McCarthy admits, "I desperately wanted to play Daisy. She's a little sassier" and "according to our director, Bill Geraghty, I was just a Daisy."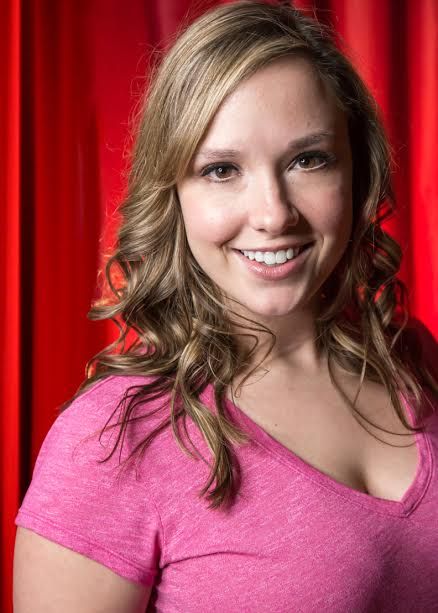 Katie McCarthy (provided)
Something else that may have come into play – Violet is a soprano, and so is Raymond-Goers; McCarthy is a mezzo, like Daisy. 
The trickiest part of the performance, they agree, is the choreography.
"If one of us is even a little out of step, it is much more noticeable than when doing unattached choreography because our bodies have to move together," McCarthy explains.
Raymond-Goers smiles. "For me, everything makes choreo tricky. I'm not a natural dancer, so I have to analyze the movement in a very heady way, anyway; being attached at the hip is just one more thing.
"Katie, though, is a lovely dancer, so she has taken on the task of dragging me around until I get the steps right. It is sometimes the simplest things that take the most work because the natural pattern of movement is disrupted. For instance, when walking, you would normally swing your arms in opposition to your feet, but because we are connected at the hip, our center arm cannot swing through, so we have had to compensate by shortening our stride and really thinking about which is the leading foot.
"Sitting down and standing up are also tricky because we have to do it precisely in unison. We hold hands a lot, and there are some hidden cues we give each other when we are ready for some movement to happen."
McCarthy notes, "The trick to staying together, not only in dancing, but through the entire show is that we have to be very aware of each other's movements. We have to step the same distance and make sure we are precise."
Raymond-Goers thought back to the beginning of the rehearsal process. "We recognized right away that our height difference would require us to make adjustments to our movement, and while we have fixed some of that with different heel heights on our shoes, my arms are still longer than hers, so we have to be careful about our positioning to keep it from looking and feeling a little weird."
McCarthy adds, "The coolest part is that we are at a point now where we are almost in each other's heads and are very in tune with each other's body movements so we know what the other is going to do, and how she is going to move." 
Audiences, they agree, will be happy if they give Side Show a chance.
"People may not be able to relate to constantly being connected to another person," McCarthy muses, "but everyone can relate to the story, and especially with the message of belonging.
"Everyone has felt like they don't fit in or like they are an outsider or a freak at some point in their life. I think audiences will really connect with that."
Both women are sought after on the region's smaller stages. Next up for McCarthy will be Shrek the Musical with Cincinnati Music Theatre, and you'll find Raymond-Goers at the Warsaw Federal Incline in Damn Yankees and The Drowsy Chaperone. 
Side Show, Feb. 16-March 4. Footlighters, Stained Glass Theatre, 802 York St., Newport.8 p.m. Thursday-Saturday, 2 p.m. Sunday. Tickets $22. www.footlighters.org and 859-652-3849.
Written by Jackie Demaline, RCN Arts