Premium Content
New Restaurants, Shops Coming to Covington's RiverCenter Towers
Thu, 03/02/2017 - 19:29
RCN Newsdesk
The street level of RiverCenter is about to burst with life - and five new restaurants and shops.
It was nearly a year ago that Corporex managing director Tom Banta told the Covington Business Council (CBC) that the company behind the RiverCenter development would be refreshing its 25-year old property. There weren't many specifics at the time, but on Thursday afternoon, a small group visited the towers on the Covington riverfront as part of the CBC's hard hat tour series and got the full report.
John Whalen talks to the CBC hard hat tour on Thursday (RCN)
A swanky new restaurant, an Italian eatery and wine bar, a sushi spot, and a full-service fresh market place will soon join longtime tenant First Watch on an enlivened plaza that will feature new decor like sun shades and outdoor seating, and maybe even a stage for live entertainment.
The company behind the project is not officially affiliated with Corporex, though they share an address according to the Kentucky Secretary of State's office. It is known as RiverCenter Entertainment, LLC. John Whalen, the new company's director of food and beverage led Thursday's tour with Brett Lowery, a Corporex leasing and sales agent.
Here's what was learned on the tour:
FIRE
Fans of the former Behle Street Cafe, the once-popular landmark destination that sat at the corner of Madison Avenue and RiverCenter Boulevard and closed in 2013, will be excited to know that the space will soon be filled again.
FIRE will open here in April (RCN)
Inspired by the FIRE Lounge at the Art Hotel in Denver, another project by Covington-based Corporex, this posh establishment will feature an expansive menu, Whalen said. That means lots of appetizers and small plates, and entrees like steak and lobster. Joe Kim was introduced as the chef.
The company hopes to have it open by Opening Day of the 2017 Cincinnati Reds season. Work was progressing on the space Thursday.
Italian bistro and wine bar
Whalen said wine fans would find a new place that emphasizes the beverage alongside Italian cuisine. The restaurant does not yet have a name, but it could be operational later this year. Look for it in the spot that was previously occupied by Europa which closed in 2015. 
Sushi
Another place expected to open later in the year will feature sushi in the space previously occupied by Subway, which closed last year. This place does not yet have a name, either.
Butlers Pantry
Perhaps a play on the name of Corporex chairman Bill Butler, this development will take over the space previously filled by U.S. Bank, which vacated it last year.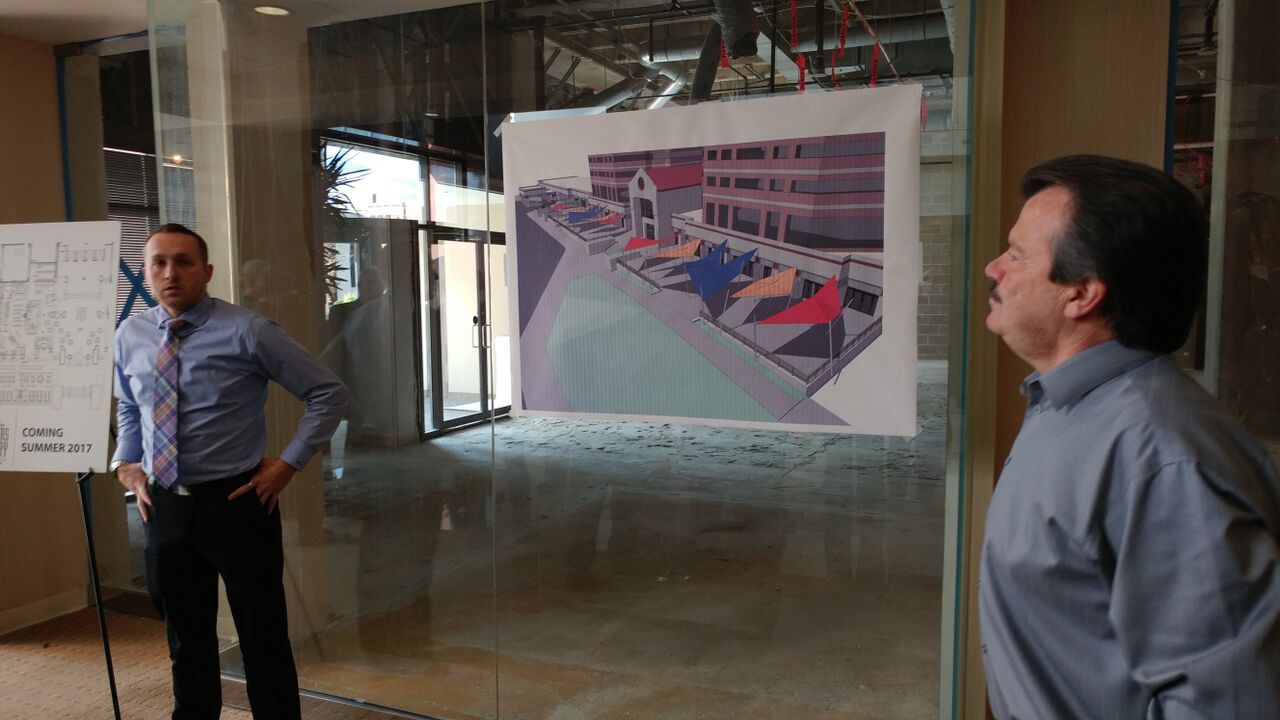 Corporex's Brett Lowery and Whalen speak in front of Butlers Pantry and a rendering of the revamped plaza at RiverCenter (RCN)
When one enters the twin towers through the revolving doors in the lobby that connects them, there will be quite a different experience in the mid-summer when this place opens. There will be a bakery, a produce selection, fresh meat and sandwiches and soups, coffee, and a juice bar. The lobby itself will feature high top tables and places for people to spend leisurely times. 
Construction starts in three weeks. 
"The beauty of this marketplace," Whalen said, "is everything will come in every day, fresh, and also go into the restaurants. It's a really neat way to do things because we have everything on the property that you need and we're always rotating it and it's fresh."
View of the Ascent in Covington from CTI's new office space in RiverCenter, which also offers sweeping views of the Cincinnati skyline (RCN)
A fresh start for re-emerging buildings
The coming resurgence of RiverCenter's street level will finally match the new energy filling its upper floors. Decimated by the departure of Omnicare, which bolted for lucrative tax incentives less than a mile away in Cincinnati in 2011, RiverCenter has slowly rebounded. A variety of companies are finding new homes there, now, drawn to the newfound versatility of the once stale office environment. Companies like TiER1 have set a new standard for how "cool" the spaces can look, and now CTI Clinical is moving hundreds of jobs from Ohio to the towers.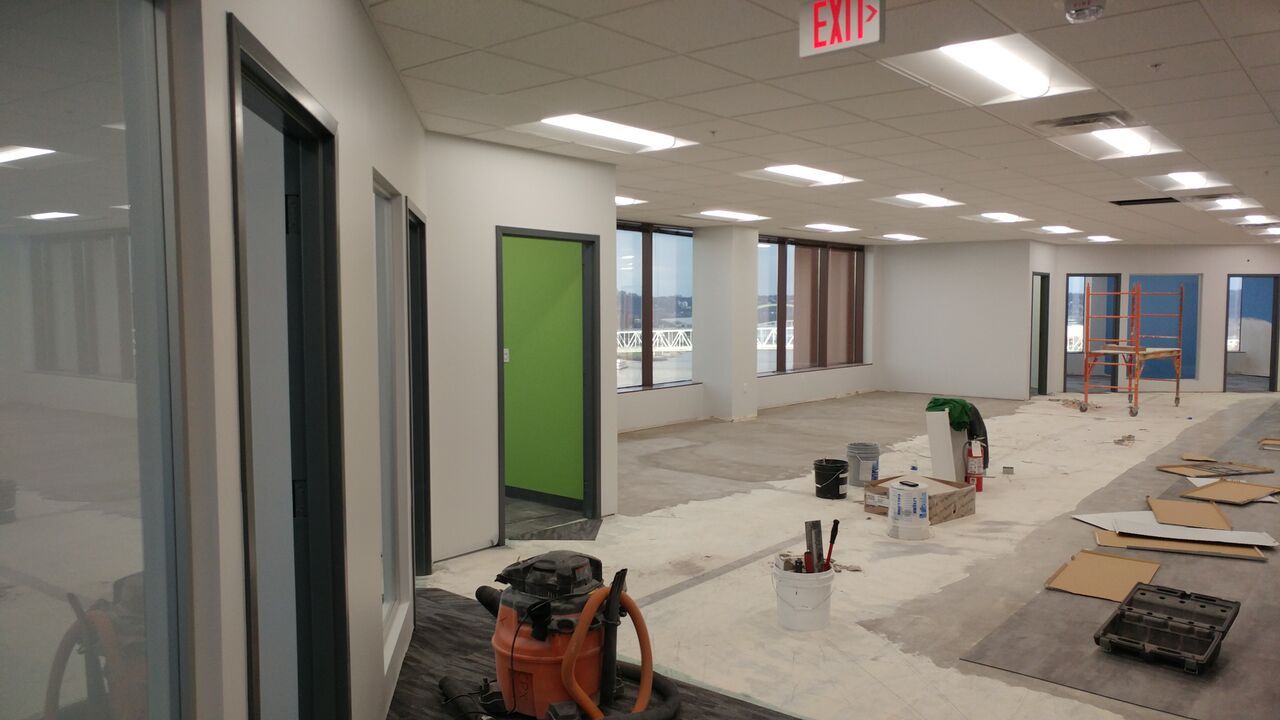 CTI's new office space under construction (RCN)
Contractors were hard at work on Thursday finishing up some of the new space that the company will occupy.
In addition to the jobs returning to the offices upstairs, the bold effort on the street level is also expected to add 250 to 300 jobs, when it's all said and done, Whalen said. 
Thursday's tour ended at the new Fusion Cafe on the main floor of the towers, where users of the newly expanded gym facilities enjoy juices and other healthy eating options. Chef Kim presented appetizers to the visitors.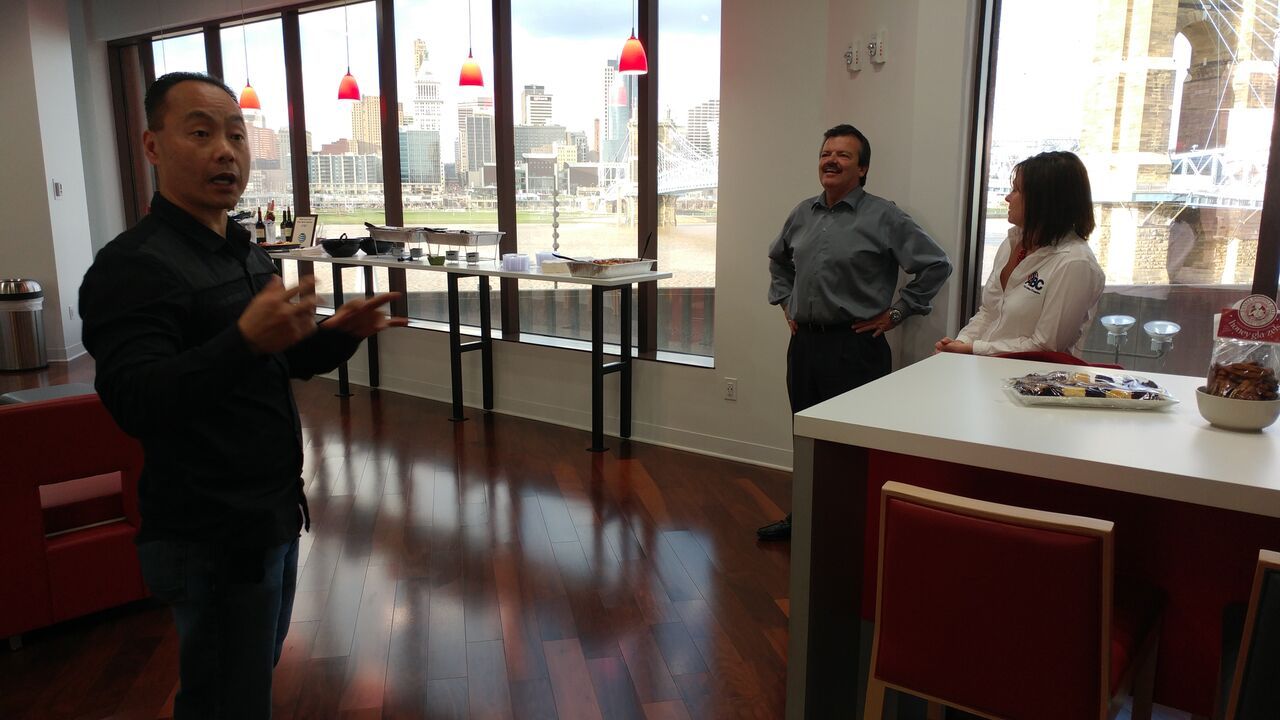 Chef Joe Kim talks about the food as the tour wraps up at Fusion Cafe (RCN)
In his remarks last year, Corporex's Tom Banta said, "I can't tell you how different it is when we show office space than it was ten to fifteen years ago. The number one thing of interest in the minds of people looking at office space is, can we attract and keep the young talent that we want to hire?"
The company's work with RiverCenter Entertainment Venues, LLC emphasizes the lifestyle change demanded by downtown workers, positioning the towers as a stronger contender for employers and visitors.
Written by Michael Monks, editor & publisher