Premium Content
March Madness Within Reach as NKU Makes it to Horizon Final
Mon, 03/06/2017 - 21:45
RCN Newsdesk
DETROIT - "Just thinking about it now is giving me a chill a little bit," said Drew McDonald, the Northern Kentucky sophomore who lit up Youngstown State for 26 points on Monday night in the semifinals of the Horizon League men's basketball tournament.
With the 84-74 win, NKU improves to 23-10, and is now one win away from reaching its first NCAA Tournament - the first year that the school is eligible after a long four years in transition from Division II.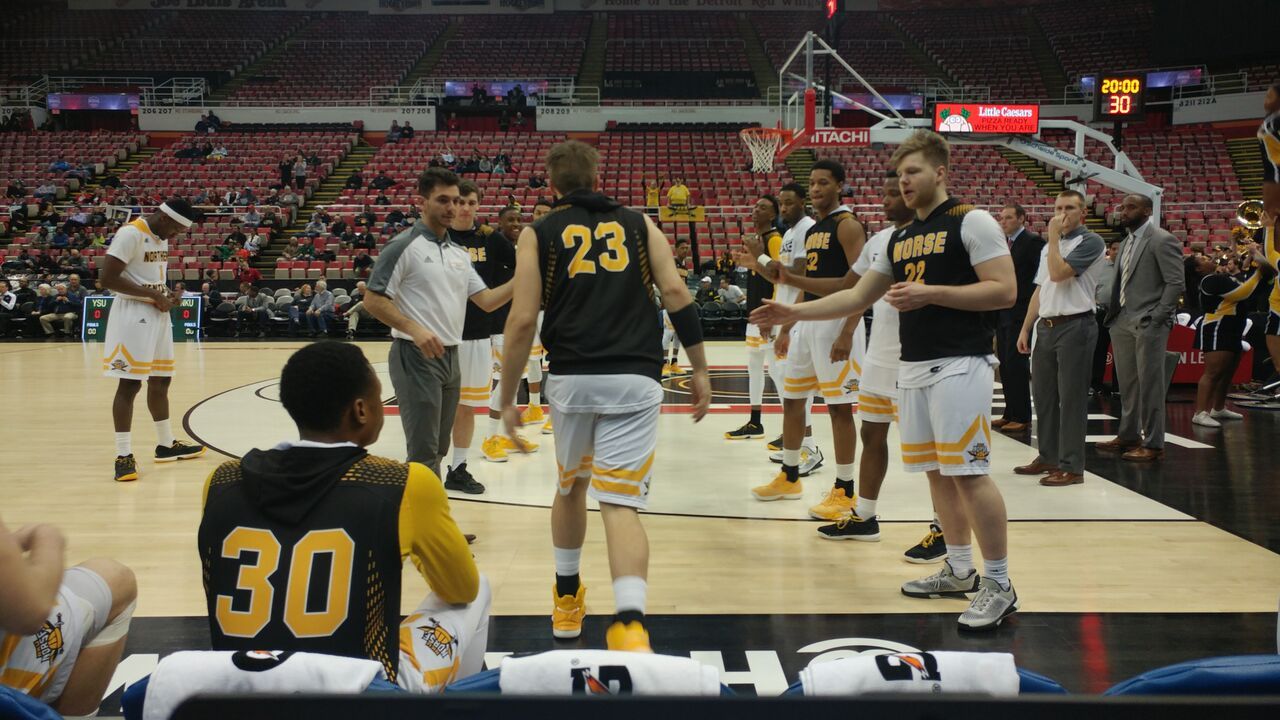 "In the back of our minds, we owed them something," McDonald said, referencing a February 18 loss at Youngstown State (13-21), the last time the Norse went down in defeat. But even though Northern Kentucky played with a fervor from the start and led by 15 at halftime, this was about more than revenge. "It was more about our goals of what we had at the beginning of the season and advancing to the next round."
The next round is the Horizon League championship, and in a tournament here in Detroit's famed Joe Louis Arena where NKU was the only one of the top 4 seeds not to be knocked out in their first games, anything can happen.
Even history for Northern Kentucky University.
"When I took the job, it was all about providing something for Northern Kentucky to get excited about college basketball," said head coach John Brannen, who's in his second year at the helm in Highland Heights. He and McDonald are both Campbell County boys and graduates of Newport Central Catholic. "There is a lot of pride in the area and a lot of pride in coming back. It's a basketball-crazy region, and there is enough room for another team to make a little noise."
The reference to "another team" may be towards the Kentucky Wildcats, the bluebloods of college basketball whose fan base squashes NKU's even in Northern Kentucky. But as a new tradition blossoms in Highland Heights - and this week, in Detroit - there may soon be movement. CBS Sports projected Monday morning that if Northern Kentucky wins the Horizon League, it would be a 15 seed in the NCAA Tournament.
Its first round opponent?
A #2 seed called Kentucky.
"It's always been my dream to go to the NCAA Tournament," McDonald said after NKU's 10-point win. "I felt there was no better way than to take my hometown team and to lay the foundation to that school." He said that when Brannen took the job, he got a call that night from the new coach who had just coached Alabama as interim head coach in the NIT. "He told us we were gonna win a championship. We believed, we bought in. And it's been a team effort from there."
In Monday's team effort, the Norse were bolstered by 20 points from Lavone Holland II and 10 from Mason Faulkner.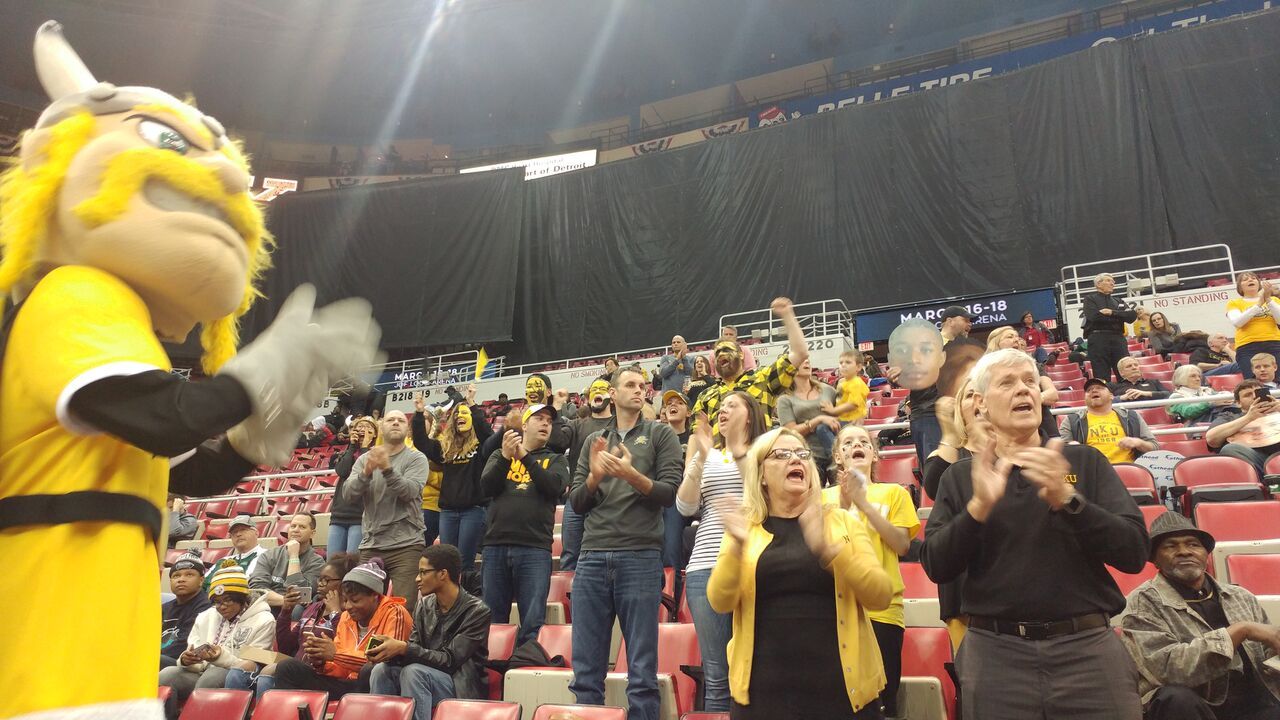 The Norse are riding a 5-game winning streak, and though they were able to put some room between themselves and the Penguins on Monday, Youngstown State continued to claw back, first by opening the second half hot and nearly erasing NKU's 15-point lead, and then coming back to within single digits after NKU pushed the lead back to 16 late in the game.
"I thought momentum was with us in the second half, but we couldn't get over that hump," YSU head coach Jerry Slocum said. "There were three 50-50 balls in the last five minutes and we didn't come away with any of them, and on two of them they scored 3s."
Youngstown State was riding high, coming off a shocking upset over top-seeded Oakland setting up the meeting with NKU. "They fought all the way to the buzzer," Brannen said. "I wish we could have closed the game a little better than we did."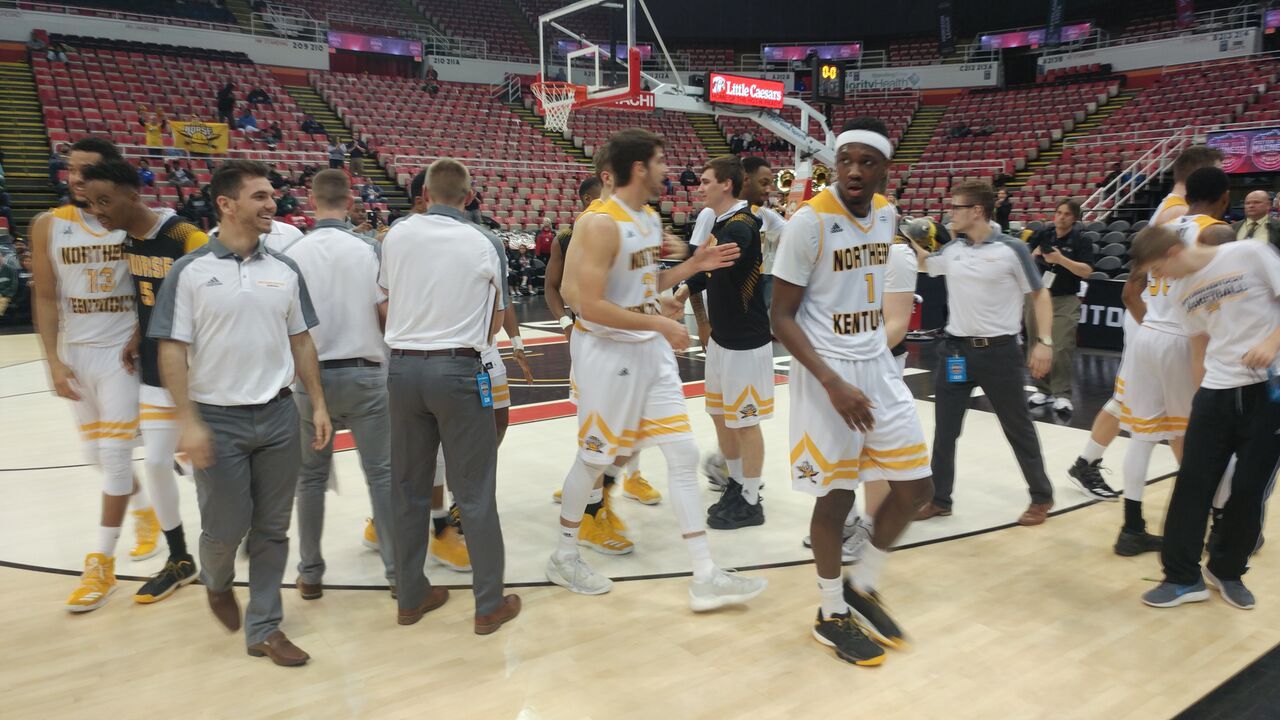 But at this time of year, as NKU is learning for the first time as a fully-participating member of NCAA Division I competition, only one thing matters.
"The bottom line is," Brannen said, "the post-season is about advancing."
NKU advances to play the winner of the other semifinal, Illinois-Chicago or Milwaukee on Tuesday evening.
Story & photos by Michael Monks, editor & publisher