Premium Content
More Staff Departs Covington City Hall, Forcing Commission to Adopt Ordinance
Thu, 03/16/2017 - 10:36
RCN Newsdesk
Two more staff members have departed Covington City Hall, continuing a trend that started late last year.
On Tuesday, the city commission accepted the resignations of interim finance director David Mathews and senior accounting manager Robert Hagedorn. Their last day is Friday.
The departures forced the city commission to adopt an ordinance that permits multiple holders of "interim" titles to sign city checks, including interim city manager Loren Wolff, interim senior accounting manager Jerome Heist, and interim operations manager Allison Hudson.
City Manager Larry Klein resigned under pressure last month, following the departure of the city's finance director, operations manager, economic development manager, and IT director.
The exits have left the City of Covington with job openings in nearly all of its most important roles, particularly as budget season approaches.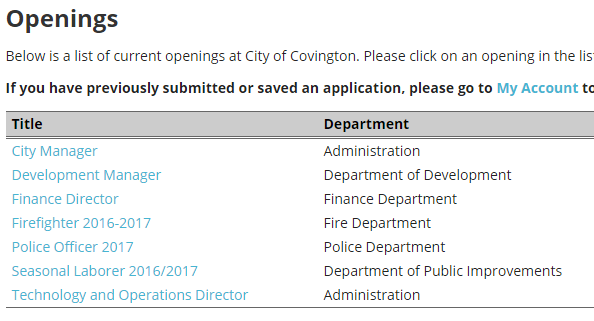 Screen grab of the City of Covington's employment page showing current openings, with more to come
Loren Wolff, a local bankruptcy attorney who was appointed interim city manager after serving as chair of Mayor Joe Meyer's transition team, said that while there are multiple vacant spots in the city government, all active projects are still moving forward.
"Some of the positions that have been left open have been combined or turned into interim positions, so the staff has been used to operating a little short-handed," Wolff said of day-to-day operations.
Wolff added that while positions are being filled with interim titles, they are actively recruiting and seeking people to fill all positions long-term, but not having a city manager is hindering the process slightly.
"We're trying to do it in a logical way," Wolff said of the hiring process. "When you need a new city manager it's kind of like, Do you hire all of these positions or what can you hold out on and hire a city manager and then hire their own team."
The ordinance adopted Tuesday allowing new names to appear on city checks was amended to include the interim titles, so that a new ordinance would not have to be adopted each time someone resigns.
Written by Carrie Crotzer and Michael Monks
Photo: Covington City Hall (RCN file)