Premium Content
Story & Photos: Cooper Wins, Scott Falls in Sweet 16 Semis
Sun, 03/19/2017 - 11:54
RCN Newsdesk
For the first time ever, there could have been an all-Northern Kentucky final in the Kentucky Sweet 16 boys basketball state tournament.
But two missed shots in the closing moments of Scott's unlikely run to the semifinals ended that chance, and the Eagles' season.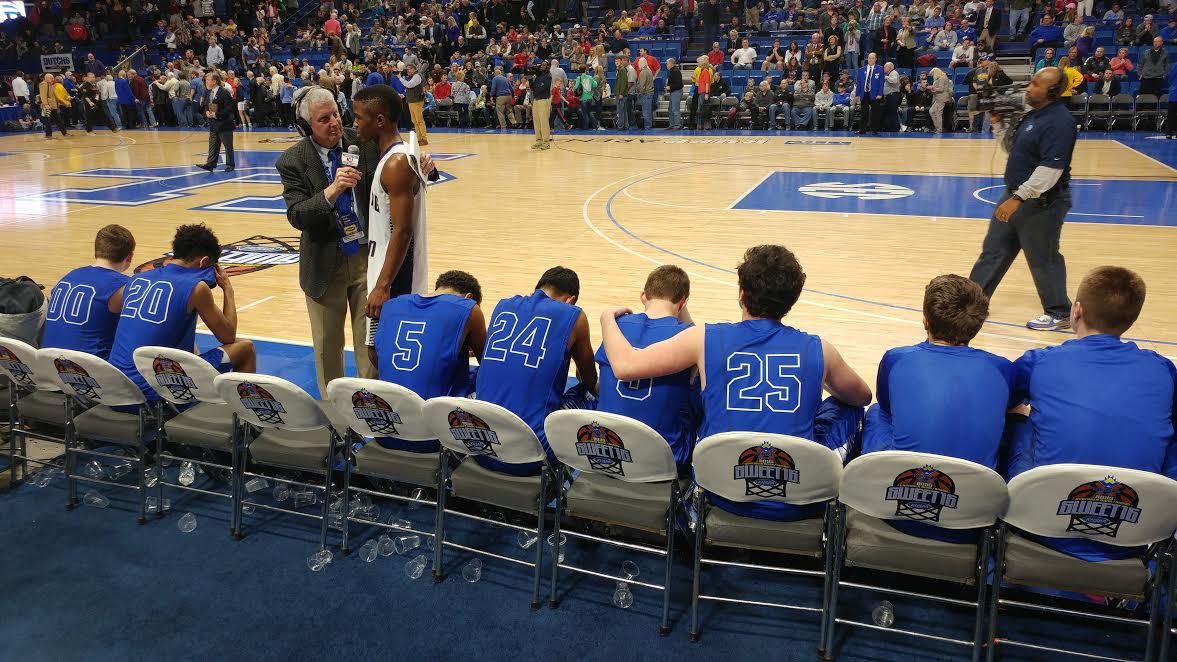 Cooper, making its first run in the tournament, pulled away late in the second game to beat Fern Creek and will face Bowling Green in the finals on Sunday afternoon.
"I can't tell you how proud I am. These guys are very special," said Cooper head coach Tim Sullivan after the Jaguars held off a late surge by Fern Creek, 51-44 on Saturday night at Rupp Arena in Lexington. "They buy in, they do everything we ask. I'm speechless. 
"We just know we got one more. We know we've got a big test, a humongous test in front of us, but tonight was just special watching these guys just fight and scratch and claw."
Cooper had a battle on its hands for much of the game. The Jaguars led by just one at the half and the game was tied at the end of the third quarter. But some sharp shooting from Sean McNeil, who went 4 for 7 from 3-point range en route to 22 points on the night, and Brayden Runion, who added 15, helped the Jaguars get some room. They led by as much as 10 in the final quarter.
Fern Creek turned to pressure defense in the waning minutes and Cooper felt it, turning the ball over once and being forced to call timeout on another occasion, but the deal was sealed at the free throw line and the Jaguars moved on to the championship game.
"We knew we were gonna have to play our game 100 percent and I think we did a pretty good job of not turning the ball over as much," said Dante Hendrix, the senior guard who had 6 points and shot a perfect 4 for 4 from the line. "They beat us early in the first half but coach got to us and we took it heart and we started boxing out." He credited a reduction in second-chance opportunities for Fern Creek as a difference-maker.
Cooper has won 17 straight games and hasn't lost since a January 18 trip to Covington Catholic.
In beating Fern Creek (35-3), champions of the 6th Region, Cooper (31-4), champions of the 9th Region, will take on Bowling Green (35-2), champions of 4th Region.
The Purples slipped away from scrappy Scott (23-13), improbable champions of the 10th Region.
The Eagles played tough against the much-larger Bowling Green, whose star forward, senior Terry Taylor had his way on the inside. Scott turned to outside shooting and hustle to stay close. The game was mostly back-and-forth throughout but the Purples created some distance midway through the 4th quarter and built a 9-point lead. But the Eagles came roaring back, even taking the lead, 77-76 with under a minute to play.
With Bowling Green back on top, 80-79, Scott had one last chance.
An attempt to create a play for star senior Jake Ohmer fizzled and Ohmer tried to create a play for himself, but his drive to the hoop went too strong, and a second-chance put-back was off the mark, and then the horn sounded on Scott's season, which included a last-second upset of Campbell County in the 10th Region to put the Eagles in their first state tournament since 1989.
"That's the type of game that should be for a state semifinal," said Scott head coach Steve Fromeyer, after the game. "I'm proud of our kids. We had our chances, but it didn't work out."
After the game, Fromeyer attended the news conference with Chad Ohmer, whose tear-stained face spoke to the emotions of coming so far and coming up short. Fromeyer said that he told the team that the sun would come up tomorrow, and that the memories created here would last a lifetime.
"This may never happen again to make a run like this, but we were one shot away from the state championship," Fromeyer said. 
As for Jake Ohmer, "Jake's incredible," Fromeyer said of his star, who scored 106 points in three games at state. "He has left a legacy at Scott High School. I don't really know the history when it comes to the statistics, but 33 tonight, 32 last night, and 41 the other night. It's just something he won't forget. I know that I know it's something his family won't forget and his brother won't forget to have experienced that.
"Fifteen years from now when they all have beer bellies at Thanksgiving and they're put playing with their kids in the driveway, and Jake calls one of those weak fouls he wants to call because you're pushing him, and then Chad wants to fight - that's what Thanksgiving, Christmas Day, and Mother's Day will be like for them. They're all a bit upset about it, but I'll tell you this right now: you could have taken this and burned it," Fromeyer said, holding up the stat sheet with Jake Ohmer's impressive numbers on it, "because he would have had that shot go in."
"Shots go in, shots don't. That's just the way it is."
As the Scott game wore on, Cooper's fans started to take their seats in preparation for their game next and the Jaguar faithful very loudly started to cheer for their local rivals. But the all-Northern Kentucky final wasn't to be.
Cooper takes on Bowling Green at 2 p.m. Sunday for the state championship.
Written by Michael Monks, editor & publisher
Photos by Brian Frey, RCN contributor