Premium Content
What We Saw at Louisville's Humana Festival of New American Plays
Sun, 03/26/2017 - 20:36
RCN Newsdesk
What's on this year's schedule for the Humana Festival, Actors Theatre of Louisville's famed annual showcase of new American plays?
I made a quick, day trip down to Louisville to catch a couple of early shows (the festival runs in rep through April 9). This edition has an emphasis on young and new voices, many already coming in with a past Humana credit (a 10-minute play or part of a group effort). One playwright is premiering her first full-length play.
It's remarkable to have a nationally-regarded theater festival within a short drive – good, bad or indifferent, it's worth the time of every adventurous theatergoer.
Go figure, both plays I saw were about neighbors, mostly set in their connected yards and one of the engines of the action is their very different financial situations. They both pretty much tell us what we already know, one with far more humanity than the other.
My day began with We're Gonna Be Okay by Basil Kreimendahl, its action centered around around Cuban Missile Crisis. The comedy plays on our anxieties – and heaven knows we have plenty. Which is why I wanted more than a laundry list of anxieties, laid out sitcom style.  
Set in an unnamed Midwestern—city? town? suburb? Hard to say. Two identical post-WWII bungalows stand side by side, one sparkling with the ambitions of its owners, the other not well-kept by its blue-collar family.
Here's the small thing that drove me nuts from the beginning. Both families had their grills in their front yards. No, no, no. I was there. Grilling was in the backyard. Kreimendahl should have asked "their" grandparents. (In the program bio, Kreimendahl is referred to as neither 'he' or 'she' but 'they.')
The first act is all about the paranoid white collar guy white collar pestering his more laid-back neighbor into building a bomb-shelter (de rigueur back in the day). Meanwhile, his so-put-together wife turns to be roiling on the inside, dissatisfied with the stay-at-home mom life. She hangs with her next-door counterpart, eager to sponge up intriguing new ideas.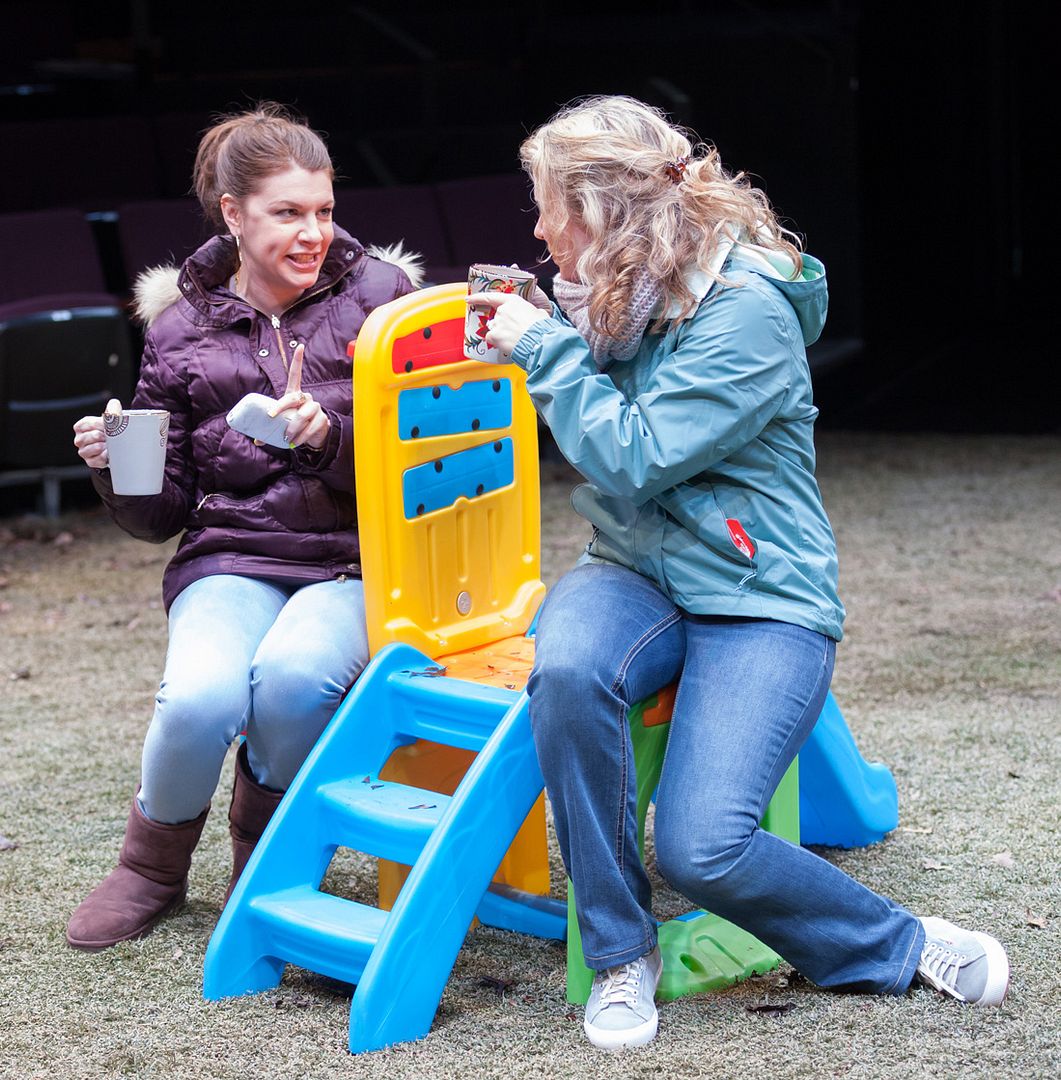 It's a well-acted, solid production, but when you come down to it – everybody's a stereotype, even the teenaged kids, who act out 21st century gender identity conundrums once the play goes underground (into the shelter) in the second act.
Hats off to the crew who did the elaborate scene-change at intermission. We may be okay, the play not so much.
Cry It Out centers on a pair of women who probably would never connect, except for circumstances – they're both new moms and their babies share a nap schedule.
You know the issues, which include the question of going back to work after maternity leave.  One has a career, the other a job; one can afford to choose, the other can't.  What makes the play resonate is that playwright Molly Smith Metzler, whose writing credits include Orange Is the New Black, knows how to create characters with hearts and minds.
As embodied by Jessica Dickey and Andrea Syglowski, you're with them every step of their journey, which is all about the big questions in everyday life.
Also in the line-up:
I Now Pronounce -- After Adam and Nicole's wedding culminates in an awkwardly timed fatality, the reception spins into an increasingly strange evening that leaves the bride and groom questioning just what it is they're celebrating. The reviews are thumbs-up.
Recent Alien Abductions -- Álvaro is searching for a lost episode of The X-Files that he swears has been mysteriously altered since its original broadcast, but nobody believes him. Could the missing episode be proof of a larger conspiracy? A dark tale about the danger of having no one to trust—and how families, and nations, keep circling the places that haunt them. *Not yet reviewed.
Airness -- When Nina enters her first air guitar competition, she thinks winning will be easy. But as she befriends a group of charismatic nerds all committed to becoming the next champion, she discovers that there's more to this art form than playing pretend; it's about finding yourself in your favorite songs, and performing with raw joy. *Not yet reviewed.
The Many Deaths of Nathan Stubblefield – Four playwrights contribute short plays about unsung visionaries from Kentucky, beginning with the mysterious demise of a Kentucky inventor. It features the 19 actors in ARL's Professional Training Company.
---
Humana Festival of New American Plays, through April 9. Actors Theatre of Louisville, 316 W. Main St., Louisville. Box office: Box Office: 502-584-1205. There's too much information to list. Visit the website at https://actorstheatre.org/humana-festival-of-new-american-plays/.
Tickets are still available, lots of good restaurants are in the neighborhood and easy driving distance and if you want to make a weekend of it, there are packages and special events. The theater is right off Louisville's downtown exit.
Written by Jackie Demaline, RCN Arts