Premium Content
Thomas More Theatre Students Take Reins as Directors of 2 Shows
Mon, 03/27/2017 - 17:46
RCN Newsdesk
A student-directed play project debuts this weekend at Thomas More College with Sofie Veitas helming Irena's Vow running March 31 to April 2.
The play is based on the extraordinary true story of 19-year old Irena Gut. In World War II Poland, she was housekeeper to a Nazi commandant. When she learned that the Jewish ghetto is about to be liquidated, she hides a dozen Jewish workers in the basement of the German commandant's house. Gut kept them hidden in the midst of countless Nazi parties, a blackmail scheme, and even the birth of a child.
Guest speaker Sonja Stratman will take the stage immediately after Saturday's performance. Born in 1927 in Nuremberg, Germany, as a schoolgirl she joined the Hitler Youth. She talks about life under the Nazi regime and her family's move to the United States.
Vietas chose Irena's Vow because she saw it in high school and, "I never forgot it. It was one of the first shows I saw that wasn't written to be showy or funny. It had a distinct message that stayed with me."
The TMC junior wanted to try directing because it's "an important component of my major, theatre education. It's been a great experience both on the theatre side of things, and also as a teacher."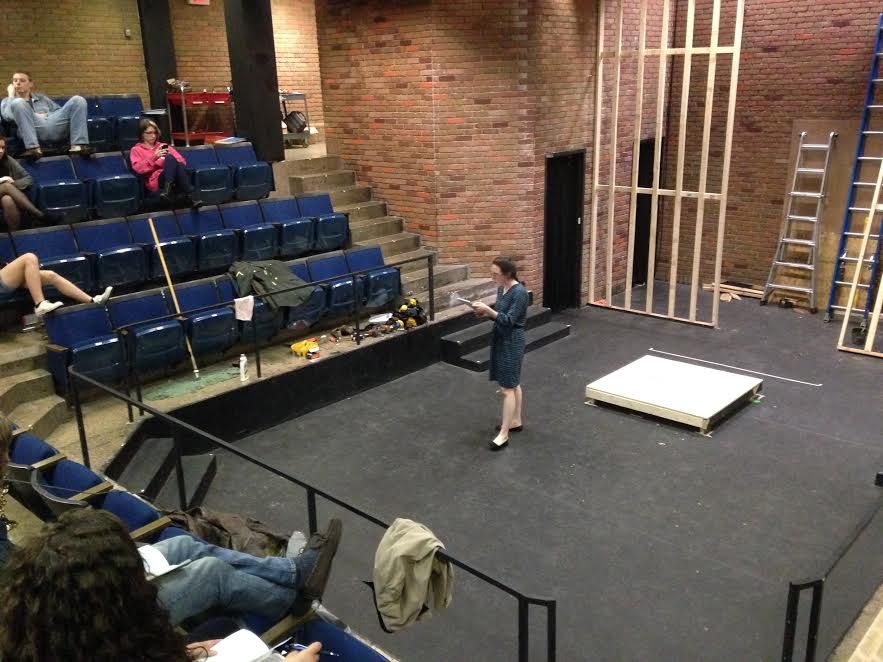 That fits TMC Director of Theatre Greg Procaccino's goal. Procaccino, one of the area's best indie theater directors, noted, "I want them to learn how to create a vision, see a story unfold in their head and know how to move it to the stage.
"And of course, perfecting the art of collaborative effort would not be such a bad thing, either."
What's surprising Vietas most is "how much what I've studied for my education major has come in handy.  And conversely, how what I'm doing as a director can help me grow as a teacher.  
"For example, planning ahead is important, but equally important is being able to see what's going on in the moment and respond.  Giving solid feedback is an important skill.  And the ability to ask good questions, and to encourage your actors to ask good questions, is absolutely essential.  The roles of director and teacher are similar."
Next month Vietas will appear in senior Maria Hehman's directing project, Neil Simon's Barefoot in the Park playing April 28 to 30.
"I knew I wanted to do a classic comedy and (I) admire the shows by classic playwrights so Barefoot just felt like a great fit," Hehman says. "It's a single set, which works great with our stage and a smaller cast which was perfect for my first time directing!" 
Hehman has had a passion for theater since childhood and directing is the only job she hasn't explored and, "I wanted to give it a try!"
Barefoot won't be on stage for another month, but Hehman says she's already learned a lot, including, "having a strong crew is just as vital as a strong cast. Each part of technical theatre must be accounted for and having people who are willing to take on that part is so important."
Also an important lesson: "How much fun it is!"
Performances are 7:30 p.m. Friday and Saturday and 2 p.m. Sunday. Tickets $5, reserve here. Thomas More College is located at 333 Thomas More Pkwy., Crestview Hills.
Written by Jackie Demaline, RCN Arts
Images provided