Premium Content
Tiny Road Causes Debate in Campbell County
Sat, 04/08/2017 - 23:23
RCN Newsdesk
A public hearing prior to Campbell County's Fiscal Court meeting Tuesday led to much debate over maintenance of a 112-ft. county road.
Krift Road, which is located off Persimmon Grove Pike in unincorporated Campbell County, currently services three families and Cherry Cemetery. However, the road does not lay in the county's right-of-way for maintenance and many feel it should be removed from the county road maintenance list.
The issue appeared on the Campbell County Fiscal Court's agenda on Wednesday where a first reading of an ordinance was heard that would remove Krift Road from the county maintenance list.
Dennis Kremer, who lives in one of the homes on Krift Road argues, though, that it is a county road because it has been maintained as such for decades, and it does serve multiple families.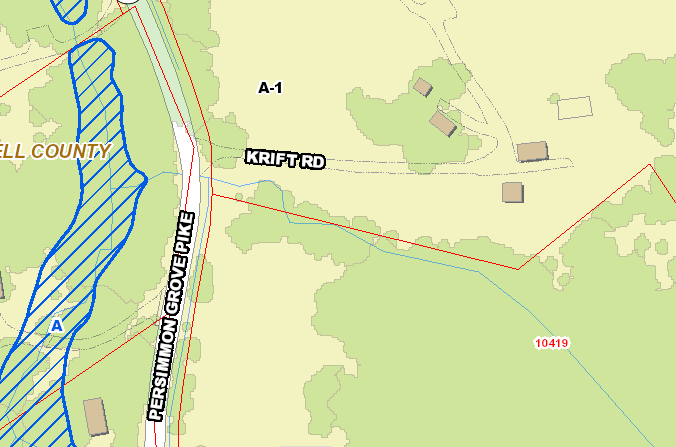 Map of Krift Road in unincorporated Campbell County (via Planning & Development Services)
Currently, the short road consist of dirt and gravel, which, according to residents, washes away anytime there is a heavy rain, and is replaced twice a year.
Kremer, along with his neighbors, hope that the county will agree to pave the road with concrete or asphalt so that it will be a more permanent solution and require less upkeep.
County Administrator Matt Elberfeld said that the county looked at multiple options for the road and presented them to the Fiscal Court and they decided that removing the road from county maintenance was the best option.
Judge/Executive Steve Pendery argued that the road had never been paved in its history so it doesn't make sense for the county to put forward money on the project.
"We are not supposed to make public improvements on private property," Pendery said. "There wouldn't be anybody out there that would approve of us spending public money on private property."
Lloyd Rogers, former county judge/executive, spoke at the public hearing saying that since people already live there, the county should not be allowed to discontinue maintenance of the road.
A second reading of the ordinance will be held at the next Fiscal Court meeting on April 19 where it will receive a vote.
Other notes:
The Fiscal Court approved an agreement with the Kentucky Transportation Cabinet for $675,933.94 in state funds for the construction and reconstruction of roads and bridges maintenance in the next fiscal year

Amanda Armstrong was named as a police officer in Campbell County effective May 28 for $40,000 annually

Ryan Marcus was promoted from from first grade Sergeant 1 to Sergeant for $63,500 annually

Thomas Nitschke was promoted to Lieutenant effective April 6, 2017 with pay grade of Lieutenant 1 $68,950 annually

Andrew Noyes was promoted to Sergeant effective April 6, 2017 with a pay grade of Sergeant 1 for $61,650 annually
Written by Carrie Crotzer, RCN contributor
Top photo: Campbell County Courthouse in Alexandria (RCN file)