Premium Content
Lincoln Grant: Link to Covington's Past Now Influencing Its Future Again
Mon, 04/10/2017 - 10:09
RCN Newsdesk
Six years ago, when her mother fell ill, Shannon Glover returned to Covington from Dallas. She arrived home as newly divorced, and a mother of a daughter and a 6-month old baby. Pancreatic cancer took her mother, and Glover later received custody of her niece, whose mother had also died.
"She was in a group home and when I found out, I felt compelled to go get her and bring her into our family, into our inner circle because she's going through a lot," said Glover, 44. "She's lost her mother, and her father, and she needed someone who was going to help support her."
Glover was also looking for direction. She got a license to drive a school bus. But things were tough, and Glover's sister's home - where she and her kids were living - was about to be renovated, forcing them out. She knew she wanted a new direction and to go back to school.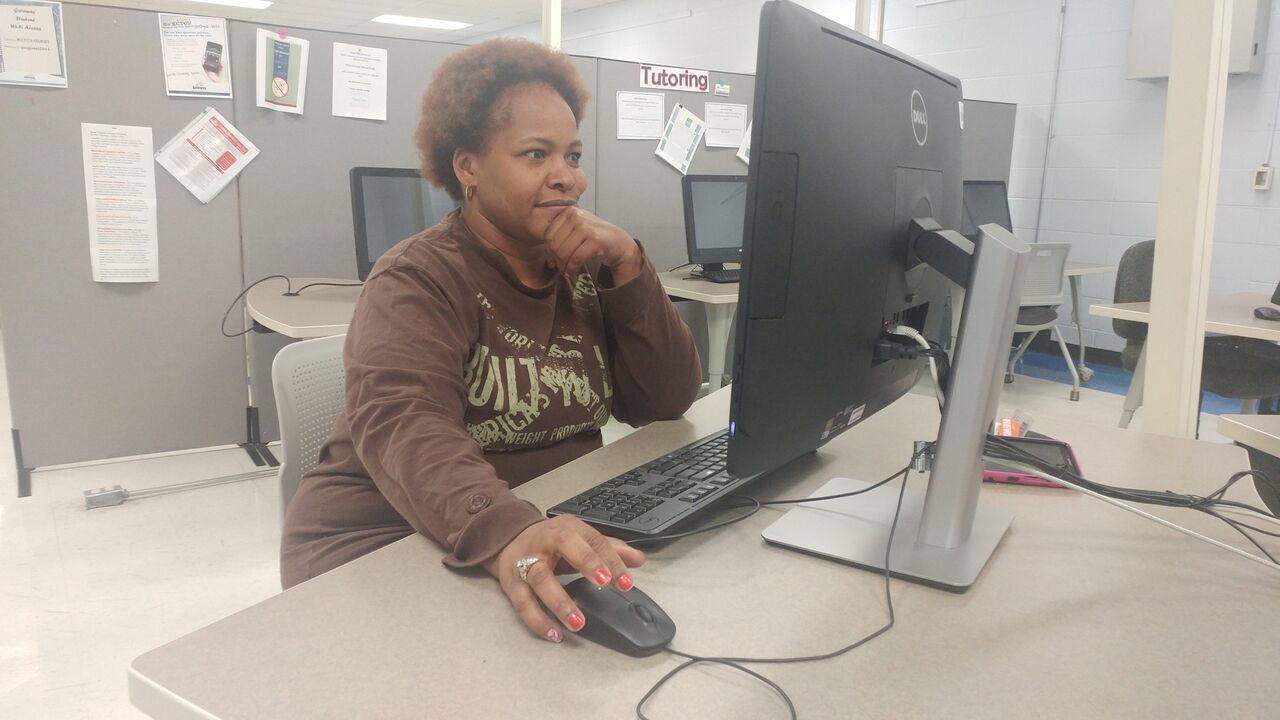 Shannon Glover works at a computer at Gateway's Two Rivers building in downtown Covington (RCN)
Her new pursuit of education also found her a home. At Gateway Community & Technical College, Glover was assisted through a program that aids first generation students.
"I was having an issue with housing and (Gateway) told me about Lincoln Grant Scholar House," said Glover. 
Lincoln Grant is an historic school building on the 800 block of Greenup Street in Covington's Eastside. It was attended by the city's black students until the early 1960s. Towards the end of the 20th century, it was operated as a community center. For more than a decade, it was vacant and deteriorating.
---
SEE PREVIOUSLY: Photos from inside the rundown building in 2013
---
On Wednesday, the building reopened, completely renovated and now home to the Lincoln Grant Scholar House, designed to offer comfortable housing to full-time students who are also single parents. The project, years in the making, is a partnership between the Northern Kentucky Community Action Commission, the City of Covington, and Louisville-based Marian Development.
Developers, city leaders, and Scholar House officials cut the ribbon (RCN)
For Glover, that means peace of mind as she pursues an educational program at Gateway that she hopes to continue at a 4-year institution as she studies human services.
"I felt like it was going to give me the opportunity to concentrate on me, and as a result, I'll be able to empower other people in my family and my community," Glover said. "I really wanted to get my bachelor's degree and I just never could find the opportunity to go back, and when this became a viable situation, I was really excited."
Her mother, Dorothy Glover, is one of many longtime or former Eastside residents who walked the halls of Lincoln Grant when it was the city's school for African-American students. Some returned for Wednesday's opening. Tom Thacker towered over most of them.
He averaged more than 31 points per game as a junior on the William Grant basketball team, and nearly 34 points as a senior in which the team lost in the state championship. His basketball talents landed him a spot on the famous early 1960s Cincinnati Bearcats squad that competed in three consecutive NCAA title games, winning two. He played in the NBA for the Cincinnati Royals, the Boston Celtics, and the Indiana Pacers.
The restored auditorium (RCN)
"I'm very happy that they didn't tear it down," Thacker said of the Lincoln Grant building, as he admired the renovation. Thacker, now 77, splits his time between Cincinnati and Florida. He joked about how when one is a young student everything seems so big, but now he couldn't fit in the refurbished seats in the auditorium. 
Rev. Richard Fowler of 9th Street Baptist Church was a member of one of the final classes to graduate from the school before Covington was de-segregated fully. "It was a focal point for all of our activities," Fowler said of the school's role in the neighboring community. "Graduation, for us, was like a week-long event. We had events for at least four nights prior to the ceremony. It was so important."
A classroom at Lincoln Grant Scholar House (RCN)
Florence Tandy, executive director of the NKCAC, said Wednesday's opening - after being closed as a school for 52 years and vacant for 12 years -  offered the building a new beginning. "Forty-five families are waiting to start a new life here," she said. "The work that will go on here is definitely worth the wait."
The goal of the program is to allow its residents to experience higher earnings and a more clear career path, leading to self-sufficiency, according to its website. Counseling and support services are available on site as parents continue vocational training or college coursework.
There are partnerships with local colleges and universities.
The Lincoln Grant Scholar House is already changing lives for people like Shannon Glover and Brandy Riley. 
Riley, who has five young children ages one to eleven, told of how she would have to wake up early to boil water so that her kids could have a hot bath at their previous home. "I was praying every day for a miracle to happen," said Riley, now a student at Indiana Tech and a resident at Lincoln Grant. "Now we can focus on things like school and setting future goals."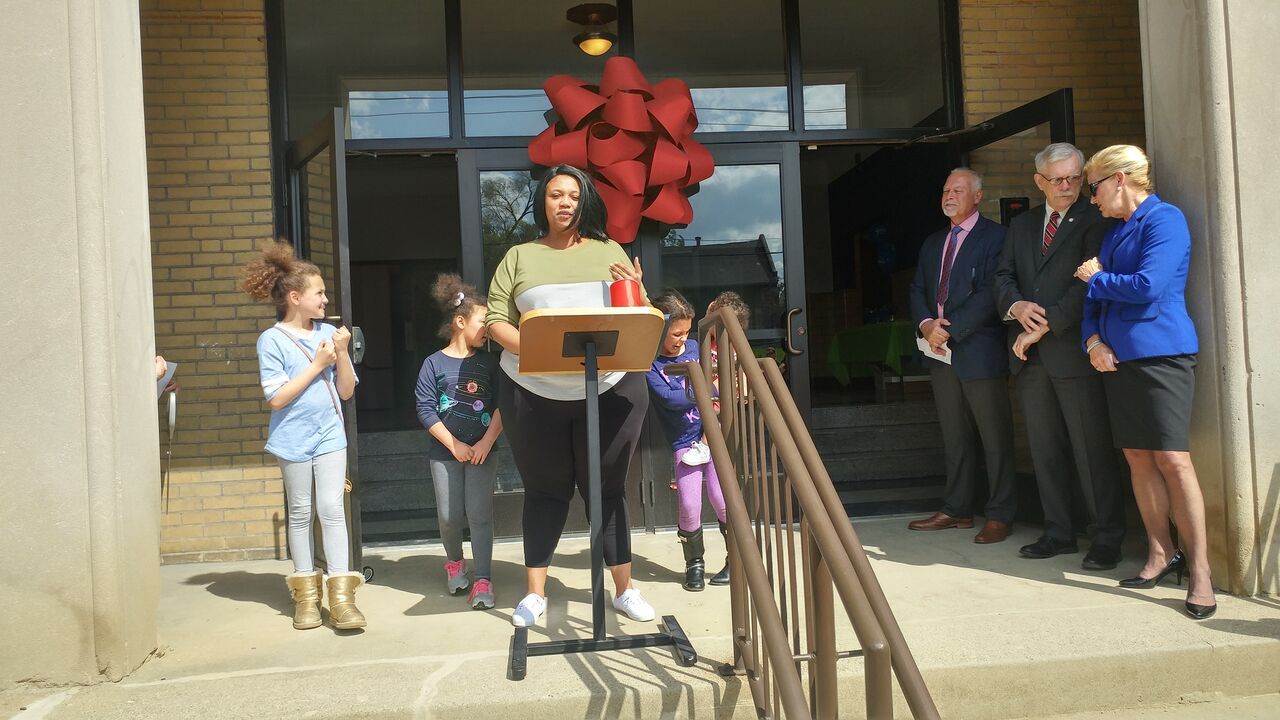 Brandy Riley speaks at Wednesday's ribbon-cutting (RCN)
Glover is setting her future goals.
"My ideal job is to work and empower other women. We have enough going on in society that it's easy to put somebody down, but if you know something that could help somebody, why wouldn't you want to share it?," she said. "So many women who raise children alone, that find themselves alone - they are not alone, and I don't want you to feel like you're alone if you're in the room with me."
The message from the new program, Glover said, is not to give up. "It may not be the opportunity that you want at the moment, but if you keep moving forward, eventually you're going to accomplish milestones that are going to lead you to the goals in life that you have, and that's what I encourage my daughter to do, that's what I encourage my niece to do," she said. "It's not that we are not going to have pitfalls, but just because you fall doesn't mean you have to stay laying there. Go to the next step.
"Don't give up."
Written by Michael Monks, editor & publisher
Top photo: Former Lincoln Grant students pose at front of restored building (RCN)