Premium Content
Campbell to Raise Fee for 911 to Pay for New Radio System
Thu, 04/20/2017 - 07:06
RCN Newsdesk
It is one of the largest projects undertaken by governments in Northern Kentucky, and in a region with a complicated history of inter-government collaboration, all three counties have banded together in a quest to improve its emergency communication systems.
The outdated technology used by local dispatch centers, police and fire departments, and others, leave local entities unable to communicate with one another at times, and with federal regulations mandating an upgrade before the system goes dark in two years, Boone, Kenton, and Campbell Counties are acting now to upgrade.
On Wednesday night, the public got its first view of how Campbell County plans to pay for its portion of the system.
"This is not a merger of dispatch," said county administrator Matt Elberfeld, aware of the sensitive nature of regional collaboration in Northern Kentucky. He explained that all three counties worked together in soliciting bids from communication providers in order to get the best price and most effective system. The counties began working together on the project last summer and the Northern Kentucky Area Development District handled the request for proposals process.
The proposals were massive, each at about 1,000 pages long.
Ultimately, Motorola won the bid to replace a system first implemented in 1968 that currently uses what was characterized as "World War II-era technology" in which often police and fire departments cannot communicate with one another.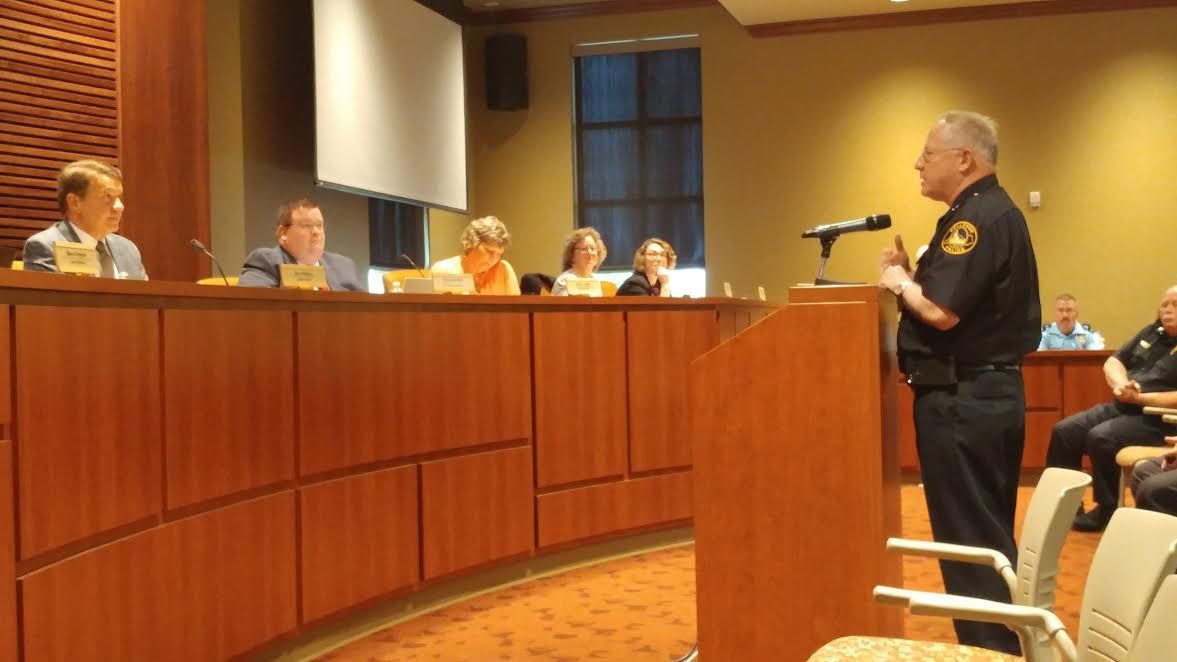 Bellevue Police Chief Wayne Turner addresses the Campbell County Fiscal Court on Wednesday (RCN)
Early in the process, a consultant estimated that the project - across all three counties - would cost between $5 and $10 million, but through aggressive negotiation, for which Elberfeld was complimented along with other county administrators by the Fiscal Court, the final project cost came in at $4.8 million.
To pay for it, Campbell County is raising its 911 fee from $45 per residential unit to $70, which will be collected on the county property tax bills. The county will borrow the necessary funds to get the project going. Kenton County is also borrowing to pay for the new radio system and will be raising its 911 fee to $60, but is still in the process of changing its process from charging per parcel to per residential unit. Boone County will use its reserves to pay for the radio system and has already voted to raise its 911 fee to $75 per unit.
Leaders of police and fire departments across Campbell County showed up at Wednesday's meeting to voice their support for the effort.
"It's not something we'd like to do, it's something we have to do," said Bellevue Police Chief Wayne Turner. "In two years, we'll go dark." He said that areas along the Northern Kentucky River Cities create spotty communication issues, as do places in the Licking River valley. "We share resources. It's important that we be able to communicate and right now, the system we have doesn't allow us to do that. This is pretty much a need, not a want."
"This project very likely represents the single most important advancement in public safety in the history of Northern Kentucky," said Fort Thomas Fire Chief Mark Bailey, chairman of the Campbell County dispatch board.
The Fiscal Court, whose members expressed support for the project, will vote on the issue at its next meeting, on May 3 in Alexandria.
Written by Michael Monks, editor & publisher
Top photo: Monmouth Street in Newport (RCN file)