Premium Content
Running of the Goats: Covington's Weird New Tradition in Photos & Words
Mon, 04/24/2017 - 16:13
RCN Newsdesk
There may be only place on the planet where someone can turn to you, while chasing after loose goats, and say that they last saw their kids "up by that spaceship", and mean it.
That place is Covington, Kentucky, and all the city's weirdness was out loud and proud again on Sunday for the second annual Running of the Goats, a celebration to kick off the third season in which The Goebel Goats will munch on invasive species and overgrown forestry in their namesake park in Mainstrasse Village.
This year was not like last year, though, when that statement about kids and goats and a spaceship was made during a wild goat chase that snaked around the city for nearly a day. 
But the weirdness - and Covington-ness - was still there.
On The River City News Facebook live stream of the event, one commenter simply stated, "This is weird."
You bet your sweet goat cheeks it is.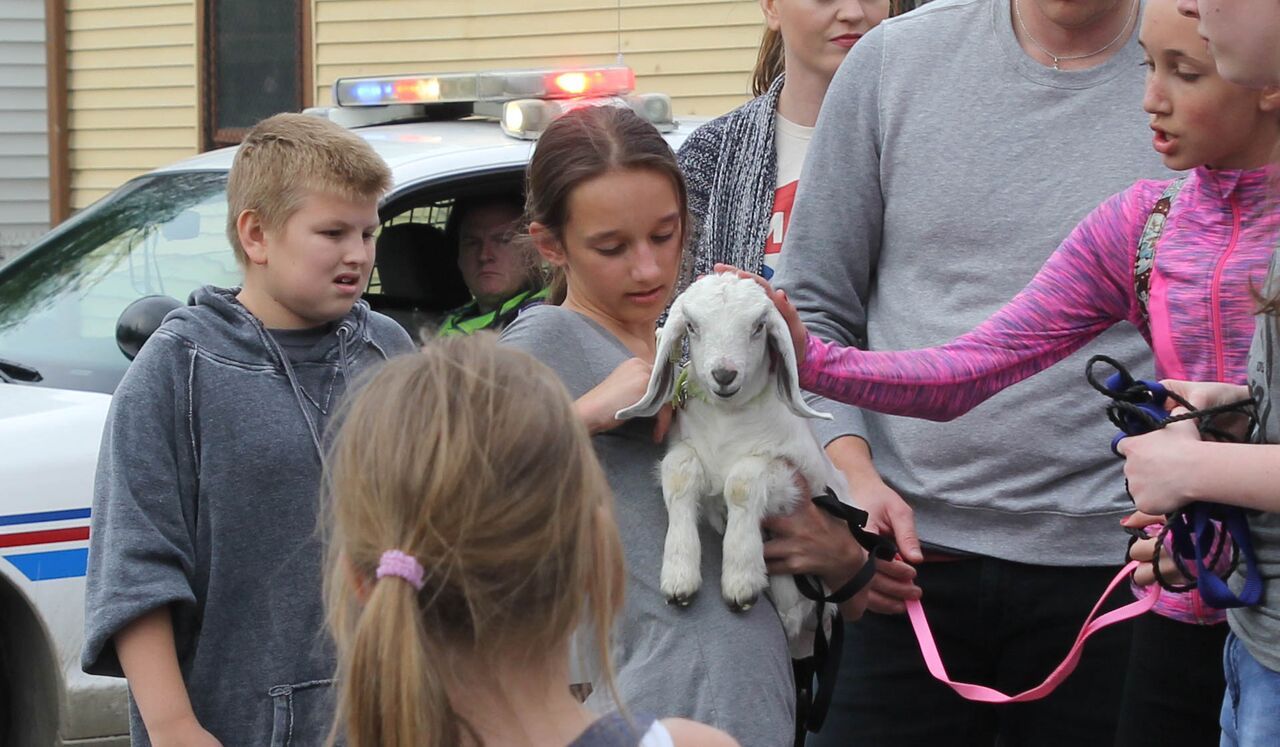 Celebrating Covington's weirdness has been a major catalyst in its renaissance in recent years. It's what sets it apart from all surrounding cities, and frankly, makes it the hottest city in Northern Kentucky and one of the most distinct areas of the entire Cincinnati metro area. 
There is a special personality to Covington, and as its weirdness is more embraced and becomes more mainstream, the weirder and better it gets.
The Running of the Goats was a crazy idea last year. Gus Wolf, owner of Wolf Tree Farms and the Goebel Goats, decided that after the goats inaugural season in 2015, there should be a cool way to welcome them back. On Derby Day last year, the "running" was held.
And boy, did those goats run.
They ran right out of the poorly-conceived "human wall", approached the Roebling Suspension Bridge towards Cincinnati - before, like many Kentucky drivers, immediately turning around - and then traipsed along the flood wall all the way to the lower foothills of Devou Park.
It would be more than twenty-two hours - with dozens of volunteer chasers and a wildly popular RCN live feed of the whole thing - before all the goats were safely returned to the park.
It would have been understandable if The Goebel Goats returned to their summer home this year in a more quiet affar.
Well, in lesser cities, anyway.
But this is Covington, and Covington is weird, and the goats would run again.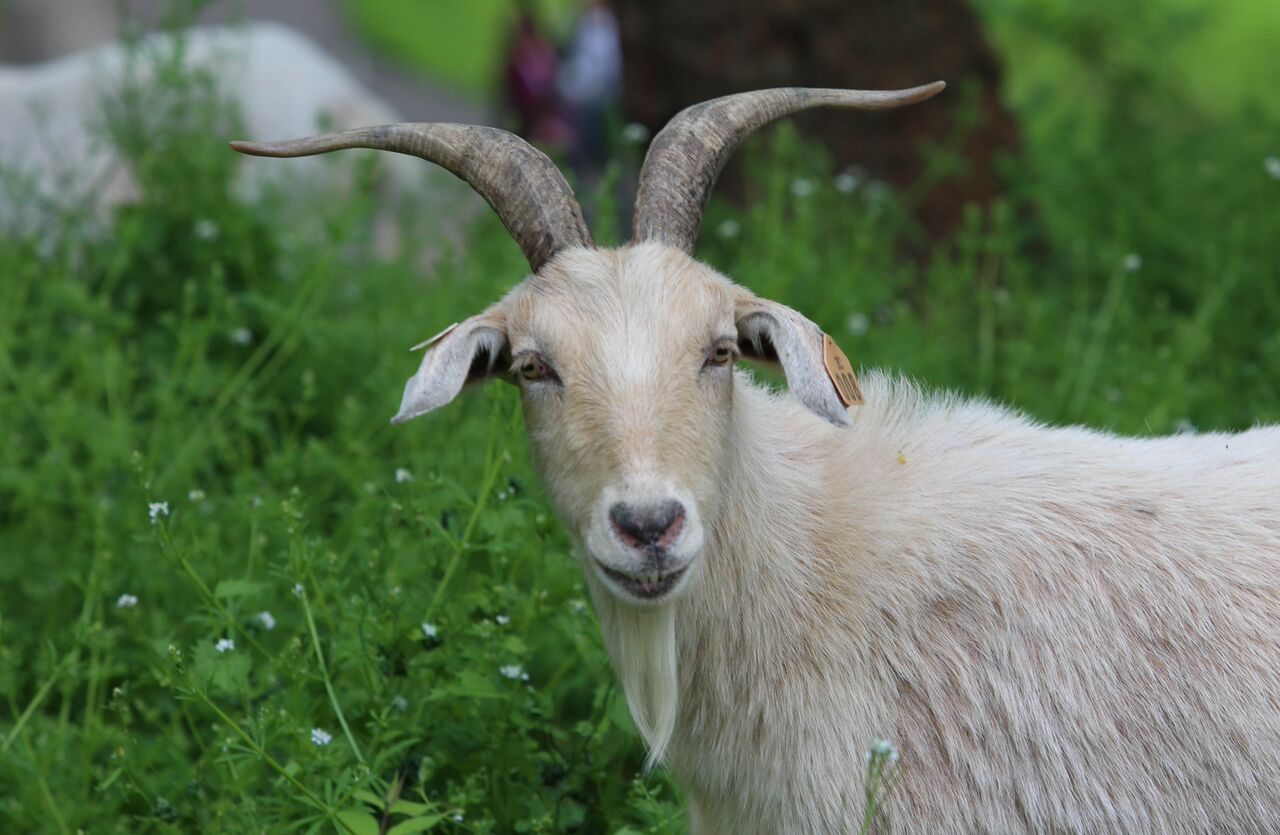 Wolf and his small team (including his social media and merchandise organizer, and photographer extraordinaire, Lauren Wolf) were vague about the new protections that had been put in place to ensure that the goats would follow the designated route, which this year would take them from Martin Luther King Boulevard to Kenny Shields Park in Mainstrasse.
Like last year, hundreds gathered at the scene to catch a glimpse of this small pack of hooved heroes. 
At 2 p.m., the goat trailer opened up and out marched half a dozen adult goats and an equal number of goat kids. Adorable. And weird.
At 6 p.m., the goats, kids and all, had been tethered to human runners and the race was on.
It was silly, it was sloppy, and it was weird as a pack of goats and a pack of people ran and brayed along downtown Covington streets as neighbors snapped photos and video and cheered them on for what must be one of the fastest parades in the world.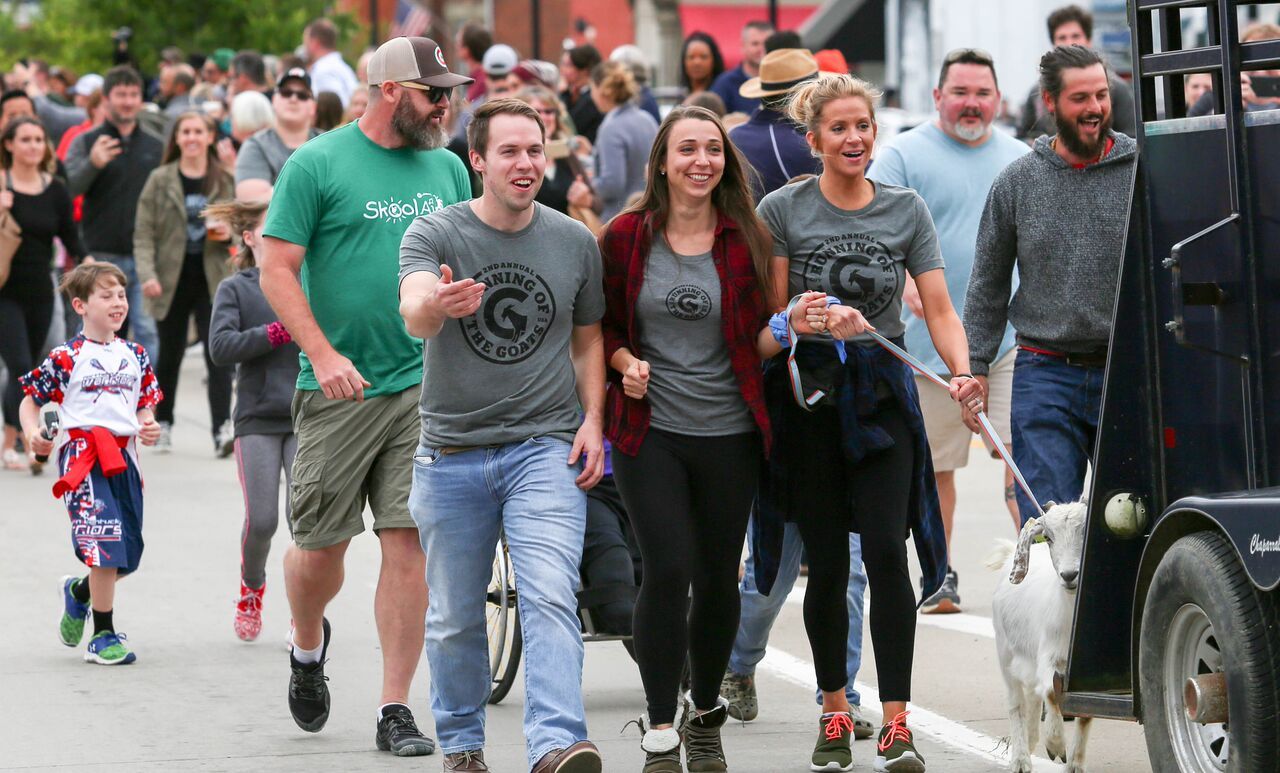 At Kenny Shields Park, the goats were loaded back in the trailer, and Wolf threw up his hands as he and the large crowd celebrated a success - and avoided a repeat of last year's near disaster that landed Covington and its now infamous goats on webpages around the globe. 
It turns out, that all the while the second annual Running of the Goats took place, the real Goebel Goats had already been quietly placed in the woods and were hard at work. The goats and the little kids were used as decoys - and for another parade the community won't soon forget.
Start stretching now, folks. Wolf has already promised that the goats will run again next year, too.
They say there's no place like home. The parade goats are being returned home to Wolf's farm, and the Goebel Goats are at their summer home in the woods awaiting your visit.
There's really no place like this home. This Covington home. And it's weird, new tradition.
Written by Michael Monks, editor & publisher
Photos (of the Goats event, the Westside Spring Celebration, and Arbor Day at Linden Grove Cemetery) by Brian Frey, RCN photographer