Premium Content
Horse Program Changing Lives at Special Northern Kentucky Farm
Wed, 04/26/2017 - 22:27
RCN Newsdesk
Down a country road in Union is an oasis of peaceful green and gently rolling hills known as Meadowview Farm. The 165 acres belong to Jeff and Deb Baker, but they have gifted the farm to Beth Long, founder and CEO of New Day, an equestrian achievement program that specializes in equine-assisted therapies along with alternative and traditional therapeutic programs.
The program was born when Boone County benefactor and entrepreneur R.C. Durr invited Long - executive director of the YMCA in Burlington - to Richwood Manor in Walton, to meet Gallatin Kid, a newly retired thoroughbred liver bay gelding horse, that Durr called his mud-runner. In previous conversations between Long and Durr, Long had told him about how horses had called to her heart, and how she longed to start a program that would help people. Long had grown up in Michigan, and there she was highly allergic to horses and many other things. Her sister had horses, and Long would bundle her body in clothing, put scarves over her mouth and nose, and would ride the horses until she had to be taken to the hospital for medicine.
When Long moved here, her allergies subsided.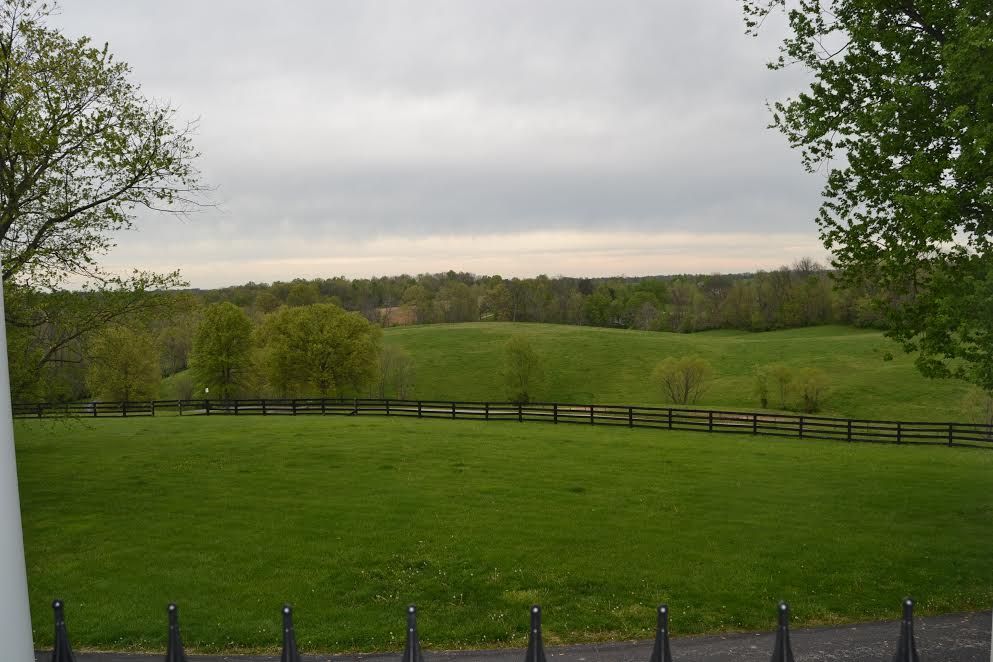 Meadowview Farm
With Gallatin Kid, it was love at first sight. Durr entrusted his prized horse with Long, and they have been inseparable ever since. The journey that Long was destined to begin was launched, and she never looked back.
At first Gallatin Kid was kept at Little Britain Stables, where Stephanie England made Long ride every other horse she had in her stables before letting her ride Kid.
"She said it was the kiss of death, that I had to learn more than sitting and going," Long laughed. "In the meantime, I saw character values in the people who worked in the stables, in people who would probably never go to the Y. In the environment of the stable, with the horses and the people who loved them, I saw the message of, Come and you will feel peace."
Long started a Y program at Little Britain and studied to become certified in horsemanship and became part Professional Association for Therapeutic Horsemanship (PATH), an international organization that helps people start programs that pair people with horses for therapy. She became involved with the Certified Horsemanship Association (CHA).
"When you find something that actually helps people, how can you not devote yourself to it?," Long asked. "Our organization focuses on mental heath and education, complex trauma and family reunification, autism, ADHD, and PTSD, grief counseling in conjunction with St. Elizabeth Hospice."
Long attracts people who love what she is doing. Rebecca Trout, a local real estate agent who previously worked for the Northern Kentucky Chamber of Commerce, came on to be the board chair. Dr. Jean Deters, a psychiatrist, works with her, too. They started to receive donations, horses among them, and they have a full petting zoo, housed at Long's farm.
Long workedthrough Potters Ranch in Union, but kept outgrowing locations. She looked for a another place that would fit the needs of the program, and she found Meadowview Farm, which she said was perfect.
"We had been looking for a place closer to where we were living, and when we saw Meadowview, that was it, we knew it was the right place for us," said Deb Baker. "Jeff had always wanted a place to hunt, but he also wanted to share the place, with groups and Boy Scouts and such."
Jeff felt like it was a  dream come true.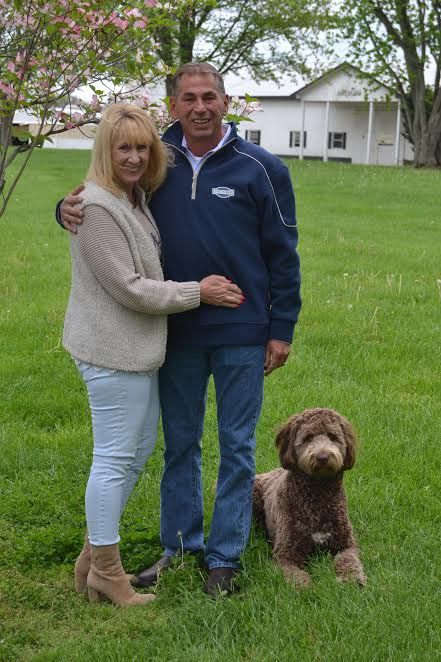 Jeff and Deb Baker with dog, Bentley
"I always had a dream of passing on my passion for being outdoors, teaching others how to live and survive outside," he said. "When I saw Meadowview Farm, I thought, this environment has a true Kentucky feel. This is what I thought of having, like winning the lottery. I saw the land and thought, Bingo, this is it. When you come here, you just want to exhale and feel at peace. Then a year later we came into contact with Beth, and more pieces of the dream fell into place."
Both Deb and Jeff liked the fact that the land bordered the Adair State Park, so beyond their farthest tree line is the park, and they know it is protected land and won't be turned into industrial use. The land has seven different paddocks, so they are currently boarding 32 horses, in addition to the 10 therapy horses that they have, and they have room for more boarders.
"I feel that we have been entrusted with this farm to be able to help people," said Jeff. "I think there is something much higher at work here."
New Day has only been at Meadowview Farm since February, but everything is falling into place. They are able now to provide leadership retreats, breast cancer weekends, and grief camps, as well as the equine-facilitated psychotherapy for all conditions, at-risk youth intervention, and Wounded Warrior programs. Horses have been used as therapy animals since the early 17th century, and studies have shown that they are effective in helping patients with assertiveness, emotional awareness, empathy, stress tolerance, self regard, flexibility, impulse control, social responsibility, problem-solving skills, independence, and interpersonal relationships.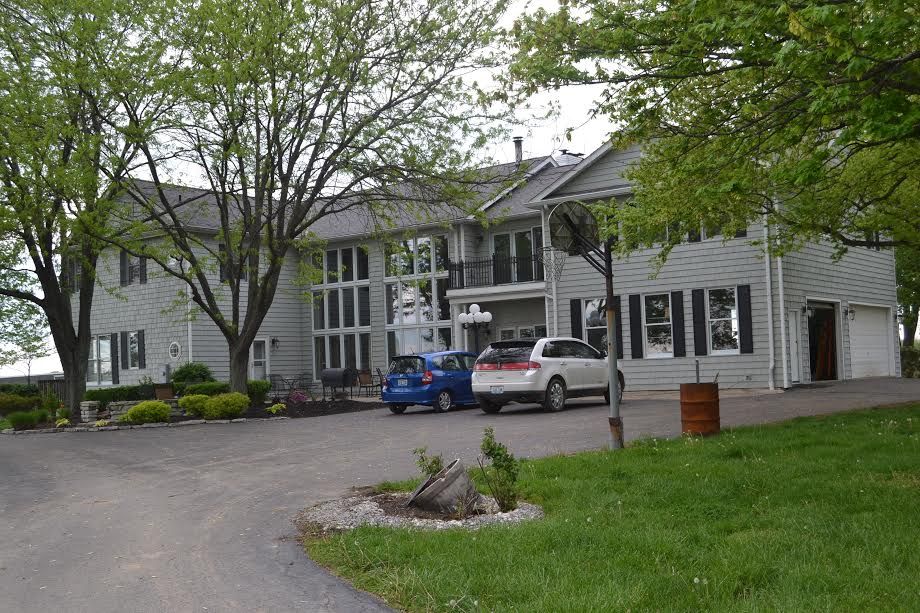 Renovations are underway at the home so that it can host more events and weekend activities
When doing a program at the farm with the horses, people don't ride at first, and may not ride until the end. Teachers might pair a person with a therapy horse; for instance, a person who has no self confidence might be paired with Cash, who is the leader of the herd, a very confident horse.  
People are taught to give the horse a hug. Putting a hand on their shoulder and then running it up to the back, and putting the other hand under the front legs while talking to the horse puts the person's head at the right height to lay on the side of horse. This is an exercise to slow the patient's breathing to match the breathing of the horse. It reduces anxiety, and puts people in sync with the horse, to be able to feel the simplistic and healing nature of the animal.
"Many of the benefits of equine therapy are simply due to the nature of the animals," said Trout. "Horses are non-judgmental, have no preconceived expectations or motivations, and are highly effective at mirroring attitudes and behaviors of the people with whom they are working."
Rebecca Trout (left), King, and Beth Long
New Day was founded in 2010, and is a non-profit. The board members are volunteers and they partner with St. Elizabeth Hospital, North Key, and the Children's Home of Northern Kentucky, to name a few. They are both PATH and CHA-certified. Long said that there would probably be a physical therapist on hand later this year.
A special fundraising event on Wednesday at City Barbeque benefitted the program and anyone who would like to utilize the services or make a donation can visit www.NewDayNKY.org.
"We seek to treat the whole individual, using the expertise of our specialized staff, therapeutic riding instructors and volunteers," said Long. "Our goal within these programs is to enhance the quality of life of individual of all ages and abilities, and their families by offering innovative opportunities for educational, social and physical development."
Story & photos by Patricia A. Scheyer, RCN contributor
Top photo: Beth Long with Gallatin Kid