Premium Content
Long-Vacant Newport Theater Could Become Something Special for Symphony, NKY
Fri, 04/28/2017 - 11:12
RCN Newsdesk
When J.R. Cassidy finished his undergraduate studies, he found himself in Tampa without a position in music like he had hoped.
He bacame a carpenter.
Now, he may be about to build his biggest project yet.
"This is what the architects have said to us: the bones of this place are remarkable in the shape that it's in," Cassidy said, as he eagerly led The River City News on a tour of the former IMAX Theater, a vast space at Newport on the Levee that has sat vacant for 14 years. "They have kept the heat on, they have kept it to where it wasn't going to decay," Cassidy said, marveling at the condition of a place where he hopes to embark on one of the largest cultural projects in Northern Kentucky in recent years.
Those carpentry skills may come in handy for Cassidy.
Interior of vacant IMAX theater at Newport on the Levee (RCN)
After a couple of years with a hammer in his hand in Tampa, he became a high school band director and found himself looking around at his situation and wondering if this would be it, if he would spend his life in secondary education. That's a fine a professional choice, except that Cassidy wanted to conduct an orchestra.
He applied to the University of Cincinnati College Conservatory of Music and when they offered him a full scholarship and a job, he jumped at the chance, relocating to the region. He graduated with a master's degree in orchestral conducting.
"And that piece of paper and thirty-five centers would get you a phone call, back when they had phone booths," Cassidy joked. Job interviews around the country with "hoity-toity" orchestras often ended with Cassidy confessing to them, "You know, I don't think I'm your guy."
While sitting with a friend - a marketing executive with a national pet food line - in a Covington condo, Cassidy said, "Maybe I tought to think about my own orchestra."
The Northern Kentucky Symphony was born  - and with his marketing executive friend's help, thousands of mailers were designed and mailed out to raise awareness about the inaugural 1992 season of the new symphony that would perform at the new Greaves Halls at Northern Kentucky University, with musicians that Cassidy convinced to jump in with him.
Phone calls started coming in from curious recipients of the flyers.
"How did you get my address?," they wondered.
Sure, there was curiosity about the new orchestra - but there was something even quirkier about the mailer. The marketing executive's pet food line was available only at veterinarian offices at the time, and the mailing list he had access to was full of addresses - of pets.
"So, we sent three thousand brochures to dogs and cats all over Northern Kentucky," Cassidy said. "And that's how my orchestra started."
Twenty-five years later, and now known as Kentucky Symphony Orchestra, Cassidy's idea is still here, and has become a staple at Devou Park in the summer, NKU, the Carnegie, and various school auditoriums around the region. The orchestra still operates on a humble budget (but one that grew every year as more people became aware of and interested in this scrappy group of ambitious musicians with an eye for creative presentations) and is based out of Cassidy's Newport home that he shares with his wife, Angela Williamson, who serves as KSO's general manager.
The orchestra has never had a permanent home for its shows.
But it wants one.
And it may have found one in Newport's old IMAX theater, a short-lived operation that showed movies on a giant screen, but at a higher price point then its neighboring AMC. Low ticket sales forced it to close in 2003 and it has been empty since.
"I think that this could be a real catalyst," Cassidy said. The idea - a $5 to $6 million project, Cassidy estimated - could help fill and sustain more storefronts and restaurants at the Levee, which recently hired an outside firm to help attract new tenants. People who visit the symphony, or a rock band's concert, or a cabaret, or a gala event - the space is intended to be versatile with multiple tenants - will park and eat and shop, he said. "This could really engage the Levee and help open some storefronts."
The KSO is not ready to pull the trigger on fully exploring the opportunity. It has one large commitment - the largest single funding offer in the symphony's history, Cassidy said - but it will need more. The KSO hosted its 25th anniversary gala - which supports children's programming and its summer series at Devou - at the old IMAX where it encouraged guests to envision what could be. Cassidy made it easy for them by showing off renderings that the KSO commissioned last summer. He did not want to release them to the public yet, and the large contributor, who spoke at the gala, is also being kept confidential for now. 
But the vision is not hard to see, anyway. The concession stand, the ticket counter, and the theater with its 400 seats are already there. Cassidy would remove the control room and projection area to install 200 more seats. He would change the second floor lobby to a cabaret space. The staircase would have a modern look, with glass, and other finishes would be updated. Maybe there could be a coffee shop on street level where busy commuters could swing by on their way to work. Outside the building, an Astroturf lawn could lay below a large digital screen for gatherings.
KSO gala at the IMAX (Jim Fausz/provided)
"By the end of June, we want to be in a position to where we can speak with Levee management and ownership and say, hey, this is where are, this is how we see it working and what we think it can do, what it would do here at the Levee" Cassidy said. "And then, how do they work with us to make all the different pieces come together to make it this win-win situation for everybody.
"If we all win, doesn't that work out great for everybody?"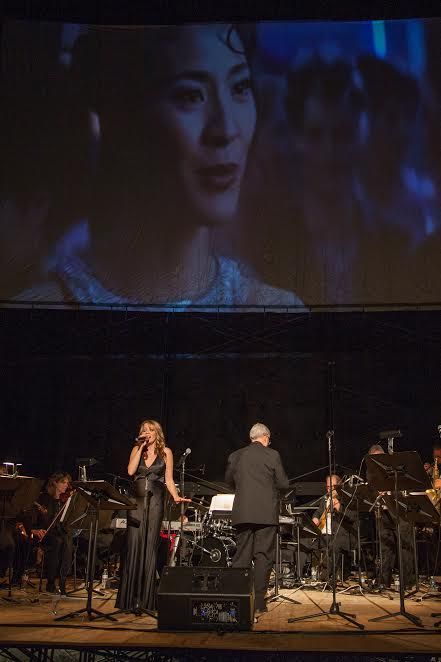 Performance at KSO gala (Jim Fausz/provided)
Cooperation between various nearby entities was on display at the KSO gala. Restaurants from the Levee provided the food and Party Source put on a bourbon tasting. The symphony played James Bond tunes in the old theater space on a stage built upon scaffolding - above where a permanent stage would be installed with dressing rooms underneath. An auction and live band activated other parts of the space. 
Cassidy is serious about making the project work and wants advisement from strong business-minded people before fully jumping. 
"I'm not going to talk to the arts crowd about (the business model). I'm going to talk to the business people," he said. "I want them to interrogate me like I'm waiting for the rubber hose type of thing, so that we can create something that is rock solid. And if all sides are willing to work together and share what we have got to do, then it is a no-brainer."
Cassidy's goal from the beginning was to create an orchestra experience that is "accessible and affordable", while also working to create something special specifically for Northern Kentucky.
"What we've done is, we've taken a place and we've re-purposed it and made it Northern Kentucky's," he said. "We've never had a place to stick a flag in the ground."
By the end of 2018, the Kentucky Symphony Orchestra may finally have that, with credit to a vision built by Cassidy, the conductor and the carpenter.
Written by Michael Monks, editor & publisher