Premium Content
New Residences Shine as Hundreds Visit Covington for Urban Living Tour
Mon, 05/01/2017 - 22:35
RCN Newsdesk
What goes around comes around, and Beyond the Curb returned to downtown Covington on Sunday and with it, hundreds of visitors poured into the city to check out all the new residential opportunities.
The self-guided urban living tour, produced by the Catalytic Fund, launched in Covington in 2015, and has since been held in Newport, Bellevue-Dayton, and Ludlow. On the fifth incarnation, visitors saw the stunning high-rise penthouses of the Ascent, beautifully renovated historic buildings, and new construction infill housing.
With hundreds of new apartments coming online and a slew of new and hip businesses filling Covington's core, visitors also had the opportunity to inquire about why the urban living and working trend is so appealing to a variety of people.
"I just really liked how everything is so up and coming over here," said Sally Tibbs, whose apartment at Pike Star on Pike Street was part of the tour. She grew up in Covington but her professional career has taken her to other cities outside the area. When it was time to come home, she found that home downtown, and shares the apartment with her boyfriend, Nick Greenwood. "Seeing this street and what it was four years ago and what it is now, is really awesome."
It was not long ago that many of the newly lit streets and buildings were blighted and seemingly scary, but events like Beyond the Curb have helped change that perspective.
"This is not your typical home tour," said Jill Morenz of the Catalytic Fund. "In addition to beautifully finished homes, we included projects that are in progress to encourage visitors to imagine the possibilities in the gorgeous old buildings of Covington. We're also highlighting the amenities that Covington has to offer, including world-class public art, quirky shops, and charming gardens and trails."
The tour also offered the opportunity to display blocks downtown that were once littered with strip clubs and other undesirable businesses, but now feature renovated homes and trendy night spots and restaurants.
Developer Tony Milburn has played a big role in redeveloping part of Fifth Street, dating back to his 2003 purchase of the Odd Fellows Hall. He has since been a part of turning neighboring buildings into residences and businesses.
"Originally, when we purchased Odd Fellows, a liquor store was there, a pawn shop, a beer and shot joint, and a strip club," Milburn said. "So, just buying that, all that went away."
The unique characteristics of the new urban living spaces are drawing a new wave of residents who are excited about the energy growing downtown.
"I saw it two years ago as a shell, I loved how open it was, I loved the windows, the light, and the exposed brick. It had a very industrial look," Tibbs said of her apartment, a 2-story unit with a spiral staircase that connects a bedroom to a wide open second floor that currently accommodates a walk-in closet.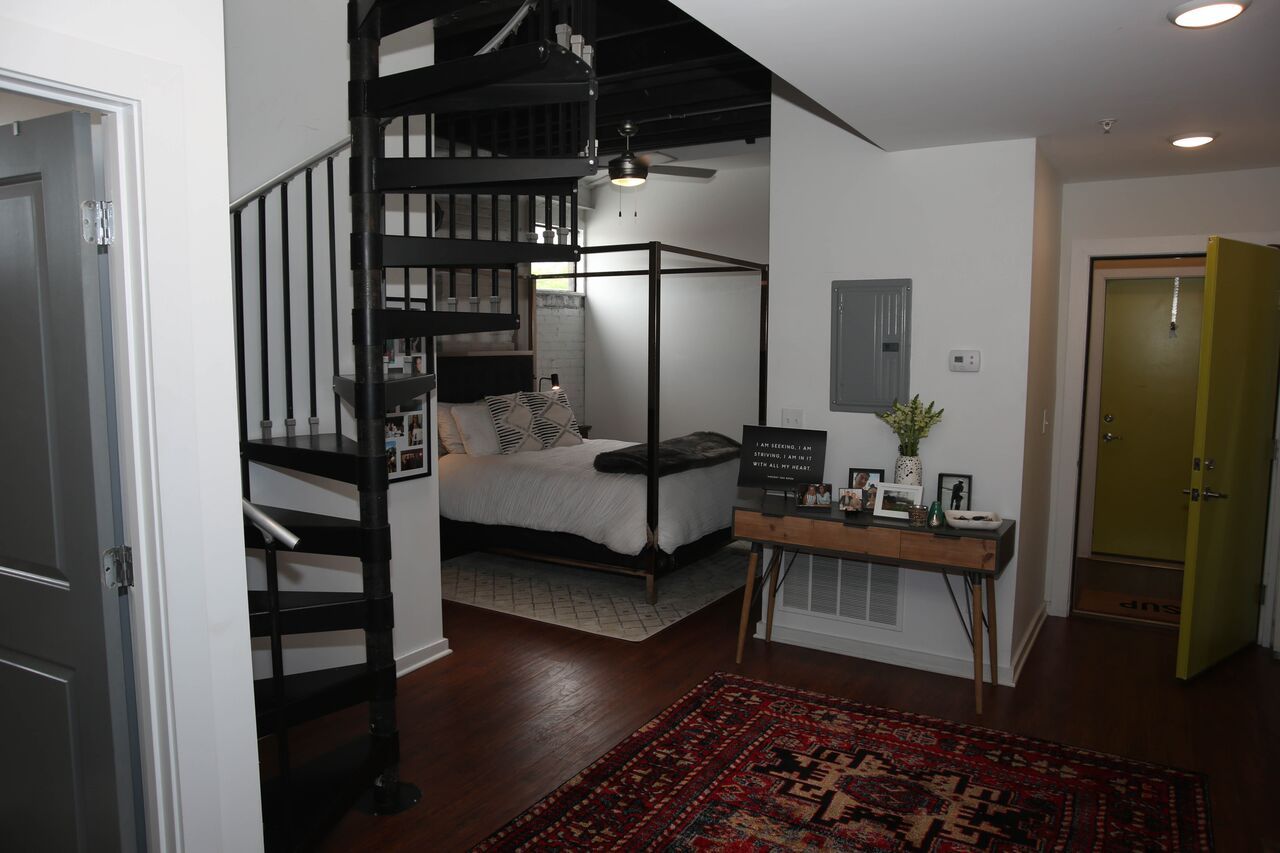 "It has really come a long way," Tibbs said of Covington. "It's been really exciting, being a lifelong resident, and I love seeing the growth of it. All the historic homes that have been updated, it has been thrilling to see."
Written by Michael Monks, editor & publisher
Photos by Brian Frey for RCN