Senator Jim Bunning Dies at 85
Sat, 05/27/2017 - 12:18
RCN Newsdesk
Former U.S. Senator and National Baseball Hall of Fame member Jim Bunning has died.
He was 85.
"Heaven got its #1 starter today. Our lives & the nation are better off because of your love & dedication to family," tweeted David Bunning, the senator's son and a federal judge for the eastern district of Kentucky.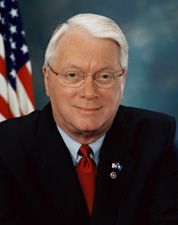 Sen. Jim Bunning's official portrait
Bunning died on Friday night, The River City News has learned.
Last October, Bunning suffered a stroke.
Born in Southgate, Bunning would go on to graduate from St. Xavier High School and Xavier University in Cincinnati, before embarking upon his hall of fame baseball career. He made his Major League Baseball debut as a pitcher for the Detroit Tigers in 1955. His career would run through 1971 and include stops with Detroit, the Philadephia Phillies, the Pittsburgh Pirates, the Los Angeles Dodgers, and again with the Phillies.
---
SEE ALSO: Rick Robinson: Remembering Jim Bunning (1931-2017)
---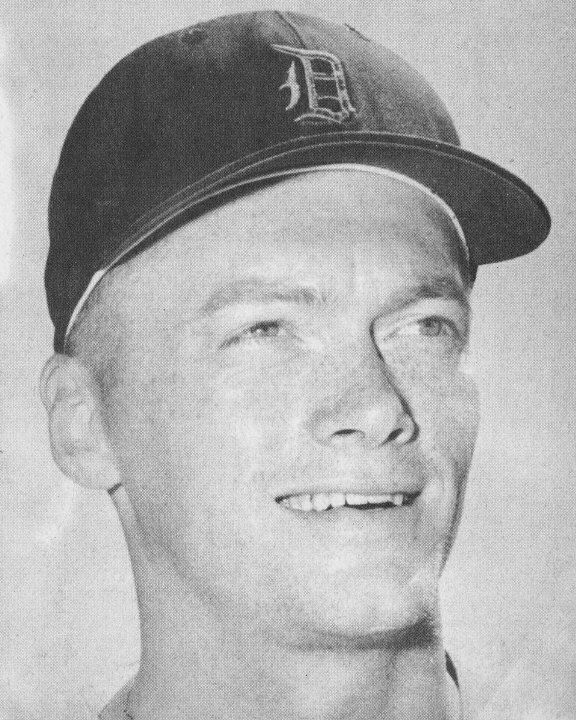 Bunning as a member of the Detroit Tigers (via Wiki Commons)
His career included a 1964 perfect game for the Phillies, and a 1958 no-hitter for the Tigers.
Bunning's sports career was followed by one in politics that began with his election to the Fort Thomas city council in 1977, and then the Kentucky State Senate. In 1983, he was the Republican nominee for Governor of Kentucky, losing to Democrat Martha Layne Collins.
Bunning as a newly elected member of the Ft. Thomas City Council (via Kenton Co. Public Library)
In 1986, Bunning was elected to the U.S. House of Representatives, representing the 4th District and Northern Kentucky. In 1998, he was elected to the U.S. Senate and reelected in 2004.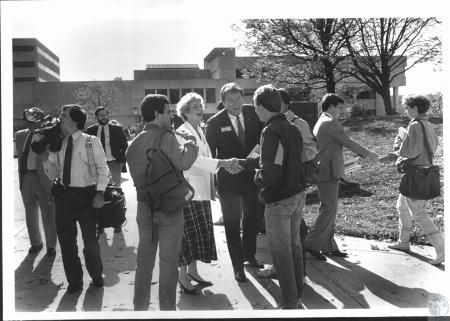 Bunning campaigns for the Senate at Northern Kentucky University (via Kenton Co. Public Library)
He did not seek reelection in 2010 and his seat was won by Republican Rand Paul.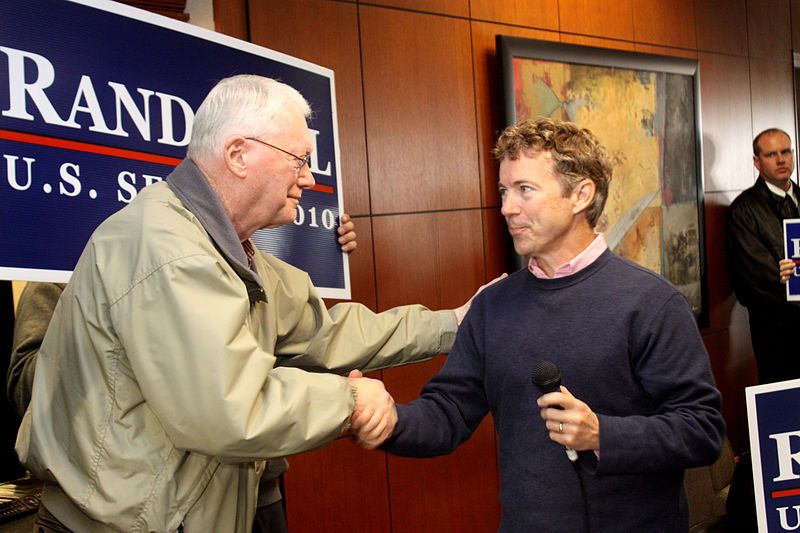 Bunning shakes hands with his successor, Rand Paul (via Wiki Commons)
One of Bunning's grandchildren, Patrick Towles, a former University of Kentucky football quarterback, paid tribute to his grandfather on Instagram. "Been incredibly blessed as long as I can remember. Love you so much grandpa. Thanks for being the patriarch to the greatest family in the world. You set the standard that I one day hope to meet," Towles wrote.
Bunning's daughter, Amy Towles, reported that Bunning's visitation will be Friday, June 2 at Muehlenkamp Erschell Funeral Home in Fort Thomas from 2 to 8 p.m., with a mass of Christian burial on Saturday, June 3, at 10 a.m. at the Cathedral Basilica of the Assumption in Covington.
Bunning is survived by his wife, Mary, with whom he had 9 children, 35 grandchildren, and more many great-grandchildren.
"Senator Jim Bunning led a long and storied life," Senator Mitch McConnell said in a statement. "From his days in the major leagues to his years as my colleague in the Senate -- and the many points in between, from the City Council to the House of Representatives -- Jim rarely shied away from a new adventure. This Hall of Famer will long be remembered for many things, including a perfect game, a larger-than-life personality, a passion for Kentucky, and a loving family. Elaine and I offer our sincere condolences to Mary and the entire Bunning family."
Kentucky lost a true gem today," Governor Matt Bevin said in a statement. "Sen. Jim Bunning, baseball Hall of Famer-turned public servant, was a champion of conservatism and the emodiment of Kentucky's tenacious spirit. His absence will be felt in the years to come, but we are thankful for what he left behind: an incredible legacy of hard work, determination, and selflessness."
"On behalf of my wife Regina and I, our thoughts and prayers go out to the Bunning family in this time of need," said Kentucky Senate President Robert Stivers. "Regina worked with Senator Bunning for three years, and we both knew him as an exemplary Kentuckian. Senator Bunning had a tremendous baseball career in the MLB and was inducted into the Hall of Fame. He also had an impressive political career, being elected as state senator, running as a gubernatorial candidate, and serving as US Senator. Any single one of those accomplishments would be enough to mark a noteworthy career, but Senator Bunning had them all."
-Michael Monks, editor & publisher
Top photo: Jim Bunning (via Kenton Co. Public Library)