Premium Content
FC Cincinnati Shows Off Possible Design of Stadium in Newport
Mon, 06/12/2017 - 19:13
RCN Newsdesk
"Here's the home we hope to build for soccer in Cincinnati."
Those were the words that accompanied the glitzy renderings of a possible stadium design for the FC Cincinnati soccer franchise that has swiftly developed a broad and rabid fanbase.
However, the stadium design doesn't show Cincinnati at all.
Instead, it's in Newport, which is one of three apparent finalists that the soccer club is considering as it embarks upon an effort to become a Major League Soccer team.
Currently, FC Cincinnati plays its games at Nippert Stadium at the University of Cincinnati.
Major League Soccer (MLS) has stipulated the need for an independent stadium for FC Cincinnati if the club hopes to join its ranks.
At a special event for season ticket-holders at the Woodward Theater in Cincinnati, FC Cincinnati general manager Jeff Berding emphasized that the site selection isn't final. "We think that the design would work on any of the sites or any of the neighborhoods we go," Berding said, adding that the design simply focuses on Newport for the purpose of the rendering, created by MEIS Architects.
Newport is apparently competing with spots in Cincinnati's West End and Oakley neighborhoods.
In February, The River City News exclusively reported that FC Cincinnati was considering Covington and Newport as it explored options for its permanent home. In Newport, the site selection is focused on the area designated for the Ovation-project, an empty grass field that has captured imaginations for more than a decade, but nothing in the form of development has taken place.
Now, there is lots of movement.
Berding talks FC Cincinnati in February at the Metropolitan Club (RCN file)
Kentucky Route 9's expansion brings the major north-south corridor right to the Taylor-Southgate Bridge, making the prime riverfront property even more valuable. A soccer stadium would serve as an attractive anchor.
Additionally, the Ovation site is controlled by Covington-based Corporex, whose chairman, Bill Butler, has a personal history with Berding. 
During a presentation to members of the Metropolitan Club - another Corporex property in Covington - Berding recalled how, as a college student, his mother connected him with her boss, Bill Butler, who hooked up Berding with summer jobs at Corporex properties so that the then-Miami University student could pay for his education.
Meanwhile, Newport officials are not hiding their preference.
Last week, during the annual Mayors Bocce Ball Tournament to kick off Italianfest in the city, Newport Mayor Jerry Peluso sported a T-shirt that read, "Come See FC Cincinnati Kicking on the Licking", a reference to the soccer club and the nearby river.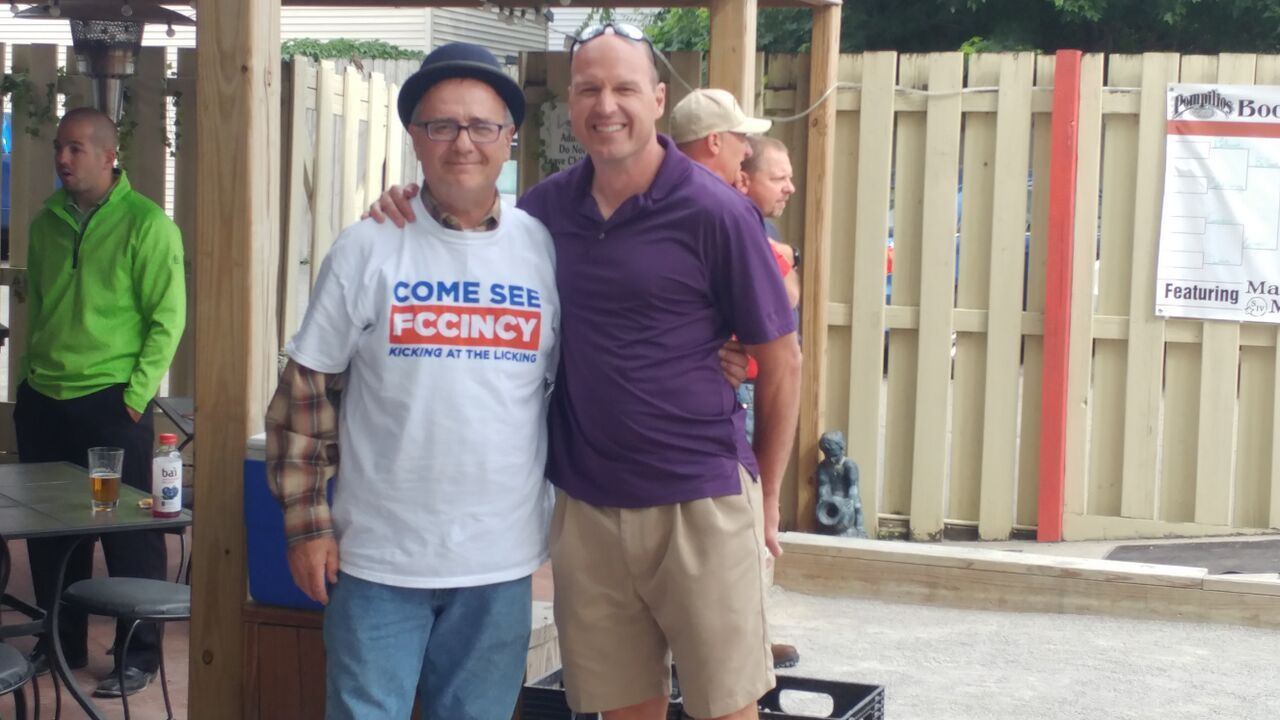 Newport Mayor Jerry Peluso (left) in his FC Cincinnati "Kicking on the Licking" T-shirt, with Ft. Mitchell Fire Chief Gary Auffart (RCN file)
The appetite for a new stadium on the Cincinnati side may be a harder sale if taxpayer dollars are needed, as Hamilton County and Cincinnati residents may have developed a distaste for financing such projects after the hefty price tag associated with Paul Brown Stadium for the NFL's Bengals and Great American Ballpark for Major League Baseball's Reds. 
The Kentucky side has no such history, and last winter, Covington-based architects Hub + Weber created a mock-up of what a stadium for FC Cincinnati could look like on the Covington side.
-Michael Monks, editor & publisher
Images via FC Cincinnati