Premium Content
Waffle House Eyes New Location in Bellevue
Thu, 06/15/2017 - 17:00
RCN Newsdesk
A new Waffle House may be on the way to Bellevue. 
Bellevue zoning administrator Scott Enns announced the possibility during Wednesday night's city council meeting. An official with Waffle House's corporate office declined to comment for now, but said the company would talk about the project as it moves farther along.
Enns said that the city has worked with Waffle House on a proposed site development plan, but has not yet received any other drawings, elevations, or illustrations for the project. There will be a board of adjustments meeting related to the proposed restaurant on July 6. The board will consider a variance request in the zoning code related to "frontage buildout" at 55 Donnermeyer Drive.
That address currently belongs to the All Seasons car wash, which sits next to the city's Kroger grocery store.
That site had previously been sought for further development by the Kroger Company, which wanted to add a gas station there. In 2014, the plan was rejected for not conforming to Bellevue's form-based code. In 2015, the Kroger Company returned with its request for a variance and was again denied.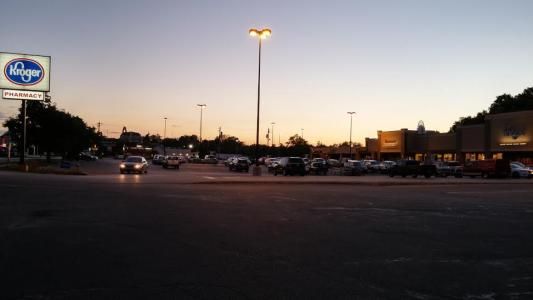 Site of proposed Waffle House in Bellevue (RCN file)
The form-based code aims, in part, to create more pedestrian-friendly components in city planning.
The business area along Donnermeyer is a particular target for the code, adopted by the city several years ago after a lengthy public process. When the Arby's first attempted to rebuild its long-standing location there, a city board denied its request for variances. Ultimately, the fast-food chain relented and built a suitable replacement.
Enns said that Waffle House's request for a variance related to the requirement for 80 percent of building coverage, which Enns described as "less side-yard setbacks", is similar to what Arby's requested in 2015 when the board of adjustment finally gave its blessing.
A Waffle House location is a permitted use in the city's T5 urban center zoning district, and the site plan provides for appropriate parking, traffic access, and addresses the building setback requirements, Enns said.
The Waffle House plan will be go before the board of adjustment on Thursday, July 6 at 7 p.m. at the Callahan Community Center (322 Van Voast Avenue, Bellevue).
-Michael Monks, editor & publisher
Top photo: All Seasons Car Wash in Bellevue where a Waffle House may be located (RCN file)