Premium Content
FBI Agent, Southgate Native Killed by Suspect to Be Honored in Indiana
Thu, 07/13/2017 - 10:28
RCN Newsdesk
On Friday, August 16, 1935, the Miller brothers, Ellis, 6, and Neal, 7, heard gunshots fired from a Colt 45. Bisley model single action revolver by a nasty career criminal named George W. Barrett.
Barrett exchanged gunfire with a young Cincinnati FBI special agent, Nelson B. Klein, who pulled his holstered Colt .38 Super Automatic and fired ten rounds at Barrett.
Klein and his partner Donald C. McGovern had gone to West College Corner, Indiana that day to arrest Barrett on a San Diego, California warrant for car theft. They had received information that he was visiting his brother, John B. Barrett, at 403 Woodland St. and that Barrett was most likely going to flee the area. The agents knew Barrett was a rough customer as he had killed his own mother in 1930 in Kentucky for which he had been arrested, tried, and acquitted twice.
The Miller boys were visiting their grandparents, Mary and Otis Miller, at their home at 303 Union Street.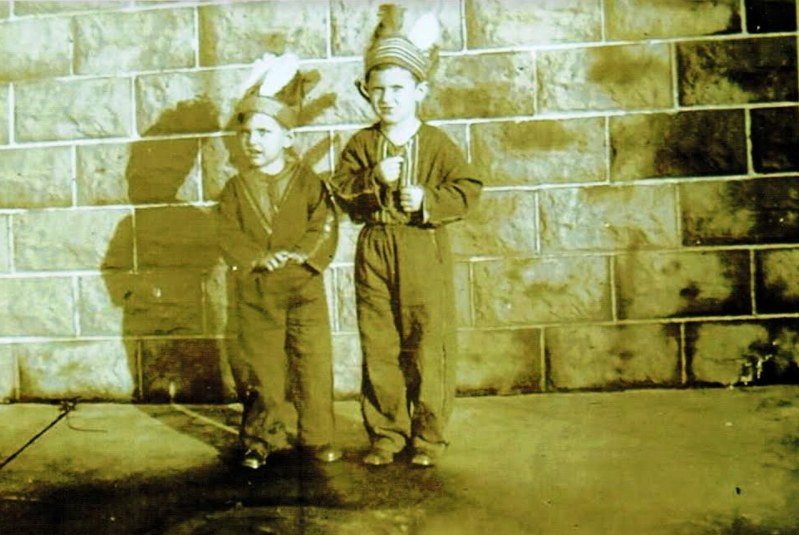 The Miller brothers, circa 1935 (provided)
Their grandparents would be interviewed individually on August 18, 1935 and provide similar fact-filled and signed sworn statements to Indianapolis FBI Special Agent George B. O'Connell and Cincinnati FBI Special Agent Donald C. McGovern. They explained that on August 16 at approximately 6:30 p.m., they were on their porch and saw Barrett walk south on Mound Street carrying something wrapped in a towel. Otis would testify to this at Barrett's murder trial in Indianapolis in December 1935. They saw Agents Klein and McGovern drive up and park their government vehicle, a black Buick sedan on Mound St. beside Murphy's detached garage behind the Murphy house at 221 Union Street, which could be entered from an alley east of Mound Street.
At the time the Agents exited their vehicle the Millers did not know Barrett had preceded Klein down the alley or moments later hear Klein yell to Barrett, "Just a minute, we're federal officers!"  
Klein followed Barrett who was heading east down the alley, with Agent McGovern taking a cover position at the southwestern corner of the Murphy house, facing east. The Millers then heard gunshots which sounded like they came from neighbors' backyards.
They then saw and heard Agent McGovern fire his revolver from his cover position.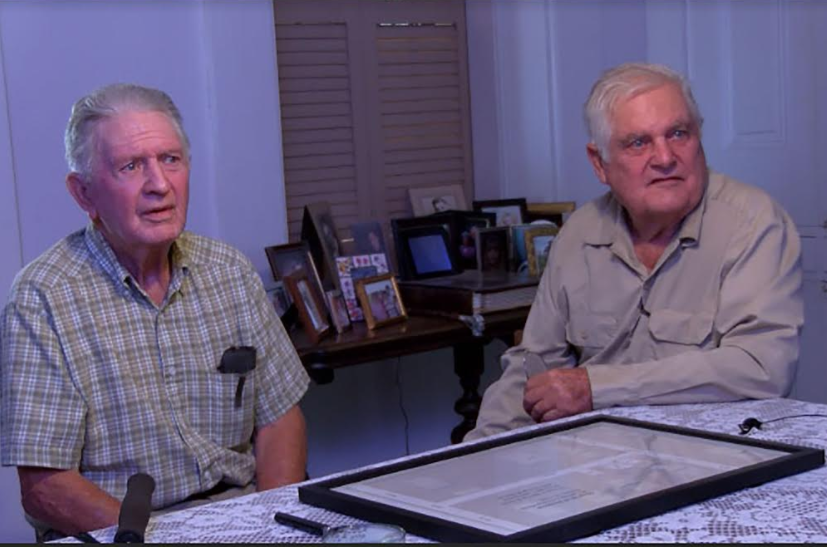 The Miller brothers in 2015 (provided)
On October 24, 2015, the Miller brothers discussed details of the incident which they had never divulged previously. Prior to the shooting Ellis had been playing in a cherry tree in the yard of his grandparents' residence when he heard the gunshots which he said, "sounded like cannons," fell out of the tree and landed on the extended rope of a clothes line and then hit the ground. Neal, being almost two years older, picked up Ellis who then ran to his grandparents' enclosed porch and sat crying on his grandmother's lap. To this day Ellis occasionally recalls the incident with some discomfort right before trying to fall asleep at night.
Neal, after hearing the first gunshot and being inquisitive or, "nosey", as he put it, crossed Mound Street and ended up in the Murphy backyard hiding in the flower garden, grape harbor. He was less than 20 feet from Barrett who had been wounded in both knees by agent gunfire and was sitting behind a tree, still holding his empty revolver.
Neal was even closer to Agent Klein's body which was lying in a "puddle of blood."
Agent Klein had been hit by five bullets from Barrett's weapon and died at the scene. Neal said, "as a kid, I couldn't believe how much blood a man had in him."
Eventually the police would ask Neal to leave and he wandered back across Mound Street, to his grandparents' house. Barrett would be placed in an ambulance and taken to Ft. Hamilton Hospital in Ohio to be treated for his gunshot wounds. He would be given a sedative but was allowed by his doctor to be interviewed that evening by Special Agent In Charge Earl J. Connelley and two other agents of the Cincinnati FBI office. Barrett would lie and say that he thought the G-Men he fired upon were really gang members from Kentucky who had come to kill him in retaliation for a long time family feud.         
At the time the case made national headlines for a number of reasons: Klein was the first agent killed under the agency's new Federal Bureau of Investigation name in 1935. His killer, Barrett, a former moonshiner, was only the second man tried under a new federal statute making the murder of a government agent a capital offense.
Klein left a wife and three children and is buried at Evergreen Cemetery in Southgate.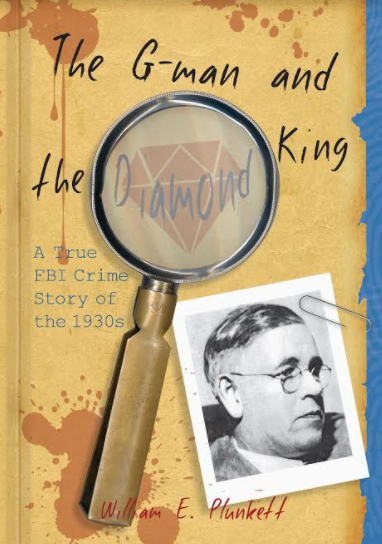 On August 16, 2017, the 82nd anniversary of Agent Klein's death, the Society of Former Special Agents of the Federal Bureau of Investigation, Cincinnati and Indianapolis offices of the FBI, and the Greater Cincinnati Police Museum will mark the occasion with a dedication. It will unveil an Indiana Historical Marker to be located at the entrance of the Stateline Ball Park/Town Grove on Church Street in West College Corner, Indiana.
The event, at 11 a.m., is open to the public.
Written by William E. Plunkett, as special to The River City News. Plunkett is the author of "The G-Man and the Diamond King", which documents this case.
Photos provided