Premium Content
After Fish Die in Banklick Creek, Reviews Underway
Wed, 09/13/2017 - 09:02
RCN Newsdesk
Mackey McNeill returned home from vacation and took her dogs for a walk around Red Sunflower Farm which she owns with her husband, Barry Schlimme. 
Though the walk through the wooded area along Banklick Creek was part of a routine, an unusual sight soon emerged.
"I was faced with dead fish as far as I could see," McNeill said. "It turned a nice night home to a nightmare, to say the least."
Kenton County Emergency Management was notified of a sewage leak into the creek on August 29, deputy director Kirk Reinhart told the Kenton County Fiscal Court on Tuesday afternoon. The leak was a topic of conversation involving emergency management, Sanitation District 1, and McNeill.
"Since then, the (Environmental Protection Agency) has been out to start their investigation," Reinhart said.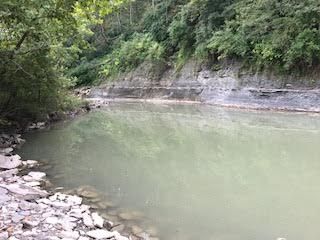 At issue is an old pipe in the Banklick Watershed area that received an emergency repair on August 24. "Our contractor used a bypass pump in order to make that repair," said SD1 executive director Adam Chaney. "Over the weekend, that bypass failed which created the fish kill."
Chaney said that the utility immediately followed its protocol to address the leak. He said that under the consent decree that SD1 operates in agreement with the EPA, the utility responds to sewer overflows on a regular basis.
"From my perspective, we, immediately after the event, took a look at why, in this particular area, we need to know why the pump failed and what we can do in our processes and our procedures," Chaney said. "We need to make sure this stops happening. My commitment to the fiscal court and to the neighbors who were affected by this is that we are going to take a thorough review. We're going to find out exactly why. We're going to make sure to every extent possible that this doesn't continue to happen."
McNeill recounted how she saw a few fish swimming at the top of the water, and other creatures attempting to get out of the water. "I live there. I walk that creek almost every day. It is a vibrant, active creek for deer, fox, beaver, turtles, fish, crawdads," she said. "I've even found fresh mussels living on that creek."
The stench, she said, was "horrible" and the leak was larger than originally believed.
Marc Hult, a Covington-based hydrologist, checked the water and found 0 percent oxygen, McNeill said. 
Even after the initial response from SD1, a mess was left behind, she said.
"The next day it rained and the creek - which is a complete dead zone - looked better, but the woods were not cleaned up," McNeill said. "SD1 left and said, we're done, and all this pink stuff, toilet paper and stuff, was throughout the woods."
"The sewer line should have never been put in the creek in the first place. It's absurd and I won't be quiet until it's taken out," McNeill said. "We're going to have another catastrophe."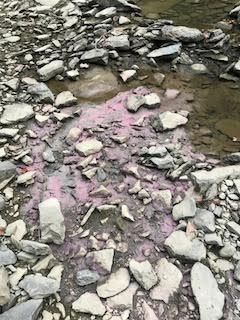 Chaney agreed about the pipe.
"We inherited a pipe in a creek that never should have been there," he said. "I wish we could correct every pipe in creeks. I wish we could do everything we've discussed with watershed groups and Banklick Creek. Unfortunately, we can't fix every problem in every area and it's why we're under a consent decree, and why we have sewer overflow response plans."
Chaney said that more communication and education would be helpful. "I think once you have the facts of what we're dealing with at SD1, we may have a difference of opinions on priorities. I'm open to all of this and open to working with you and your neighbors," he said.
McNeill also suggested that the composition of the SD1 board of directors lacks diversity. Four of the eight trustees are appointed by the Kenton County Judge/Executive, while Boone and Campbell County Judges/Executive select two each, in a formula based on population. Three of Kenton County's four are from the development community, McNeill said. 
"Who are the people that are supposed to be protecting our watershed?," she asked. "(Developers) have a perspective and that i snot the overall perspective of the county. Where are the environmentalists and community advocates and the women and the Gen X and Gen Y and Millennials on this board?
"Different people give a more unique perspective and better ideas. If we continue to do the same thing we've done, we'll continue to get the same results and that's simply unacceptable."
Judge/Executive Kris Knochelmann said that he agreed about diversity in ideas. "I think with (Chaney)'s new leadership in trying to get through this consent decree, it sets the tone for where this model goes forward," Knochelmann said. "Part of it is, the investment we have available to put into the existing system is limited. We have some bigger needs most people are not aware of. 
"This specific issue, we have to let it play out a little bit, and let staff and teams there work through with the state and the investigation process. I don't think anything you said is really off base."
Written by Michael Monks, editor & publisher
Images provided by Mackey McNeill