Alan "Chip" Terry, former Assistant Covington Fire Chief, Dies
Sat, 09/16/2017 - 09:55
RCN Newsdesk
Alan "Chip" Terry, Jr. has died.
Terry, 55, was retired from the Covington Fire Department where he worked from 1986 to 2012, rising to the rank of assistant chief.
In 2012, he waged a write-in campaign for a seat on the Covington city commission, and while he fell short, he was amassed more than 1,300 votes, no small feat for someone whose name was not actually on the ballot.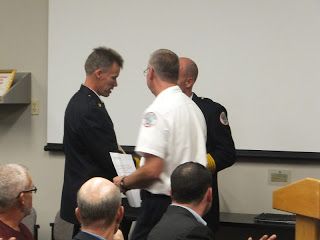 Terry (left) at his retirement in 2012 (RCN file)
"I feel like politics, especially local politics, should be bottom up and not top down," Terry told The River City News after announcing his write-in candidacy. "I have a lot of relationships within the city, employees, department heads, and also outside the city structure itself, in the neighborhoods. We know a lot of people interested in seeing the city go in a more positive direction. I'm not afraid to work. I've worked hard all my life and I'm passionate about the city. I'm certainly not afraid of putting in time and effort to making the city better."
Terry was a Ludlow native and a graduate of Ludlow High School. He earned a bachelor's degree in music from Northern Kentucky University and later returned to Highland Heights to obtain a master's degree in executive leadership and organizational change.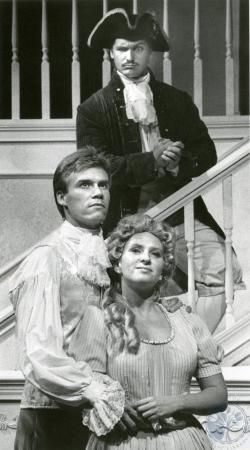 Terry (left) in a 1989 production of New Moon at NKU (Kenton Co. Public Library)
He lived with his wife, Jo, in Licking Riverside. They have six children.
In 2013, The River City News wrote a profile of Chip Terry and his son, Noah, after the two helped rescue a baby squirrel that was trapped between a pipe and a building.
Condolences from friends and fellow firefighters and other emergency responders filled social media pages on Friday and Saturday as word spread of Terry's death.
Terry helps with Christmas decorations at a Covington firehouse in 1986 (Kenton Co. Public Library)
This story may be updated.
-Michael Monks, editor & publisher
Top photo: Chip Terry (via Facebook)