Premium Content
NKY Football: Cov Cath, Ludlow Win Big; Dayton, New Cath Pick Up Wins
Sat, 09/16/2017 - 08:41
RCN Newsdesk
Another week of high school football has rolled by in Northern Kentucky (except for Saturday night's Simon Kenton-Cooper game...) and some teams are back on the winning side of things, while others tacked on another L.
Covington Catholic won its face-off with neighbor Beechwood, and Ludlow doubled up Newport. Dayton pulled off a shut out in a game that saw its homecoming queen kick a field goal and two extra points.
Highlands lost again, as did Holmes and Holy Cross. Bellevue also ended up on the losing side.
Covington Catholic 45, Beechwood 9
Five different Covington Catholic Colonels found the end zone Friday night at Edgar McNabb Field in Ft. Mitchell, overpowering host Beechwood, 45-9, in the annual neighborhood rivalry. After an early 24-yard field goal by Grant Dyer midway through the first quarter, Cov Cath's Adam Schneider picked off Beechwood senior quarterback Brayden Burch deep in Tiger territory on its ensuing drive, giving the Colonels an early 10-0 lead.
After a short Beechwood punt, Cov Cath took advantage of good field position. On first-and-10 from the Tigers 32, Colonels senior AJ Mayer found sophomore tight end and brother, Michael, at the eight for a 24-yard completion. Two plays later, Mayer lobbed a touch pass to the back of the end zone to junior Jack Coldiron and a 17-0 margin with 2:38 left in the opening quarter. Shortly following, the Colonels' third possession began at midfield and resulted in its third touchdown, as Mayer found senior Sam Schuh open near the 20-yard line with the senior running the rest of the way for the score and a 24-0 lead.
Cov Cath played add on four minutes into the second quarter. Junior Casey McGinness anchored the Colonels drive with several carries, culminating in a three-yard touchdown run and a 31-0 advantage. Beginning their next drive inside their own 30, Burch found junior receiver Jon Odom at the 50 for the Tigers first big play of the night. With a new set of downs, Burch again found Odom on another first-down producing play to the Colonels 34. However, their momentum came to a halt. After a false start penalty forcing a first-and-15 from the Cov Cath 39, the Tigers quarterback overthrew junior Logan Castleman near the sideline. Davis was stuffed for a three-yard loss on a screen and Burch scrambled for nine yards before behind chased out of bounds by a host of defenders. But, Davis was stopped short of the first down on fourth-and-nine at the Colonels 38-yard line, turning it over on downs.
On its ensuing drive, a swing pass from Mayer to McGinness gained 10 yards on Cov Cath's first play from scrimmage at its own 26. Mayer then found junior Zach Coburn for eight yards. McGinness was swarmed in the backfield for a loss of three but senior receiver Malachi Pike gave the Colonels a first down with a 12-yard reception at the Beechwood 31. Then junior then gained six more yards on a carry up the middle but the Colonels lost Schuh on their next play to injury and he would not return, standing on the sidelines with ice wrapped around his left shoulder. Senior Kameron Butler caught Mayer's pass near the goaline for a 22-yard catch-and-score to stretch the Colonels lead to 38, with under three minutes left to play before halftime.
With a running clock during the entirety of the second half, Beechwood was able to get on the scoreboard. On its first drive of the third quarter, Burch found sophomore Josh Derry for an 11-yard gain to the Tigers 40. Senior Daniel Mescher then advanced the Tigers out to midfield with a reception of his own and Castleman kept Beechwood's drive alive with a 26-yard reception. But following several incomplete passes, its drive fizzled out and they settled for a field goal and a 38-3 deficit.
McGinness completed the Cov Cath scoring on the evening with his second touchdown, as he found the end zone from eight yards out with 8:36 remaining in the final quarter. After a short kickoff and two good runs by Davis, Beechwood's Derry broke free up the middle for a 49-yard touchdown run to give the Tigers their first touchdown of the game halfway through the quarter and a 45-9 final, after a blocked extra point.
Cov Cath (5-0) returns home next Friday night to face Columbus (Oh.) St. Francis De Sales at 7:00 p.m. Beechwood (3-1) stays in Fort Mitchell to face Holy Cross at 7:00 p.m.
Ludlow 61, Newport 30
The host Panthers got out to an early lead and never looked back.
Ludlow senior quarterback Justin Blackburn and junior running back Sean Stratton stood out. In the first three games of the season, Blackburn has totaled over 1,000 yards on offense with 16 touchdowns.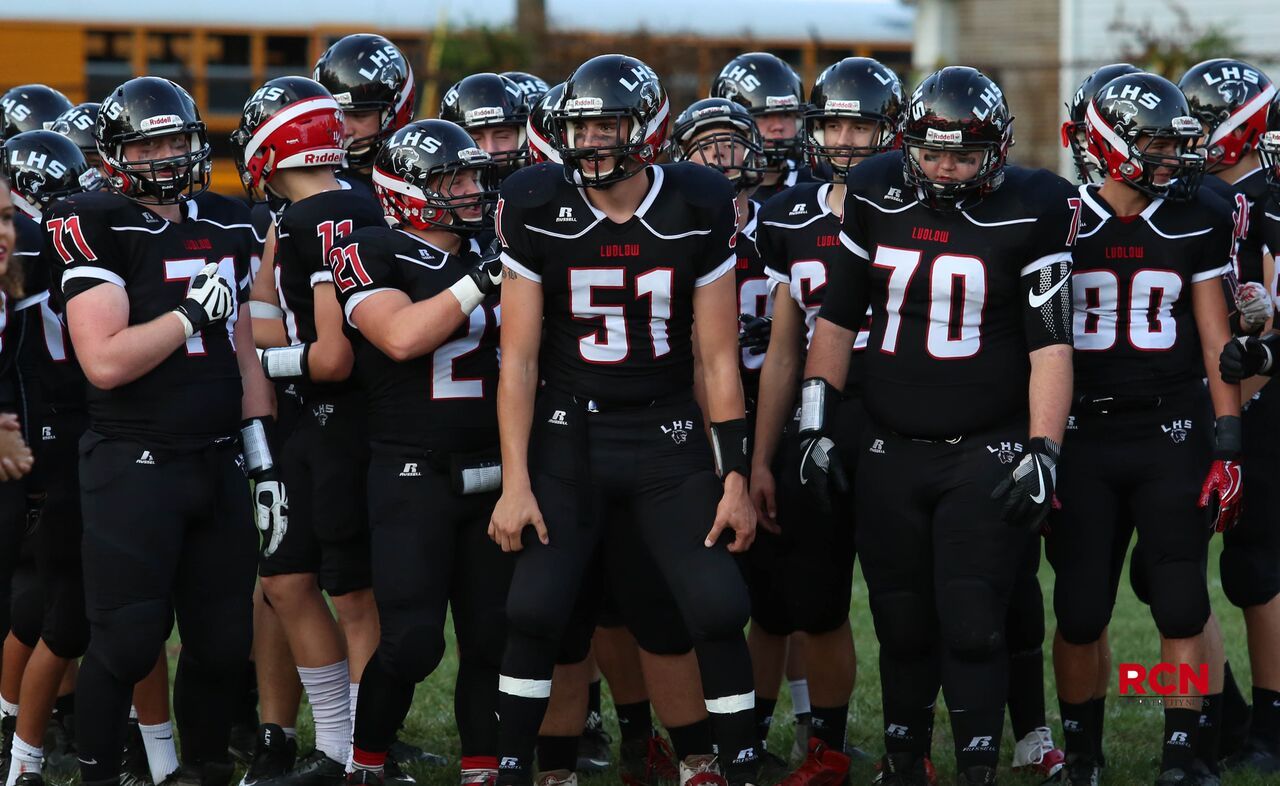 Ludlow has steamrolled all of its opponents, except for one close game at Bracken County, and averages 46 points per game to its opponents' 25.
Next week, Ludlow (4-0) welcomes Williamsburg to town. Newport (1-3) has its first home game of the season next week when Frankfort visits.
(See more photos from the Ludlow-Newport game in the slideshow below.)
Dayton 17, Trimble Co. 0
Dayton has a unique story this season - with its female kicker, who just happens to be homecoming queen, too.
On Friday night at Davis Field, Megan Downard kicked a 25-yard field goal and two extra points as the Greendevils cruised to victory over Trimble Co. 
Elijah Schertler scored both touchdowns as Dayton picked up its first win of the year.
Next week, Dayton (1-3) is back on the road at Bracken Co.
Newport Central Catholic 20, Christian Academy of Louisville 15
It was close, but the Thoroughbreds were able to end their two-game skid, handing Christian Academy its first loss of the year.
Next week, New Cath (3-2) visits Conner.
Cincinnati Hills Christian Academy 48, Holy Cross 6
A tough season continues for Holy Cross, with a big loss at home. 
It is now five consecutive losses for the Indians who have been outscored this season 273-42.
Next week doesn't get any easier as Holy Cross (0-5) goes to Beechwood.
Lloyd 36, Holmes 6
Lloyd continues to build on its season, winning two in a row and three of its first four so far this season.
Holmes, on the other hand, scored just 6 points for the second game in a row in a paltry offensive season that saw it shut out in its first two games.
Next week, Lloyd (3-1) welcomes Grant Co. to town while Holmes (0-4) visits Harrison Co.
Gallatin Co. 19, Bellevue 14
Bellevue's three-game winning streak was snapped Friday night on the road.
Gallatin Co. was able to hold off the Tigers in Warsaw.
Next week, Bellevue (3-2) heads west on Route 8 for a date with Newport.
Lexington Catholic 21, Highlands 18
It's three losses in a row for Highlands.
The Bluebirds were beat at home in Ft. Thomas for the second straight week.
Next week, Highlands (2-3) has a touch match-up at Simon Kenton.
Dixie Heights 28, Conner 21
It was a battle in Edgewood on Friday night as Dixie clawed its way to its first win of the season.
Next week, Dixie (1-4) hosts Boone Co. while Conner (2-2) is at home against Newport Central Catholic.
South Oldham 51, Boone Co. 0
After picking up a rare win last week, the Rebels are back on the losing side of things.
Next week, Boone Co. (1-3) travels to Dixie Heights.
Ryle 28, Campbell Co. 21
Make it four wins in a row for the Raiders who held off the visiting Camels on Friday night in Union.
Next week, Ryle (4-1) hosts Cathedral (In.) while Campbell Co. (3-2) plays host to Mt. Healthy (Oh.).
Lexington Christian 48, Walton-Verona 13.
After two straight big shut-out wins, Walton found itself on the wrong side of a beating Friday night.
Next week, the Bearcats (3-2) look to be back on the winning side of things when Owen Co. comes for a visit.
Written by Jason Finnell in Ft. Mitchell, Brian Frey in Ludlow, and Michael Monks in Covington (with Dayton details from Joe Neary)
Photos by Brian Frey