Premium Content
RCN Special Report: Silver Grove Searching for Survival
Thu, 09/21/2017 - 22:33
RCN Newsdesk
Grady Brown grew up in Silver Grove and still has fond memories of the small city he once called home.
"My eyes light up when I got there," said Brown. "You really didn't have to leave town for much. The Dari Bar was there, so people would come for us."
The Silver Grove Dari Bar, a landmark on the stretch of Kentucky Route 8 known as Mary Ingles Highway as it snakes along the Ohio River through the Campbell County city, is described as "world famous" on the city's website. Two weeks ago, it was scooping its last cones and serving up its final malts of the season and dozens of people were lined up and sitting around the property enjoying one last taste of summer.
Like Brown said, most of the customers come from outside Silver Grove.
"Every year it gets a little better," Diane Ollberding, owner of the Dari-Bar, said. "They come from Ohio, Indiana, and we get Silver Grove some, but it's not the majority of the business."
There is little doubt that the Dari Bar will open again next summer and the summer after that, as it has for generations.
But the sustainability of other aspects of the 106-year old town, founded in 1911 to serve the Chesapeake and Ohio railway, is questionable. 
In 2015, the City of Silver Grove decided to dissolve its police force, citing costs. The Campbell County Police Department now patrols the streets lined with modest single family homes and a pair of trailer parks.
During the same time, eyes have turned towards the city's independent school district as another possible target for dissolution.
Silver Grove High School - home of the Big Trains - has a senior class this year with just four students in it. The tiny district is tasked with attracting more students to enroll while battling the stigma of being the lowest-rated school district in Kentucky, at #172, based on data released from state test scores last year. Nearby Fort Thomas Schools are consistently ranked in the top 5 in the state and last year came in at #3. A likely partner for any merger or consolidation would be Campbell County Schools, ranked #29 last year.
Superintendent Dennis Maines would like to see the district that he took over in 2016 to persevere. "Personally, for me, the biggest connection for me is the fact that I grew up in Dayton, Kentucky - I was a river city kid myself so I know what it's like to be along the river and experience some of the needs of these students and families," Maines said. "As a kid, I had some really good friends that lived here in the community so quite often, I would be in Silver Grove as often as I'd be in my own hometown."
Maines rallies the small student body each morning. Students arrive and whether in kindergarten or high school, breakfast is served in the same cafeteria - "The Whistle Stop Diner", which could double as a stage adjacent to an old gym floor used for the daily assembly. Just before classes begin, the middle and high school students go to another end of the building while Maines welcomes the elementary kids - the Little Trains - to another day.
"I've always been the type of leader where I'm not afraid to get my hands dirty and in a district this size, I've always said, it takes us all, and it truly does," said Maines, who was previously principal at Holmes High School in Covington for six years and at Bracken County High School for two before taking the superintendent job.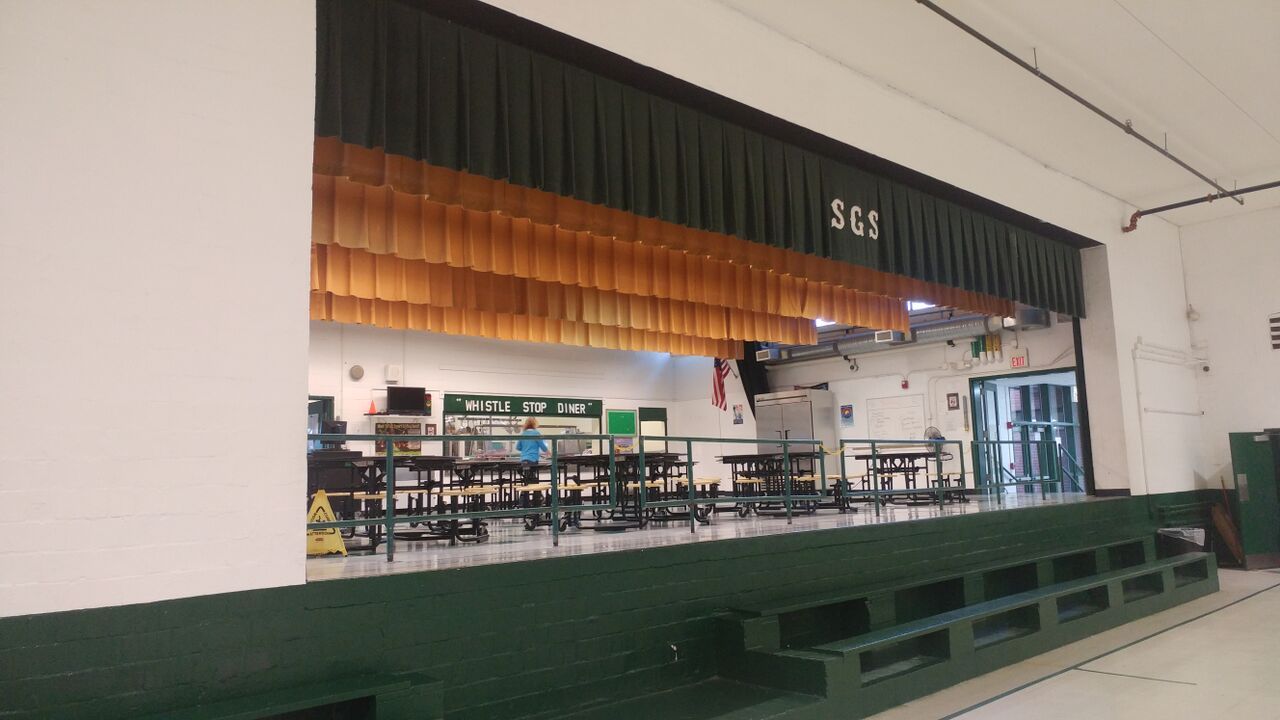 The gym is part of the original 1920s building constructed to serve Silver Grove students while the cafeteria and adjacent classrooms were added in the 1960s. A new high school building and gymnasium were built in the 1980s. Maines is working with the Campbell County Planning Commission to plan for a facelift.
There are 175 students in the district, and 61 in grades 7 through 12. Maines said that while the 4-member senior class is small, it's not unusual every few years or so for the graduating class to have just a few members.
In his first year on the job, Maines was welcomed with the news that his district was ranked last in Kentucky.
"The most important thing to do is, not panic," he said during an interview in his office, maintained in a small house across the street from the school building. "Obviously a lot of hard work still went into the prior year. A lot of folks were disappointed and rightfully so, but what I had to overcome was, I can't change the past. It was what it was.
"My focus was on the future, what can I do now in this role to make the difference, so last year was a year of evaluating, assessing, taking inventory, and really getting a sense of the culture and expectations of our district." 
Giving up on the district is not on Maines's to-do list, whether that means dissolving or simply eliminating the high school.
"Personally, I don't believe closing down the high school portion is the answer," he said. "We still need staff to be able to teach the middle grade students. Our staff is already considerably smaller than any other district but I think from a certain standpoint and the daily schedule of things - it will be very difficult for us preschool through eighth grade because you still have to have the correct certified personnel in place to do all of that and basically, the way it's structured now, those teaching high school also teach middle school, so it's the same people.
"I don't believe that's the answer. The answer is positively feeding our cycle of improvement."
Adam Blevins also wants to see improvement in Silver Grove.
My interest in this topic stems from Silver Grove being my hometown, and every day I witness the decline of the city as I pass through. I have always wanted to do something to help bring the city back to the quaint, small town that it once was."
Blevins wrote those words as part of his final project as a graduate student at Northern Kentucky University's executive leadership and organizational change program. His exploration of whether Silver Grove has a sustainable future has drawn much attention in the community from civic and business leaders.
"It's not really surprising that people think it's unsustainable," Blevins said in an interview. "I think everybody there knows it's not sustainable."
Blevins grew up on Oak Street, across from the backstop of the ball field in the middle of the city. He went to Campbell County High School rather than the city school, but he's still connected to and concerned about his hometown.
"The project was a sustainability project and most people took something really small like some process at work or something but I chose Silver Grove because I always drove through there and I remember Silver grove when I grew up there as this Mayberry kind of town, but after years of living there, it changed slowly, and just deteriorated more and more," he said. After returning from a stint in the military, Blevins said that he discovered the town had deteriorated further.
"I always thought, these houses down here are cute and have a small town vibe - this could be a really cool community for starter families or retirees, but it's not. And why not?"
One deterrent to home ownership is the city's placement in a flood plain.
After FEMA cut funding for certain flood relief programs, it was decided that in areas in flood zones due for disastrous events, homes would need to begin carrying flood insurance if there were still a mortgage involved.
Silver Grove is due for its 100-year flood, and 95 percent of the town lies in a flood zone.
"We're trying to look into flood mitigation to either reduce that risk or the hope is to prevent it," Joe Pelle, a city councilman who is also in charge of figuring out flood insurance for the city, said.
Why not build a flood wall? Mayor Neal Bedel and Pelle said that funding would be nearly impossible to secure.
In order to receive funding, the flood wall would have to protect property equal to or greater in value than the wall itself. After an evaluation of Silver Grove, it was determined that the overall value of the town was not greater than the cost to build a wall.
Pelle said that properties such as the Continental Building Products plant and the Dollar General store would add enough value to the town for a flood wall, but since they were built to code, they are above the flood line and can't be considered in the value assessment.
"The flood zone is the biggest issue (for development)," Bedel said. "There have been some people who are interested in (realtor) Ken Perry's properties, and even though Ken Perry's property is elevated, if it floods around it, people still can't get to work or whatever the case may be."
Pelle has been researching alternatives to having to pay the flood insurance as well as finding the best option for the town overall.
"It's going to be complicated. I didn't think this was going to be complicated, but it's going to be complicated," Pelle said.
One possibility is a program that would allow residents to have their home reevaluated to see if it's still in a floodplain. If it is, the city would pay for the fee of the valuation and the homeowner would have to pay for insurance on the home. If the home is not in the floodplain, the homeowner would absorb the cost of the valuation.
Pelle has also researched the possibility of homes having to fill in their basements and even having homes raised, which would cost nearly the amount of the home itself.
The city council is still researching options for the city that could help lower cost of flood insurance or eliminate the need for it.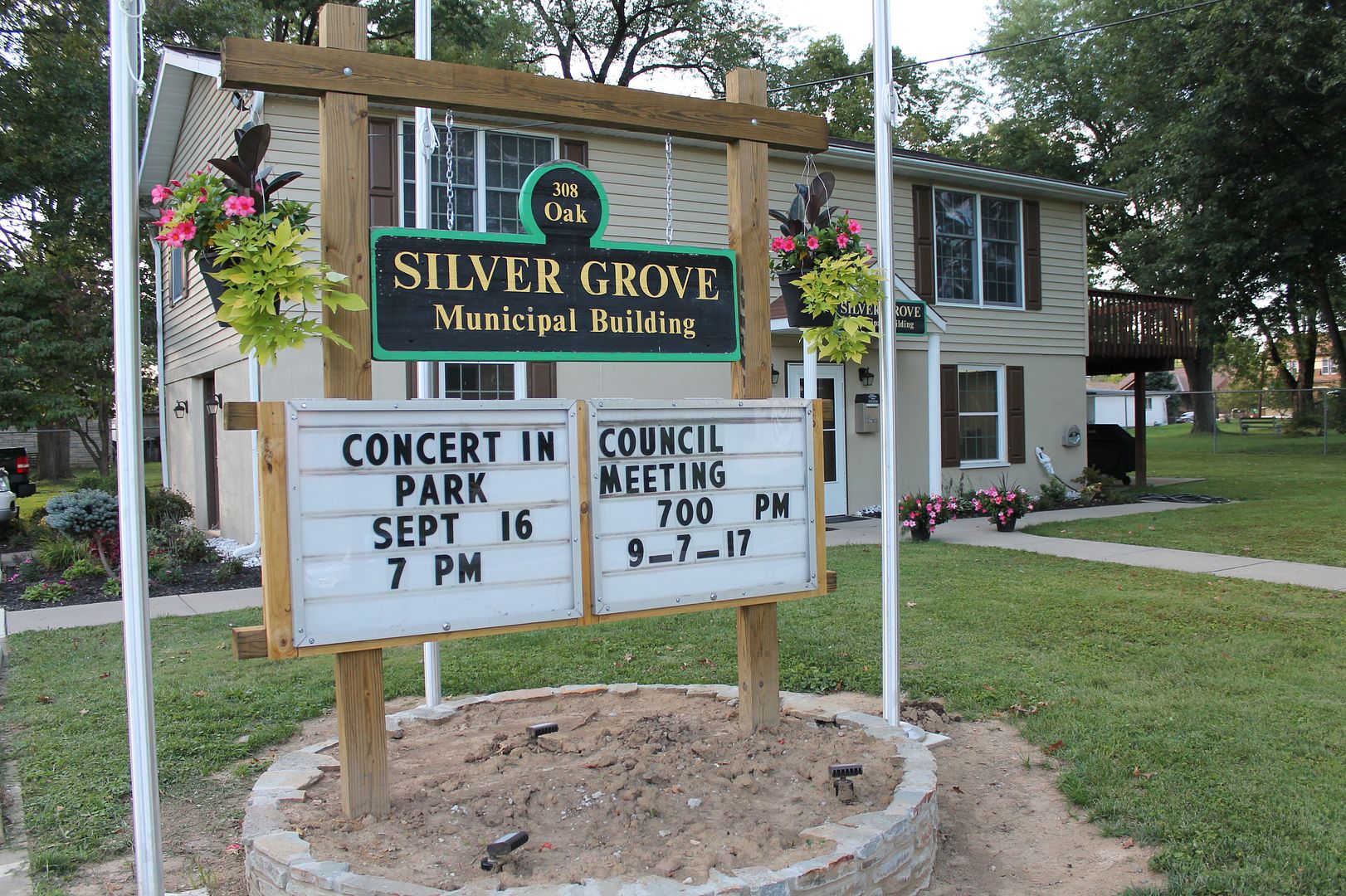 Currently 112 of the nearly 450 homes in Silver Grove carry flood insurance because of mortgages against them.
"We're fighting this flood issue, but we're moving ahead," Mayor Bedel said.
Blevins, who completed his master's project on the city, agreed that flooding is the city's top concern.
"The first thing you would have to do would be to remedy the flooding," he said when asked about changing the city's course. "There needs to be something to abate the flooding, to reduce the flooding because people who could move into the town can't afford that flood insurance on top of the taxes and everything that goes with living there."
Secondly, Blevins said, one of the other causes of high taxes in the city - the school district - should be merged with county system. "It would be an immediate boost to property values and school performance and education for the kids," Blevins said. "It would be a huge benefit to the whole community."
The school district has done an independent look at the composition of the families who reside in the city, Superintendent Maines said. "Very rarely are they moving out of town because of the school system," Maines said. Silver Grove has low-income families that struggle with custody issues and other problems that affect their home life. "A lot of times, it becomes a real estate issue. In most cases it has nothing to do with the school. It has to do with custody issues or socioeconomic relationships."
The small town vibe celebrated by residents in Blevins's study is also noted by Maines, particularly within the school environment. Of the 4-member senior class, Maines said, "I think they appreciate the amount of attention they get from all of us and being able to be a part of a small town setting and building a sense of pride."
Maines offered an example from his first year at the helm of the struggling district. As he arrived from Bracken Co., it turned out that one of his students there also relocated to Silver Grove and enrolled in the high school. "He was not very involved (at Bracken Co.). He didn't have the initiative to be a part of different clubs, groups, and organizations," Maines said. "He came here as a senior and had the opportunity to start for the basketball team. He had the opportunity to play baseball. He was one of the leading roles in our senior class play last year. He was involved in every club, group, field trip, you name it.
"My point of saying all that is, I know for a fact that he would have never set foot on a basketball floor at his previous school. It was a great experience to see that boy become so engaged in everything we had where I believe he would not have had those opportunities to shine as he did here."
Maines said that the board of education is committed to his efforts and keeping the district going, and has recently worked to lower taxes.
"The board is committed to the district and keeping it operational, but at the same time, they have the responsibility of doing what they can to keep taxes going lower," he said. "It goes back to feeding that positive cycle of the schools and the city."
And there are positives in Silver Grove.
"It's not going to make any Top 5 or Top 10 lists, but we love it," said Rob Brown, a city resident and pastor at the Silver Grove Christian Church. "It's peaceful and quiet, but we still have very close access to all of the cultural things in Cincinnati."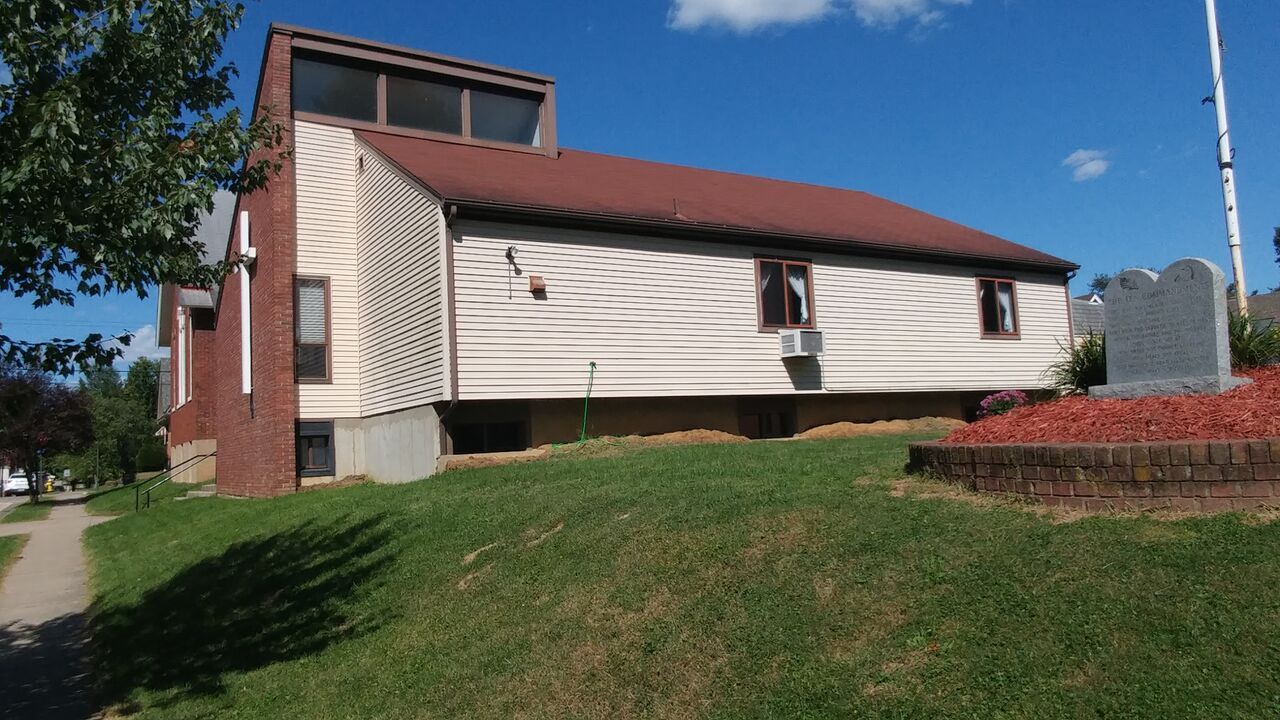 The city council has received multiple grants that will allow it to build sidewalks along Route 8 out to the Dollar General and along the Mary Ingles Highway, making it easier for residents to walk around town.
In addition, the city also received a grant to place a walking trail at Chief Sayers park.
"We're hoping to put in a new backstop on the baseball field," Mayor Bedel said. "We have a new pavilion down there, we've planted quite a few trees and put a fence up around the baseball field, put in a volleyball court."
In an update to his research, Blevins cited the hiring of Robert Yoder as a grant, who also works with other local cities and organizations, as a positive move.
The city council also created a public garden this summer that allowed sixteen residents to have small, raised gardens which were all used and they're expanding it for next year. Another Northern Kentucky University graduate student - Josh Tunning - presented that idea to city council as part of his research.
Bedel said that there is concern over the council's communication with the city though and hopes that the city will soon be able to send out flyers updating residents on activities and projects around town.
The city also works to stay involved with the community through a summer concert series in the park, Christmas essay contests at the school, and a tree-lighting ceremony, as well as helping with a back-to-school supply-drive.
"There's a lot of positive things about Silver Grove and a lot of good things to be said," Bedel said.
One of those things includes an expansion for Continental Building Products, the sprawling industrial business where the mayor works.
Mark Hagerman, the plant manager for Continental Building Products, which was formerly known as LaFarge before it was purchased, was present at the September city council meeting to talk about the company's plans for expansion.
Continental is the largest manufacturer of drywall in the world and recently purchased a large plot of land next to its current location. The company will be developing the property in two phases over the next 12-18 months.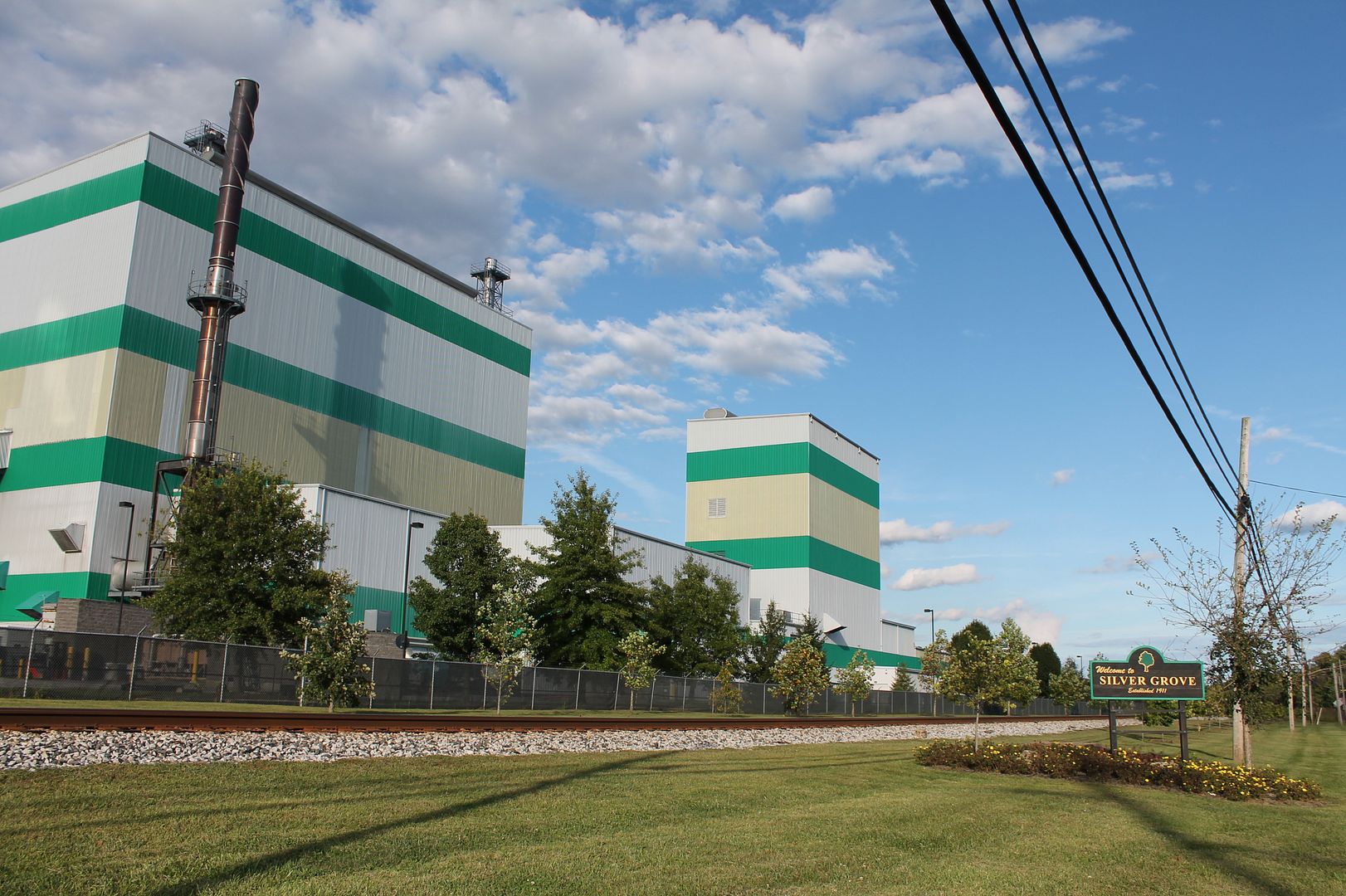 The company, which hasn't operated at full capacity since 2007, according to Hagerman, will use the newly purchased land to help increase rail shipments from the plant, without increasing truck shipments running through town.
Initially, the company will be asking the county to rezone the land from farming to industrial before moving forward.
Phase 1 of the project, which could begin before the end of the year, will develop a new truck parking lot, plant-only roads, and barrier trees to help block plant noise from affecting the town.
Phase 2 of the project would see the rail yard expanding to hold an additional ten railcars a day, helping to prevent the need to expand trucks running to and from the factory.
The change in police strategy has also been viewed as a win.
On Jan. 1, 2016, the Campbell County Police Department officially took over the patrol of Silver Grove, with Officer Tom Lakes being the primary officer covering the town.
"The coverage has become more extensive, the number of citations and arrests have gone up, and the city seems to be responding well to the county being here," Lakes said.
Before the county, Silver Grove ran its own department with just one officer.
Part of the agreement with the county is that Lakes and others will patrol Silver Grove for 70 hours a week, frequently catering the times to events around town.
Lakes said that in recent weeks he has patrolled earlier in the day to help prevent problems with fighting near the school.
While Lakes is not a resident of Silver Grove, he said he works to stay connected with the community.
"I give out my phone number like it's candy," he said. "I just like the personal connection, and even though I'm not working they can still call me."
Lakes added that the county police have more resources than a small local department would, therefore he is able to provide additional help to calls of drug use and potentially get users into rehab.
Like many cities across the country, Silver Grove is no exception to combating heroin as it takes its toll on Northern Kentucky. Lakes said that he can get two to three calls a week for overdoses and he has used naloxone, a heroin overdose reversal drug, at least five times in the 8 months he's been carrying it.
"We're trying to support the heroin programs to try and get a handle on that," Lakes said. "We're working with the city and county to stay on that, and they have a couple different programs to aid and help addicts in the area."
The school district is also optimistic, even as the newest state test scores are set to be released in the coming days.
"We are very optimistic that we will have some positive data come in," Superintendent Maines said. "One thing everyone needs to remember is, if we have room to celebrate, we're going to celebrate. It is going to take time to reshape the culture. We didn't get here overnight and we're not going to be on top overnight either. We have to keep things going in the right direction and we want to do that quickly. We want to make the gains that we want to make as quickly as possible, but it is a process and it will take time."
But talk about the future of the district will likely continue. One idea is that if the district went away but the county system operated an elementary school in the city, there could be serious benefit and opportunity to capitalize on what seems to be a unanimous response when people are asked about Silver Grove's greatest strength: its small town feel. 
"The schools are hamstringing the community in my opinion," said Blevins, whose NKU study showed that while residents are discouraged about the future viability of the town, they are still attracted to its potential and small town atmosphere. "I think it's a liability to the community. It's a lot of money and the people that live in the town aren't making a lot of money, so they're paying the highest rate in Kentucky for the lowest-performing district and they are in the flood zone. There is nothing that makes anybody want to move to that town.
"What they could have instead, if they would merge with the county schools, they may be able to keep an elementary school or middle school in the town, which would be a boon for the town. You could live in Mayberry and could walk to school. But they are so stubborn they won't do that because they want to hold on to that independent school district."
"I believe we can be just as competitive as any of the other independent districts in terms of achievement," the superintendent said. "I believe our size can be such a selling point to many families and students in terms of individual attention they will receive. 
"We're going to be there from a customer service perspective. We're going to be right there and available and directly working with students all the way down to the individual level every day. We're going to continue to ask ourselves every single year, every single process, every single protocol we have - can we do better? If you keep that mindset, it's only going to grow."
"The community has a long history and a legacy of being a tight-knit community where people come together and everybody knows everybody," said Blevins. "It's one of those towns where, if you see a dog running down the street, you probably know the name its name and you'll probably feed it. And I think there's a lot of people who want that kind of camaraderie and that community feel that's there.
"It's the only thing, in my opinion, that is holding it together. Their biggest point of hope is to tap into that, to get people to do some community service. That is the biggest thing they have going for them, which is the conclusion I came to with my paper: There is this sense of pride in the community, in those legacy families, but those legacy families are dying out and moving on and moving out, and it won't last forever. It's a finite resource. It's dwindling away a little bit at a time. I don't think it's too late. I think in another generation or two, though, there won't be much of the town left.
"If it's even still there."
Written by Michael Monks and Carrie Crotzer for The River City News
All photos by Monks and Crotzer