Premium Content
NKY Football: Ludlow, Simon Kenton Still Perfect; Holmes Rolls
Sat, 09/30/2017 - 09:12
RCN Newsdesk
We are past the midway point of the high school football season and Ludlow and Simon Kenton are still perfect after impressive showings on Friday night.
Meanwhile, Holmes and Scott rolled on their Homecoming games.
The River City News was across the region on Friday night. Here's what happened:
Ludlow 54, Bishop Brossart 27
It is not just Justin Blackburn's eye-popping offensive stats that stand out for Class 1A's fifth-ranked Ludlow Panthers football team.
The most impressive aspect of undefeated Panthers (6-0) is how much they trust their coaches, trust each other to do their jobs and how quickly the coaches and players pick each other up when things don't go their way. That even-keel approach earned the Panthers another convincing 54-27 victory over a quality opponent in the Bishop Brossart Mustangs (4-2) on Friday at James Rigney Memorial Stadium on Homecoming Night.
The win total doubles last year's victory total and equals those of the 2014 and 2015 squads. Those teams finished 6-5.
The stats showed how much the Ludlow lines handled Bishop Brossart in the trenches. The Panthers ran 63 plays for an astounding 601 yards of total offense for an average of 9.5 yards per play compared to Bishop Brossart's 54 plays for 323 yards for an average of just under six per play.
Ludlow had 20 first downs and only had to punt once. On the other side, Bishop Brossart had 14 first downs and punted four times for an average of just more than 35 yards per kick.
Ludlow's offensive linemen knew Blackburn could make things happen if the Panthers did not let the Mustangs gang-tackle him. The Mustangs tried to arm-tackle and tackle up high, but Blackburn powered through them. Senior running back Sean Stratton and sophomore running back Cody Kramer also took advantage of the creases to break through, make some defenders miss and even power their way forward for extra yards. Blackburn and Stratton executed the read-option play out of Ludlow's spread offense to the tune of 494 yards rushing on 50 carries for an average of just under 10 per carry.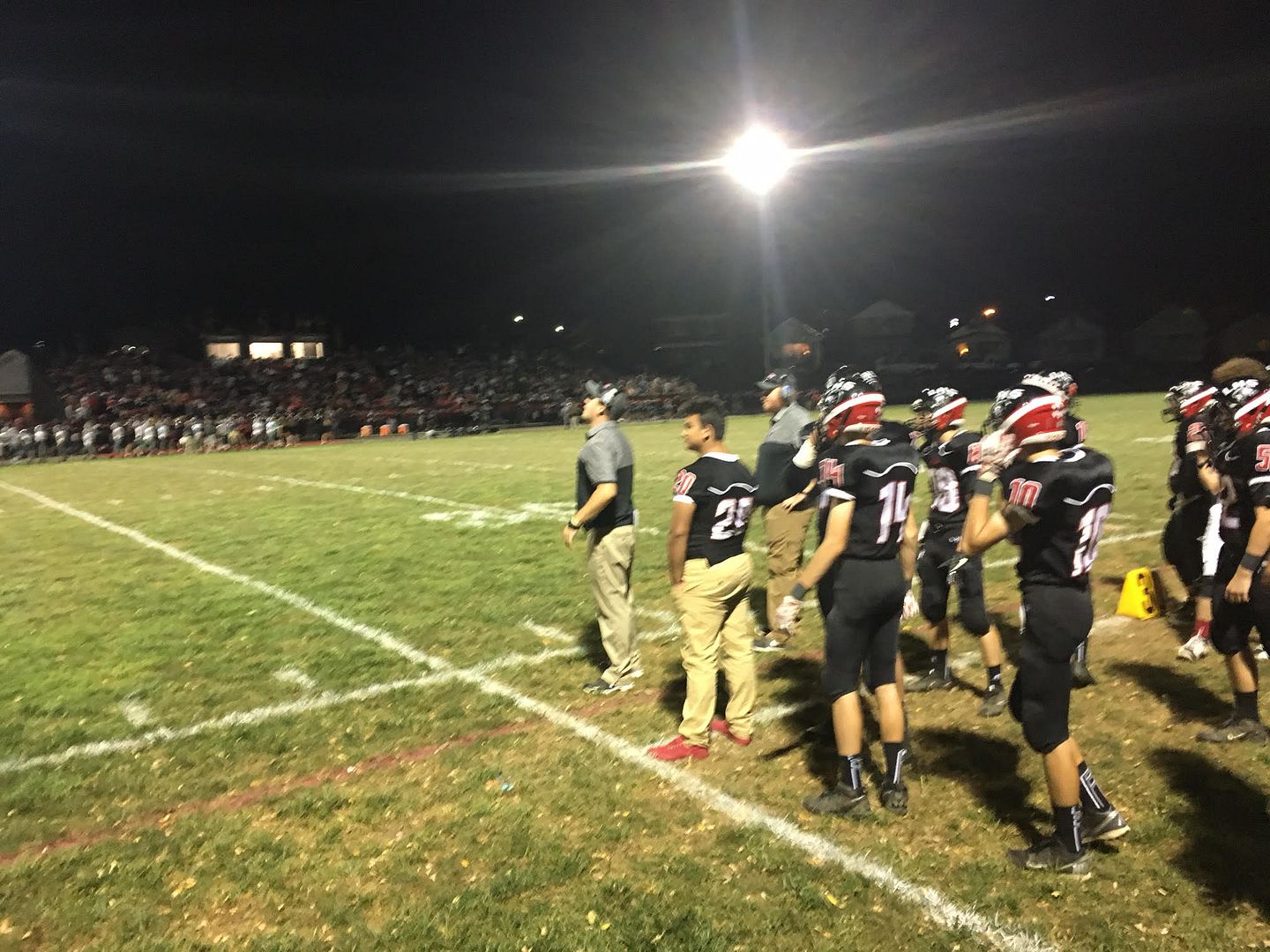 "We told them we only need three seconds and we'll make something work and they've done it," said Greg Taphouse, Ludlow Head Coach. "They worked their tails off every week. They're focused during the week and it's fun to watch."
Blackburn had a career-high 325 yards rushing on 22 carries and seven touchdowns for an average of just under 15 yards per carry. Stratton added 139 yards on 22 carries for an average of just more than six per touch and Kramer had 44 yards on five carries for an average of just under nine per carry. Blackburn has rushed for more than 200 yards six times in his career including four this year, but this marks the first time he cracked the 300-yard pleateau. Seniors Josh Deller, Tommy Alexander, Cody Brownfield and Jacob Bridges anchor the Ludlow lines.
"On both sides, I feel our line did a lot," Bridges said. "Even though our runners break tackles and get up-field, I have to give a shout-out to our O-line for six straight games of unbelievable blocking. Our coaches after every practice push us non-stop so we can get better."
Ludlow did not have to throw a lot. But Blackburn completed 7-of-13 passes for 107 yards, a touchdown and one interception. Sophomore Ian Vanlandingham had four catches for 73 yards to lead the Panthers.
"It makes our offense so versatile," Taphouse said. "If for some reason they adjust to (Blackburn), we have other outlets, which is tremendous. It's great. It's fun. It's easy to maneuver."
On the other side, Bishop Brossart rushed for just 45 yards on 21 carries for an average of just more than two yards per carry. The Panthers sacked Bishop Brossart quarterback Tyler MacDonald five times.
The Mustang tandem of MacDonald and senior wide receiver Bryce Donnelly kept the score from being worse than it was. MacDonald completed 16-of-33 passes for 278 yards, three touchdowns and two interceptions. Donnelly caught nine passes for 227 yards and three touchdowns out of the Bishop Brossart spread offense.
But Ludlow contained Donnelly better in the second half. He did not get behind the Panther secondary as much in the second half after hauling in five passes for 152 yards and his three touchdowns in the first half.
"He was a key factor so we knew we had to get a step on him so I moved out my strong safety, which is Sean (Stratton) to press him and I had my corner deep," Taphouse said. "It slowed him down and my corner could cover him easier. We got the step to the inside then we just shut him down. We made him go elsewhere and that's when we capitalized."
Ludlow scored on its first possession as Blackburn scored off right tackle to give the Panthers a 6-0 advantage. But Bishop Brossart responded when MacDonald hit Donnelly for a 64-yard streak down the left sideline to put the Mustangs up 7-6 with 6:36 left in the first quarter.
The Panthers took a 14-7 lead when Blackburn scored from 12 yards out with 4:08 remaining before the scoring fireworks went off in the final 1:43. It started with Blackburn breaking free for a 69-yard touchdown scamper before Donnelly scored on another long reception of 61 yards.
Following an interception, MacDonald found Donnelly again for a 24-yard connection to tie the game with 39.4 seconds left in the half. But the Panthers took a 28-21 lead entering halftime when Blackburn found Vanlandingham over the middle. Vanlandingham took it toward the left pylon for the 59-yard score with 23.7 seconds left in the half.
"I was feeling down after their first three touchdowns by (Donnelly) and I knew how to make a big play," Vanlandingham. "I really just look for my blockers and if I don't have any, I just try to outrun everyone."
But the Panthers pulled away in the third quarter on three more Blackburn touchdowns of one, 57 and 45 yards to go up 47-21 entering the fourth quarter. The last touchdown of the quarter came after a Stratton set Ludlow up at the Bishop Brossart 45.
"We just have to keep on pushing forward and see what we can do from here," Blackburn said. "Once I get a good enough push and (the offensive linemen) get me in the open field, it's pretty one-on-one and I'd take me and (Stratton) vs. anybody. It's all about brotherhood and we all work together so well."
After a Bishop Brossart score, Blackburn broke free again for a 32-yard touchdown run to make the final score of 54-27. That rush on a sweep left put him over the 300-yard mark for the game.
Ludlow recorded its other interception of the game in that quarter. Senior Trey Donahue recorded the pick.
Ludlow starts Class 1A, District 4 action Friday at Dayton (1-5). Game time is 7 p.m.
---
Homecoming Queen Profile
Ludlow senior Lauren Frevola took the Homecoming Queen honors in what has become a family tradition. Her older sisters Danni (Ludlow Class of 2012) and Nicole (2014) also won the honor.
"It's great that we're so supportive of our team," Frevola said. "We're doing great this year and it's amazing."
Frevola is a member of Student Council and plays for the Ludlow Lady Wildcats soccer team. The Lady Panthers are 6-4-1 on the season.
---
Simon Kenton 22, Beechwood 14
Simon Kenton outlasted Beechwood Friday night in Fort Mitchell, 22-14, leaving the Tigers to ponder, "what if?"
Simon Kenton's lightning-quick, up-tempo offense used less than three minutes on the clock on its 50-yard opening drive. On first-and-10 from the Beechwood 26, sophomore running back Austin Hammack took a pitch from Matt Shearer around the right side, where he was met by a host of Tigers' defenders, dislodging the ball and giving Beechwood possession. Following a delay-of-game penalty momentarily halting the game's pace, Tigers senior quarterback Brayden Burch found Jake Massie over the middle for a 20-yard gain. Scrambling on third down, Burch found senior James Davis at the 45, and a defensive pass interference call placed the Tigers inside Simon Kenton territory. Several plays later, Davis put his team up 7-0 with a three-yard score.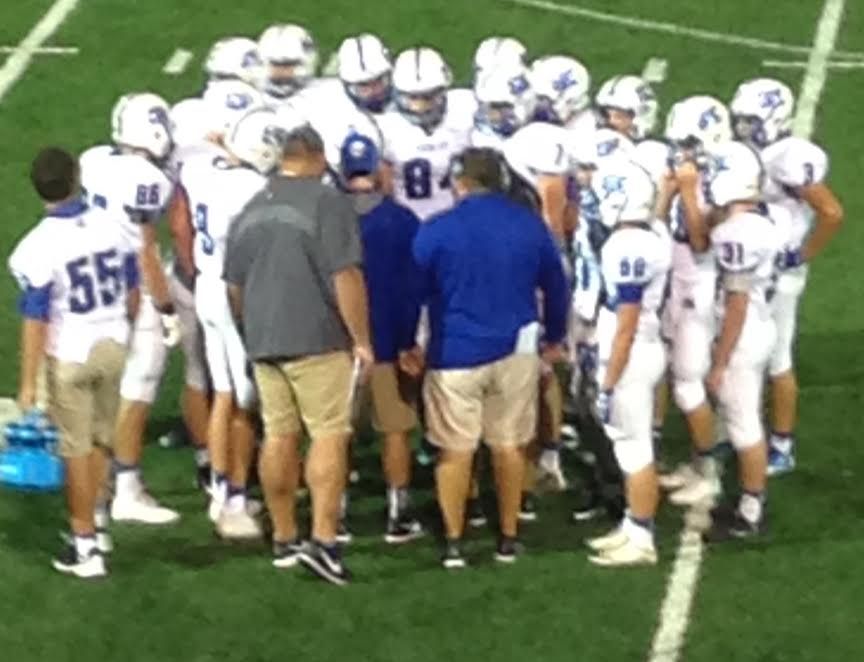 Shearer was sacked for an eight-yard loss on the Pioneers next possession on first down and Simon Kenton could not recover and punted the ball away. Despite Beechwood gaining possession in Simon Kenton territory, it did not push the ball into the end zone. Josh Derry and Davis led the Tigers inside the Pioneers 10 but Derry was stripped of the football just shy of the goal line and Simon Kenton recovered to preserve its seven-point lead going into the second quarter.
Beechwood appeared to extend their lead on Massie's 45-yard third down interception return of Shearer, but an illegal block in the back penalty placed the Tigers back on their side of the field, the possession stalling after incomplete passes and an intentional grounding/personal foul penalty simultaneously called against Beechwood on one play. Hammack and Shearer fueled the next Pioneers drive with their legs running the ball for chunk yardage, the senior quarterback keeping the ball himself, seven yards for a score and a 7-7 tie.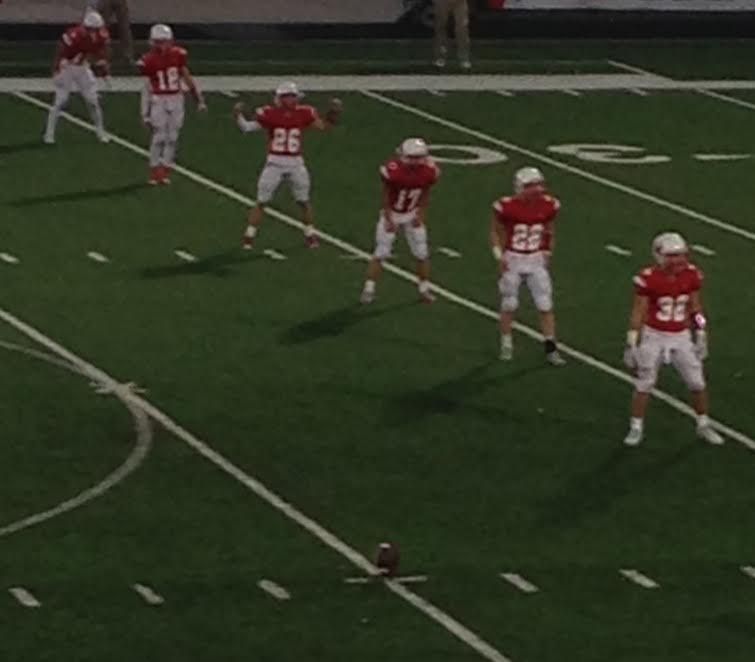 With under a minute to go in the half, Shearer hit Hammack streaking across the field to put the Pioneers within range for a 27-yard field goal by Christian Seger and a 10-7 at the break. Both teams remained quiet for much of the third until Simon Kenton's one-two punch of Shearer and Hammack chipped away at the Tigers defense to put it in position for a field goal. On third-and-five at the Beechwood six-yard line, Hammack looked to advance the quick screen pass into the end zone but was met by Massie, knocking the ball loose; but, the referee rendered the play an incompletion. Seger's field goal then extended the Pioneers lead to six, 13-7. After a 30-yard kickoff return by Davis, Beechwood's drive began at midfield. Then it was Davis again for 12 yards, down to the Pioneers 39. Daniel Mescher was unable to haul in Burch's pass in the end zone on the Tigers next play but Davis continued to gash the Simon Kenton defense – this time, a 10-yard gain up the middle inside the Pioneers 20. On first-and-10 from the 14, Davis ran up the middle, giving his team the lead as it entered the final quarter, 14-13.
Senior Sam Murray's 24-yard catch on second down near midfield kept Simon Kenton's drive alive and the Beechwood defense back on its heels for the Pioneers first possession of the fourth quarter. Shearer then burrowed in behind his line's blocking for his second touchdown of the night to put his team up, 19-14, after the two-point conversion failed when receiver Brennen Gangwish caught the ball out of bounds. Hanging on to a five-point lead with the game and its unblemished record on the line, Pioneers defensive back Brayden Trattles intercepted Burch near the Tigers sideline, giving Simon Kenton a chance to put the game out of reach. However, the Pioneers settled for a field goal and an eight-point lead, 22-14, giving Beechwood 1:28 to tie. Burch's quick strikes to Jon Odom, Jake Sherron and Logan Castleman put the Tigers in Simon Kenton territory. But on first-and-10, Burch was sacked. Then on third down near the Simon Kenton 45, with 30-seconds remaining, Mescher got behind the Pioneers defense inside the five, catching what appeared to be a potential game-tying touchdown. However, there was a flag. Scrambling to find an open receiver, Burch stepped over the line-of-scrimmage, nullifying the score. When the Tigers fourth-down attempt fell incomplete, Simon Kenton ran out the clock.
Beechwood (4-2) travels to Bellevue (4-2) next Thursday evening at 7:00, while Simon Kenton (7-0) heads to Florence next Friday to face fellow 6A opponent, Boone County (1-4).
Holmes 49, Holy Cross 0

After losing the first four games of the season, it's two wins in a row for Holmes, who had no trouble with crosstown rival Holy Cross on Friday night. 
The Indians are still winless, and have scored only 6 points in the past four games.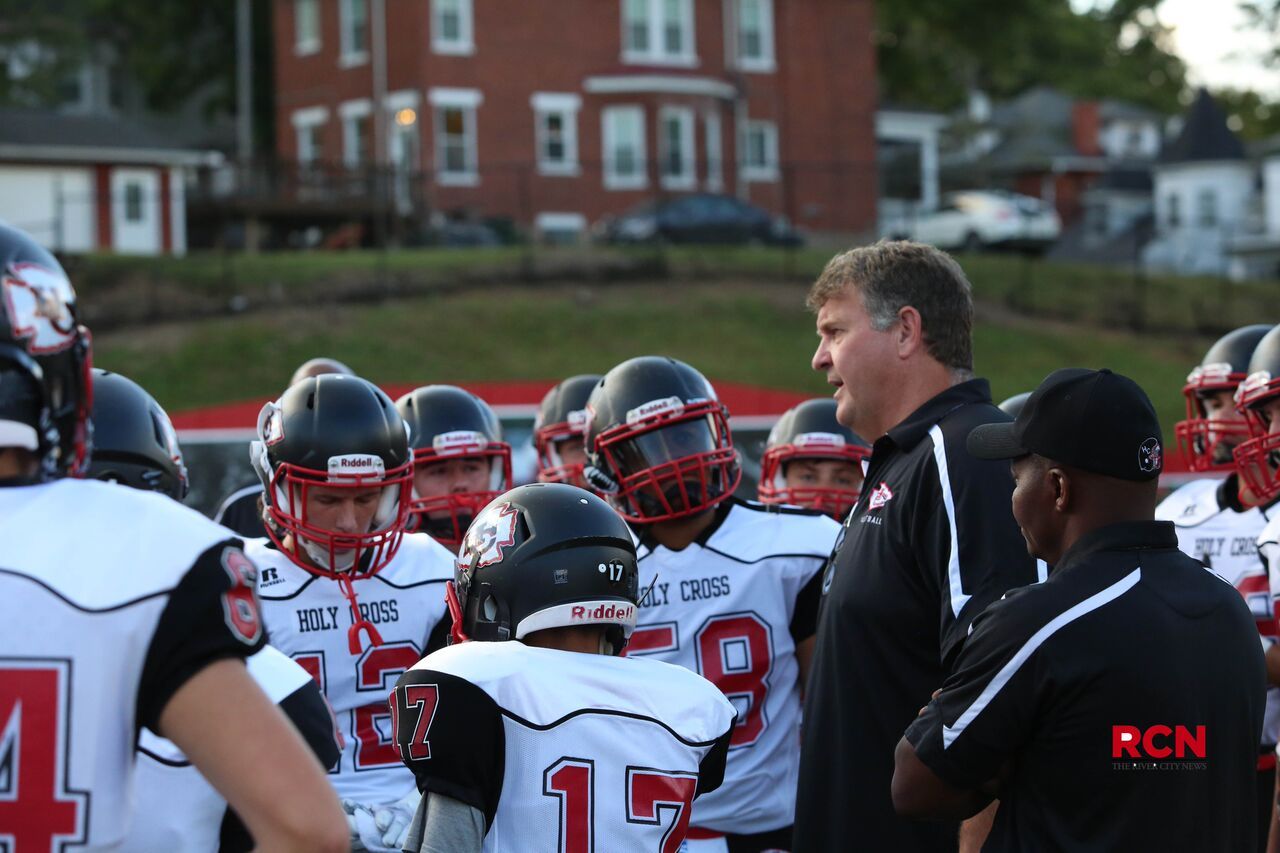 Both teams struggled in the first quarter with penalties slowing and stopping drive opportunities, all of which ended in a punt or turnover for both squads. Holy Cross lost starting quarterback Justin Couch to an injury early, too.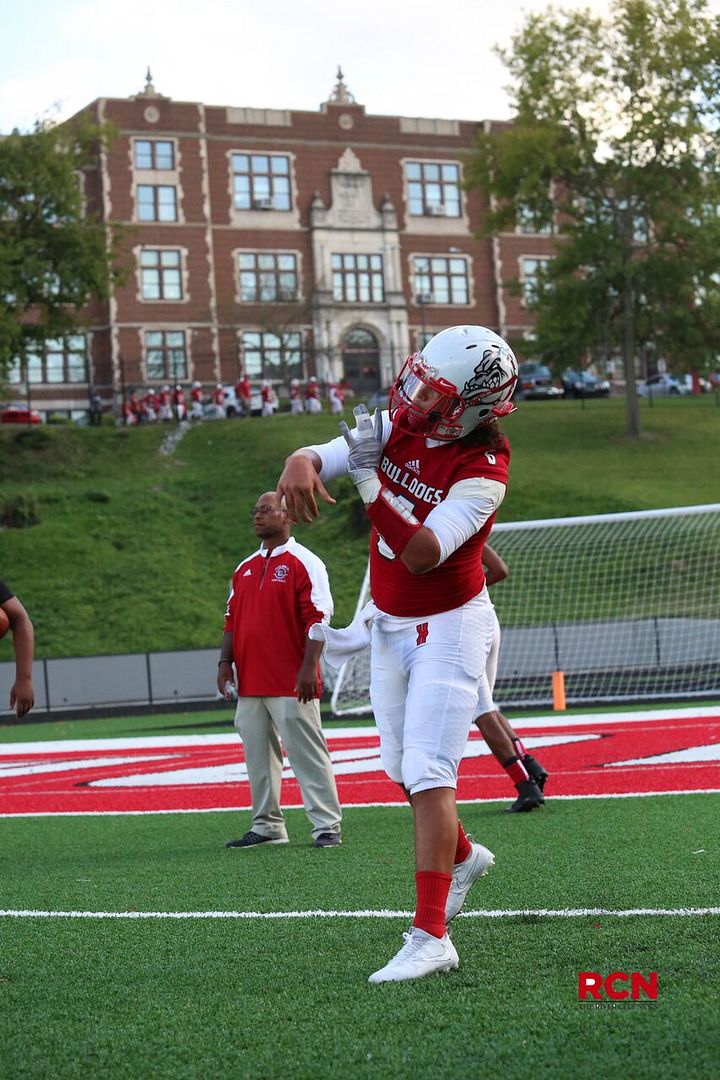 The Bulldogs struck first in the second quarter by way of a blocked punt returned for a touchdown. A 10-yard James Walker, Jr. pass to James Gathier put Holmes on the board again.
The game turned lopsided in the third when Holmes rattled off 22 straight with touchdown for Quantez Calloway, Bryzon Hicks, and Gathier. McKeem Robinson and Andrew Ruffin scored for Holmes in the fourth.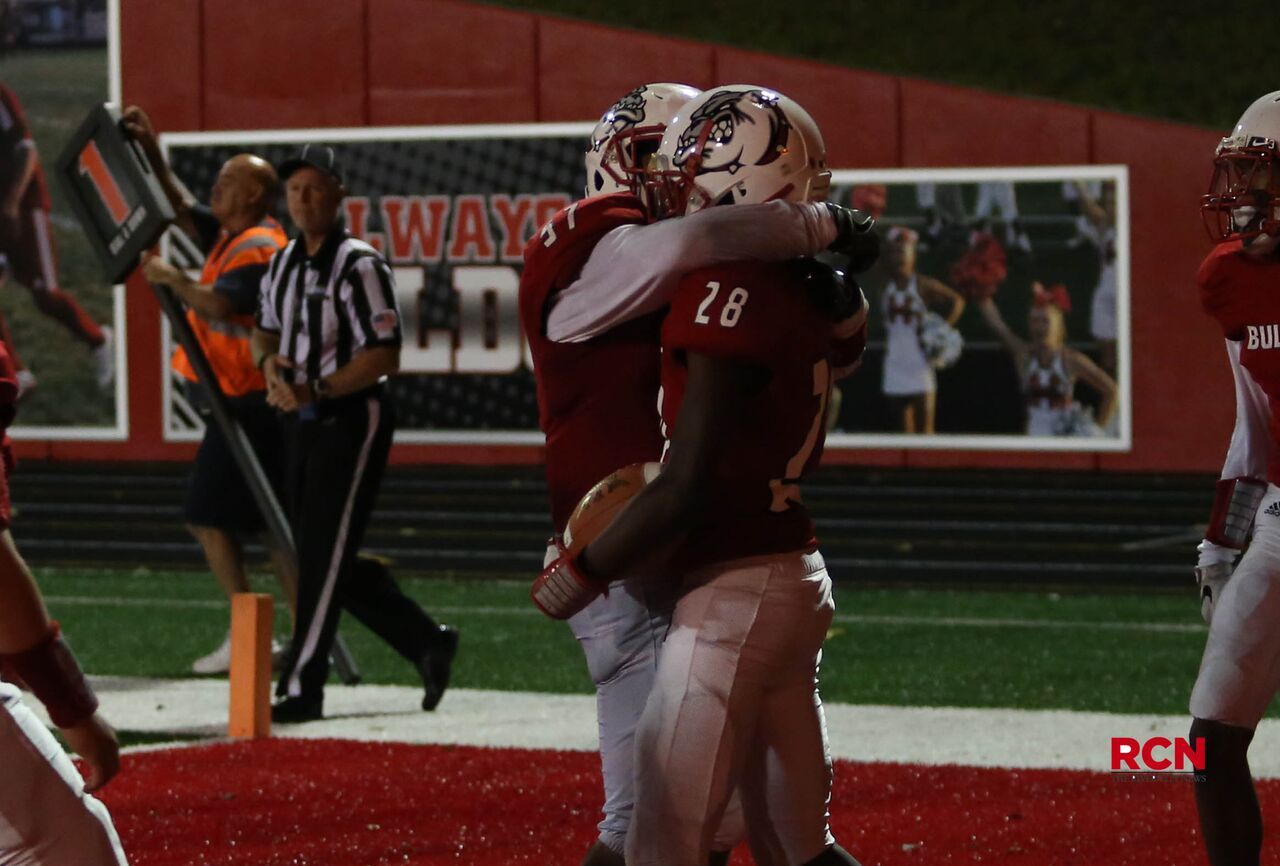 The Bulldog offense approached the 400-yard mark in a game that had 21 penalties. Hics led the Bulldogs with 101 yards on 8 carries, and one touchdown. Holy Cross was held to under 80 offensive yards on the game.
Next week, Holmes (2-4) looks to make it three in a row on a road trip to Bourbon County, while Holy Cross (0-7) hosts Newport Central Catholic (3-3).

Scott 46, Harrison Co. 6
The Eagles have quietly put together a strong record as the second half of the season begins.
Scott won big on Homecoming night in Taylor Mill against winless Harrison Co. 
That's two in a row for Coach Dan Woolley and his kids, now 4-2 on the year.
Next week, Scott has a date with a team from across the Ohio River when Cincinnati Taft visits Taylor Mill.
Bellevue 14, Newport 8
The Tigers bounced back from last week's loss at Gallatin County to hand Newport its fifth straight defeat.
Bellevue (4-2) will have its hands full next week when Beechwood, fresh off a heartbreaking loss to Simon Kenton, comes to town.
Newport (1-5) gets a visit from Lloyd.
Eminence 42, Dayton 34
Eminence rolled up to Dayton from Henry County having outscored its previous two opponents 105 to 6.
But the Greendevils were ready to put up a fight on their home turf.
And they fell just short in a battle there on Friday night.
The Warriors (6-1) held off feisty Dayton (1-5) in a shootout, 42-34.
Next week, Dayton faces a tough challenge in a visit from undefeated Ludlow.
Campbell Co. 41, Mt. Healthy (Oh.) 6
The Camels rebounded from last week's loss to Ryle with a convincing win over visiting Mt. Healthy.
Next week, Campbell Co. (4-2) visits Conner.
Conner 40, Lloyd 28
Conner picked up its second win in a row, holding off visiting Lloyd in Hebron on Friday night.
The Cougars (4-2), have won two straight, and next week host Campbell Co. Lloyd (4-2) visits Newport.
Cathedral (In.) 43, Ryle 27
The Raiders saw their four-game winning streak come to an end at home in Union on Friday.
Next week, Ryle (4-2) travels to crosstown rival Cooper, which is yet to win a game this season.
Dixie Heights 34, Cooper 20
The streak continues for struggling Cooper. 
The Jaguars lost at home to a surging Dixie squad that has put together a 3-game winning streak after losing the first four games of the season.
Next week, Cooper (0-7) hosts Ryle, while Dixie (3-4) looks to keep it going in a visit to Highlands.
George Rogers Clark 59, Boone Co. 7
Another rough week for the Rebels.
Next week, Boone Co. (1-5) have a visit from undefeated Simon Kenton.
Written by G. Michael Graham in Ludlow, Brian Frey in Covington, Jason Finnell in Ft. Mitchell, Patricia A. Scheyer in Taylor Mill, and Michael Monks at RCN headquarters in Covington.